First of all, it is a huge honor and privilege to be writing a blog for Drag Illustrated! It is truly amazing how great the sport of drag racing really is, regardless of sanction or class. I consider myself one of the luckiest kids in the pits just being involved in this sport. Like many of us on here, I was pretty much raised at a dragstrip with my family. When I was a kid, every summer was booked with national events or divisional events, and when school was in, well…I was on the computer watching.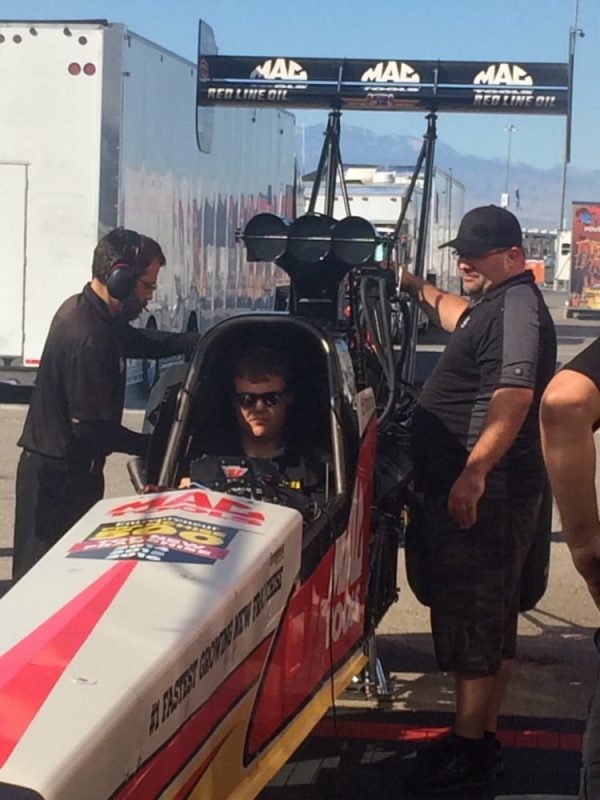 During the late summer of 2015, I was competing in the J&A Service Pro Mod class having a blast when my grandfather Jeg Sr. stopped me and asked me if I'd ever be interested in getting a Top Fuel license. My initial thoughts were, "whoa, cool!" I wanted to watch a little bit more and go from there. After watching one full Top Fuel session in Charlotte I was IN. Next thing I knew I was sitting in Del Worsham's dragster in Bakersfield, Calif., making runs and learning how these cars work. Then I ended up finishing my licensing process in Shawn Langdon's car during the Phoenix Nitro Training last February. After that, I was in search for funding to be able to race in the 2017 season. I will say that finding funding is an extremely difficult task that has multiple moving pieces; I give a ton of credit to the individuals who actively seek sponsorship from major companies. Just trying to reach some of these businesses via email was tough and intimidating.
The first breakthrough happened during the Brainerd race weekend this year. My uncle, Jeg Jr., was racing and I was texting with Scott "Woody" Woodruff, who is our Motorsports Manager here at Team JEGS, and I asked him if he knew anyone personally at Kalitta Motorsports. About 40 minutes later, I got a reply that said we are sitting down with Jim Oberhofer, the VP of Operations at Kalitta Motorsports, in Indy on Thursday. Just from that one sit down with Jim O, I knew it in my heart and mind that I wanted to race at Kalitta Motorsports. I want to go and race where I can be proud to win races as a team that races like a family. With this group, I would be beyond proud to win with them. Team Kalitta has so much pride and history in drag racing, so this feels like a perfect fit to me. We made the announcement in Dallas that I will be running a part-time schedule for 2017. At that point, I only had the funding for maybe six races or so. I was stoked to even be a part of the team, pretty much speechless.
A month goes by and it's just before Thanksgiving, and I'm on the phone with my grandfather, Jeg Sr. We are talking about ways that I can find more funding to race more than six races. He has a whole plan all set up for me on how we were going to attack this project to run a full schedule in 2017. As I'm talking on my phone, a text from Woody comes through saying Jim O will be calling you here shortly. My stomach dropped for a minute but I figured it was to go over some details for next season and it's all good. I hang up and minutes later Jim O calls. He said Del has chosen to go race with his family next year and we are going to put J.R. Todd in the DHL Toyota. At this point my heart is pounding; he says I've talked to Connie and we would like you to drive the SealMaster dragster full-time next season if you are interested. It took me about .007 of a second to respond with, "Absolutely I would be honored to drive it." When we hung up I felt like the kid on Charlie and the Chocolate Factory when he finds a golden ticket. I've never truly felt an emotion like this before. Everything I have driven thus far was on jack stands and not being driven by anyone else but members of my family in the shop, and now I was chosen to drive for one of the most historic drag racing teams in the WORLD. One phone call and bang – we were in for all 24 races for the 2017 season.
I really am the luckiest kid in the pits as I mentioned earlier because there are several drivers with the same dream as me who have put lots of time in chasing it. I can't be more excited or proud to fly the SealMaster-branded car this season. SealMaster is such a neat company. They have products and equipment that protect, preserve, and maintain the world's pavement. I am looking forward to meeting all of the franchisees and employees, as it is my goal to make them proud this year.
This season, I am excited to give you a behind-the-scenes look at my rookie season in NHRA Top Fuel racing and my chase at both race wins and the Auto Club Road to the Future trophy.
Troy Coughlin Jr. is a third-generation drag racer who was recently named the new driver of the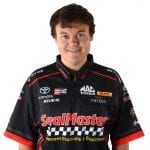 SealMaster Top Fuel dragster for Kalitta Motorsports. A member of the legendary Coughlin family racing team, Troy Jr. has an illustrious list of accomplishments in the NHRA Sportsman and Pro Mod ranks despite being only 26 years old. He can be found on Twitter at @troycoughlinjr.
Photographs provided by Ashley Oberhofer/Kalitta Motorsports, Team JEGS