"It's good to have an end to journey toward; but it is the journey that matters in the end." – Ernest Hemingway
We're ENGAGED!!!! I can't put into words how happy I am to say that knowing I will be spending the rest of my life with my best friend, building our dream journey together.
I had a feeling something special would happen during our annual trip to Colorado this past weekend, and I knew that we are both ready to take this next step. We began the trip visiting our favorite cafe for breakfast in Granby, CO, after a full day of driving from western Kansas to central Colorado. We then drove up the mountain to Walden, CO, winding through the curvy roads on the edge of the mountains, until we stopped to get fishing licenses and an ATV pass. Immediately after that we went to our favorite fishing spot, Ranger Lake, a small campground with the dreamiest lake that spans 170 acres stocked with rainbow trout. After taking in the beautiful scenery of the lake and casting a few, we loaded back up and headed to the North Sand Hills in Cowdrey, CO. This was our first time coming here, and we will definitely be coming back. Playing in the 700 acres of sand with the RZR was a blast, and it's the only sand dune area in northern Colorado that you can drive on.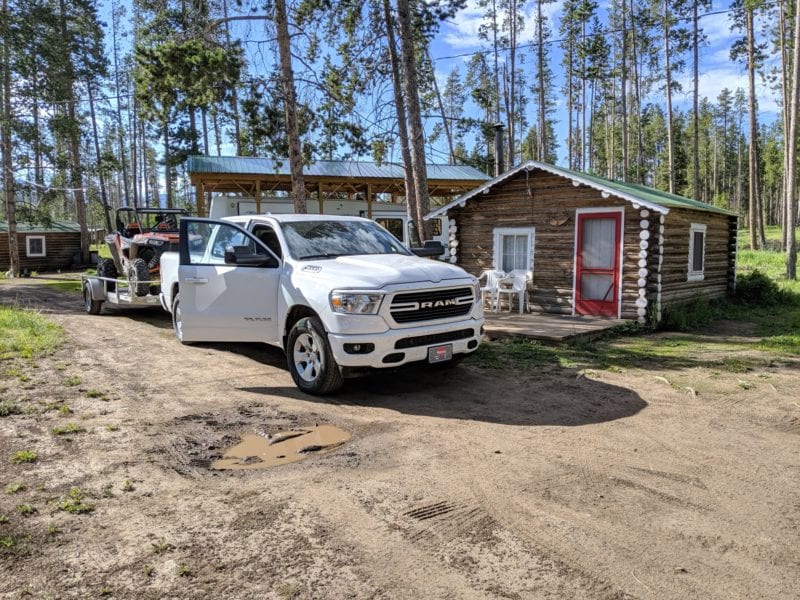 Afterwards, we stopped by our favorite cabin #3 of Powderhorn Cabins in Gould, CO, the same one we stayed at two years prior. We cooked brats for dinner then took the RZR out for one last ride to catch the sunset through the woody trails. The next day, Friday, July 12th, will forever be the day that changed my life. We gradually woke up to the romantic earthy smell outside our cabin and prepared to head West to spend the day in Steamboat Springs, CO. But first, we visited Ranger Lake and caught a few of the tricky trout fish while the sun rose and the woods woke up. Once we arrived in Steamboat Springs we did some shopping, had a rooftop lunch, rode mountain coasters (so much fun!), explored the town, and played a round of mini-golf. After a much-needed day-date, we rode back to our campsite to get the RZR out again to go trail-riding.
It all happened when Adam took me up to a new trail on the top of a mountain. We rode the RZR for around 20 minutes and found a sign that said trail tower and followed it all the way up to one of the most breathtaking views I've ever seen.

Unfortunately for us, there was already someone up there to discover the dense mountain tops from the lookout. I could tell Adam was getting eager and not wanting to wait for a moment alone, so we headed back down the mountain. When the trail came to a T, we stopped and got out to switch spots. As I was bucking into the driver's seat, he asked me to get out of the RZR as he got down on one knee, and asked me to marry him. Of course I said YES!! I have loved this man for the past 2.5 years and as soon as we met, I knew he was the one. I couldn't believe the moment I've always been waiting for finally happened, and as I slipped the ring onto my finger, it felt right and I knew then that we would have the best adventurous journey through life together.
I drove us back to the cabin where we enjoyed another brat dinner with fudge brownies to celebrate. We planned to head back to the lookout so we could soak in the sunset and think of our future together, but we didn't have enough fuel in the tank to make it all the way up and back. We settled for an industrial bridge to take our engagement photo on with my tripod, and enjoyed our last night in the cabin.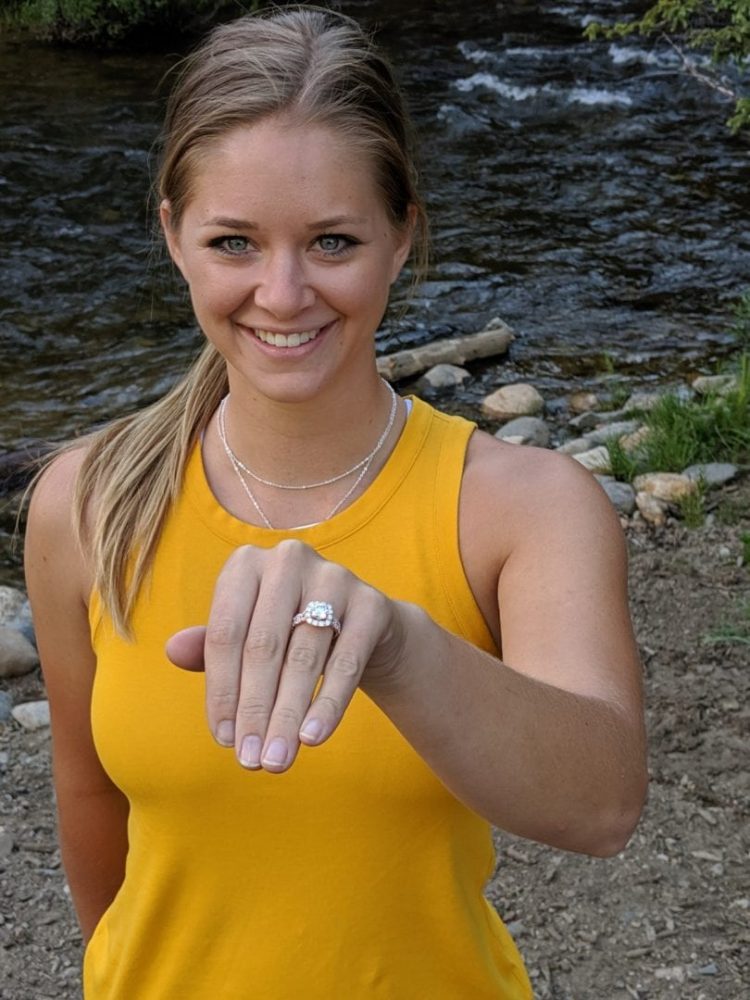 The next day we packed up and headed south to Winter Park, CO, to go hiking and grab a bite to eat before driving further to Idaho Springs, CO, to go whitewater rafting for the first time. We had no idea what to expect, and on our bus ride up to the top of the river our guide warned us how fast the water was moving, and what to do if anyone falls out of the raft, scaring us a little bit in the moment. But as soon as we got into the raft, and got soaked with the 35-degree water, our worries faded and we had a blast! I highly recommend Clear Creek Rafting Company to anyone looking to go rafting in central Colorado, and ask for guide Ivan. We finished the day with a delicious wood-fired pizza, then grabbed a hotel room for our last night in Colorado.
The engagement was a dream come true, and I couldn't ask for a better person to spend the rest of my life with. Adam has graciously accepted my profession as a race car driver, something I cannot say about the other guys I've dated, and has been my number one supporter since the beginning.
I will be back in my race car at the end of the month for two regional races in Topeka, KS, and Tulsa, OK, before my next NHRA National event in Brainerd, MN. Right now, Rachel and I are tied for first place in the regional series, each having one win and two runner-ups. These next two races will settle the tie (catch my next blog to see the results!), which leaves us with only two more regional events to battle it out for the championship. I have been knocked out of first place for the national standings to Shawn Cowie, with TJ Coughlin on my tail. I have five national events left to compete in, and I hope we come out on top at each one of them because #TheChampionshipAwaits.
Megan Meyer is the driver of the NGK Spark Plugs/Lucas Oil/WELD Racing A/Fuel Dragster in the NHRA Lucas Oil Drag Racing Series. Follow Megan on Facebook, Twitter and Instagram.
This DRAG ILLUSTRATED Driver Blog is presented by WELD Racing. Follow WELD Racing on Facebook, Twitter and Instagram, and visit them online at www.WELDWheels.com.