It has been quite a while since my last DI Driver Blog and I apologize to my readers. One thing I can definitely guarantee about this year is there has been no lack of performance from the Randy Meyer Racing Team.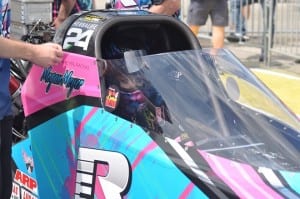 This year is already off to a fast start. I have had six races (four National events and two Regional events) – most of which I've made it to the final round. Being able to go that many rounds and have very little to replace on the car isn't typical, but the crew and car have grown to be in sync. The only major damage we had to repair was a scratched crank shaft, which happened in the final round of the 4-Wide Nationals since the bearings were hot and didn't have enough time to cool down between rounds. After that, the rear-end got injured at Tulsa during qualifying, but we saw that coming and replaced it with the spare. I'm extremely blessed to have this type of record as a rookie driver, but I honestly didn't expect anything less from this World Championship team.
Outside of the race track, the work keeps piling on and keeps us moving – which is what we like. We've been consistently working on our new facility to house the entire Randy Meyer Racing fleet, and the shop project is about 75% done. Once we (meaning myself, my father, and my sister, and occasionally a friend or two) finish constructing the inside of the work area, I get to take control of the quality and design standpoint, and manage the daily operations of the shop.
A typical day for me looks like this: wake up early to go to the gym for a training session with my personal trainer, come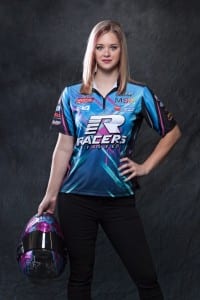 home for breakfast and get ready for work, go to Meyer Truck Center to take care of the bookkeeping and regular team management items, work on my freelance projects (currently, I am working on websites, a magazine ad, and some t-shirt designs), reach out to my clients and help them with their fitness/nutrition goals, help stock the trailer or take care of the race cars if needed, go home to work on the new shop, and then have dinner with my family and Marcus. What's great about being able to work for my parents is getting to take care of my business and theirs and always being on the same schedule. Sure, we have our ups and downs, not everyday is a day in paradise, but we get to spend time together and work together to build and grow our businesses.
We've been able to add some really great companies on board with us this year, including Horsepower and Heels, Trinity Performance Wear, and Denver Print House. I am constantly reaching out to new companies to show them the benefit they have by partnering with our team, and I'm looking forward to what the future holds because I know we have one of the best, marketable teams in the sport. The reason I know this is because I have full control of our marketability and reach; I've been able to use my graphic design and management knowledge to really grow our team as a brand. I've focused on how to stretch myself creatively and really hone in how to engage with our target markets. This year we've branched out and have had some really unique programs established with our partners, and with that I have a fun announcement to share with you all coming soon!
What makes each race most special to me is meeting new spectators that have been a long time supporter of the Randy Meyer Racing Team, or they are a brand new fan and found me on social media. Each fan that comes up to me with their own unique character and love for the sport is very touching. The element of being at the drag races with my family and friends, getting to see all of our hard work and big leaps of faith pay off, is the biggest win for me.
New things will be coming from our team late-fall, so stick around. In the meantime, I'll try to stay up-to-date with my DI Driver Blogs and will be posting on my Instagram and Facebook pages, as well as starting a vlog series on YouTube. I am filled with gratitude that you cared enough to follow along with me here, and on social media. Thank you!
Megan Meyer is the driver of the Racers Evolved/Randy Meyer Racing A/Fuel Dragster in NHRA Lucas Oil Series Top Alcohol Dragster competition.