Where has the time gone?! The entire month of March was a blur and I can't believe it's already the beginning of April! We had an incredible outing at the NHRA Gatornationals in the middle of March, and I'm still astonished at our results.
I was extremely busy in the few weeks we were home between Pomona and Gainesville with getting the new wrap on the car (don't you just love the chrome portions?!), photoshoots, designing and printing hero cards, getting uniforms, etc. But it was all worth it in the end as we earned the Best Appearing Car award for the event after slowly revealing the new Racers Evolved scheme that features elements from our "Megan Meyer Signature Series" t-shirt!! This is one of the awards that my father has never received, and I'm so proud to have won it for us at my National debut. Once we got back to the trailer after taking pictures for the award, my dad said to me that this is everything I've been working for, and that he was extremely proud of me and what I've accomplished so early on in my career.
We reached new limits at the Gainesville Raceway track, and I'm very happy to have been able to race to the final round of eliminations and qualifying second in the 20-car field at the same track I earned my Super Comp and Top Alcohol Dragster NHRA licenses at. I set my career-best time while earning my TAD license in 2015 running a 5.29 pass, and re-set it twice in one weekend, running a 5.22 at 276 mph followed up by a 5.20 at 278 mph! These were also the fastest and quickest runs for our Copeland dragster, which had never been ran on the Gainesville track before. We picked up the dragster from Chase Copeland on our way home after winning the 2015 Gatornationals, and we have been very pleased with the results and numbers it has laid down in the one year that we've owned it.
I must admit, I was quite bummed and a little disappointed after losing in the final round. Rich McPhillips and I had a
great race and it was almost like I was back in my Super Comp car. Although he had the better reaction time (.016 to my .029) I was past the 60-foot line first, and never saw him until I had to lift off the throttle and slam it back down to get out of the tire shake. After that, I was chasing him down and I thought I had him on the finish line, but he had the .01 finish line margin on me and took the event win. This was an amazing race and we had a lot of fun the entire weekend working together as a family like the old days, and I had high hopes to take home two Wallys. After learning that I did not get the win, I was extremely happy for the McPhillips family, but in the back of my mind I was kicking myself for not doing better. I guess that's just my competitive side. My father is slowly teaching me the ins and outs of tuning and using the data we get from our Racepak Pro III system to help him finely tune the car to perform its best.
The days after Gainesville have been filled with working at the shop taking care of the bookkeeping and helping with construction on our new racing shop. We plan for it to be completely done and ready to move into in May, and we will also be introducing a new trailer to the team, in addition to new team merchandise that will be available to the public in May.
Our next race will be our first 2016 Regional event held in Belle Rose, Louisiana. Neither my dad nor I have been to this track, so we are excited to be adding on to our list of places we've raced at. I know there will be a lot of tough competition from the south and I'm so excited to be back in the car and can't wait to see if we can take home the win! I've been in two final rounds and one semi-final round so far since my debut in the Top Alcohol Dragster class, and I'm very confident that we will keep up the momentum! We will also be competing in the Charlotte and Houston NHRA National events this month, which will also be my first time at these tracks. My dad's had great success at both races, and has won the Houston Nationals for the past 3 years, so I'm really hoping for a 4-peat at the Spring Nationals for the Randy Meyer Racing Team!!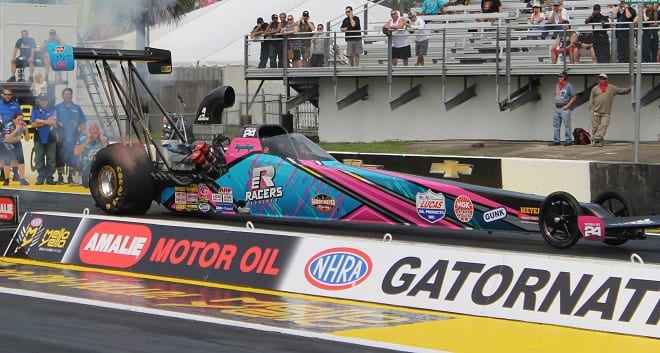 Please visit my Facebook, Twitter, and Instagram pages to stay up-to-date with my personal life and daily operations of our race team to see how we do at our next three races! Also stay tuned for more giveaways and free stuff from the Randy Meyer Racing Team and Racers Evolved!