A few weeks back, I made my way to Phoenix, Arizona, to test in a Top Alcohol Dragster with my dad and Kristi. When we made our way to the racetrack, I finally got to sit in the dragster and warm it up. After I was familiar with everything in the dragster, we put it on the ground, and I learned how to go forward and backwards with the clutch pedal.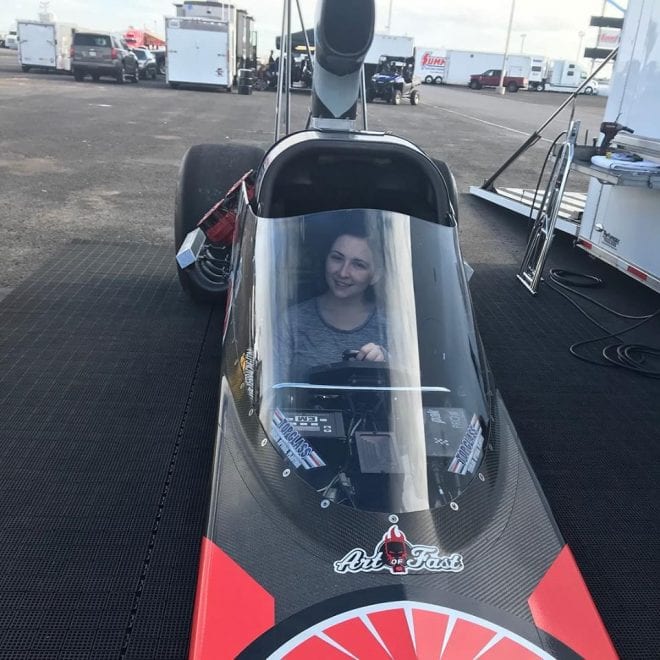 Sunday was a complete rainout, so Monday was scheduled to be the big day. My first run was going to the 400-foot mark. As with any new adventure, I was a little nervous, but I understood what I needed to do and when to do it. After my run, I was so excited that I could say I made a run in a Top Alcohol Dragster. My second and third run I was able to go further, and I absolutely loved driving it!
After all the testing was over for the day, I had to get two drivers – Erica Enders and Jeg Coughlin – to sign off on my license. I have known both for so many years that it was neat to be able to have them sign off on my Top Alcohol Dragster license.
I can't possibly thank the whole Randy Meyer camp enough for everything. They made sure I was comfortable in the car and knew exactly what to do. The car is amazing, and I couldn't ask for a better team to get my license with. I am super-excited to see what the rest of the season holds for racing Top Alcohol Dragster.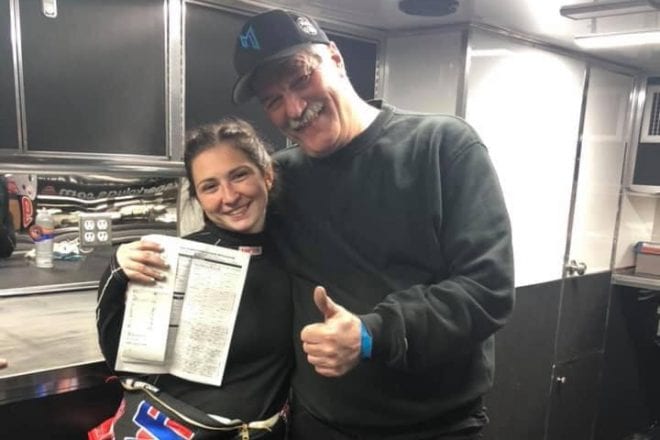 Another big announcement is that Racers Evolved just released a Camrie Caruso, Top Alcohol Dragster shirt! There are limited quantities available, so make sure to head over to the link here or contact me if you want one!
Regarding the Pro Mod, we will be heading to Orlando's RPM race in a couple weeks to test and make sure we are ready to come out strong for the NHRA Pro Mod opening race at the 50th Annual Gatornationals. We have made some changes over the winter and are excited to see how they help the car run better. Last season we made three NHRA Pro Mod races and qualified at every single one as well as went a few rounds. This year we are going to aim to win the championship!