Drag racing icon Tom "The Mongoose" McEwen passed away Sunday, June 10, 2018, at 81 years old. While his win over Don "The Snake" Prudhomme at the 1978 U.S. Nationals highlighted his five NHRA national event wins over the course of his career as a driver in Top Fuel and Funny Car, McEwen earned his "legend" status through his advanced promotional skills. Along with Prudhomme, McEwen raced across the country and onto toy store shelves with their groundbreaking Mattel/Hot Wheels sponsorship, launching an iconic brand. McEwen was named No. 16 on NHRA's Top 50 Drivers List in 2001 and was inducted into the International Drag Racing Hall of Fame and the Motorsports Hall of Fame of America.
Shortly after the 2013 release of Snake & Mongoose, a film about the two prolific drivers' friendship and rivalry, McEwen and Prodhomme sat down with Ian Tocher for a wide-ranging interview that appeared as the cover story in DI #99. The interview appears in its entirety below.
With their unprecedented Mattel Hot Wheels sponsorship in the early-'70s, Tom "Mongoose" McEwen and Don "Snake" Prudhomme revolutionized what marketing meant to drag racing and became "sort-of" teammates while remaining fierce competitors in the process. It's a great coming-of-age tale, as told in "Snake and Mongoose," the 2013 big-screen release that featured cameo appearances by the story's two protagonists.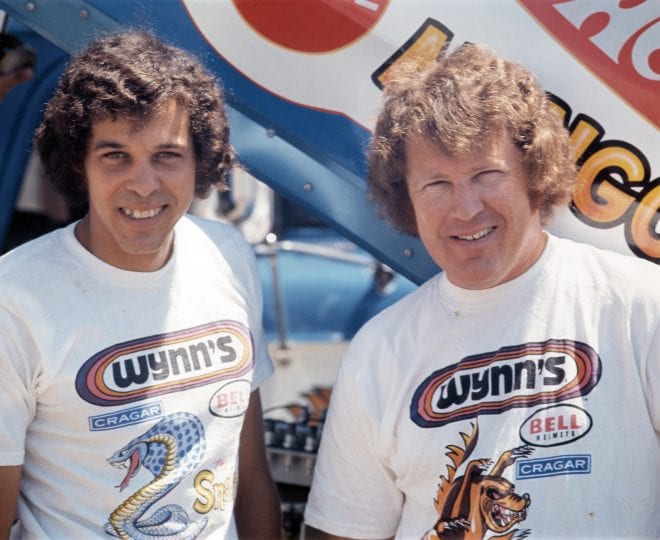 Despite their deeply intertwined past, though, McEwen and Prudhomme's careers veered in distinctly different directions once their mutual sponsorship came to an end. McEwen went on to win five NHRA national events—including an inspirational Funny Car title over Prudhomme in the 1978 U.S. Nationals final, just a few days after the death of his son, Jamie—and was named 16th of the 50 most significant drivers in NHRA's first 50 years after retiring from the driver's seat in the mid-'90s. It was his promotional savvy, however, that gave McEwen a lasting impression on the sport, one that he continues today as the guiding force behind Drag Racer magazine.
Prudhomme, meanwhile, wrote his name in the record books as a four-time NHRA Funny Car world champion, 49-time NHRA national event winner as a driver in Top Fuel and Funny Car, multi-time official record holder in elapsed time and speed, and 70-time winner as a team owner in Top Fuel and Funny Car. Prudhomme was number three on the same NHRA driver's list that McEwen was named to, and retired from racing after the 2009 season. He also is an inductee to the International Motorsports Hall of Fame and the Motorsports Hall of Fame of America, while both 'Goose and Snake have been named to the International Drag Racing Hall of Fame.
Now that the furor over the first significant drag racing movie made in the last three decades or so has died down, McEwen, who will be 78 in August, and Prudhomme, 74, don't see each other all that often anymore. They live less than a hundred miles apart in Southern California, but with McEwen's ongoing involvement with Drag Racer and Prudhomme staying active with leisure motorsports, it doesn't leave a lot of time for socializing other than at the odd mutual promo appearance for Mattel or NHRA. So DRAG ILLUSTRATED sought them both out for a wide-ranging discussion of their past, present and future views on the sport they helped bring to prominence.
Snake: Let me ask you right off the start: Mongoose fan or a Snake fan? Which car was best?
Drag Illustrated: Well, I grew up in Southern Ontario so I really never got to see you guys do anything. I just knew you from the pages of Hot Rod magazine and I have to admit I was a Mongoose fan just because I liked his little cartoon guy better. But I've got an 11-year-old son now and he is a distinct Snake fan, so you're well represented in my household.
Snake: Well, the Mongoose animal was real cool. I always wasn't real sure which animal I liked better and I wasn't paying probably as much attention to that stuff then as Tom did because he was more of a promoter.
Mongoose: The Mongoose and Snake thing was very, very big, all the way from the beginning. It's one of the rivalries, kind of like Garlits and Shirley that never went away, and it was never, ever a fixed deal—ever—when it came to competition. And it was always good for the press and the people, the Hot Wheels thing brought the first real money into the sport. We brought all these sponsors on board, and had these big trucks and trailers and uniforms, and that was the beginning of bringing all this stuff into the sport and it's just carried on from there.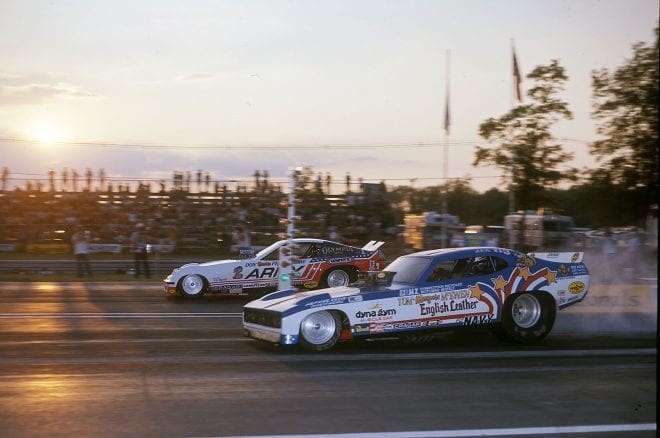 DI: Now that you've both had time to consider the movie and how fans responded, are you satisfied with the way it portrayed your story?
Mongoose: I think that for the time of 28 days of shooting and $4-million or whatever they ended up spending, that the movie was about 85 percent dead on and I thought they did a good job. I thought that the actors were good and Alan Paradise, the writer, and (producer) Robin (Broidy) and everybody that did the movie did a good job, too. For a drag racing movie, there hadn't been one in 30 years, I thought it was okay; I was pretty happy with it overall.
Snake: For a movie like that, definitely I think they did a nice job. If they had an extra couple of trillion dollars or something, they could have done more with it, but no, I think they did a nice job. It's a low-budget movie, but I think it had a good story and really, I think it was pretty damn accurate.
They would shoot stuff with me on scene and then later that evening they would play it back and the first couple of times it just blew me away. First off because I think Jesse Williams, who played me in the movie, he did a hell of a job. I spent time with him before the movie started, and man, when he put his wig on and whatever he did with the mannerisms and so on that I guess I have, shit, it was awesome. It blew me away. I just thought he did a great job. But like anything else, after a while you start to say well, we could have done this better, we could have done that better. But really and truly, I was totally, totally happy with it.
DI: If you could be given back all your skills and even your youth—but in today's drag racing and corporate climate—could you make the Mongoose and Snake sponsorship deal work today?
Mongoose: I think it's possible because every day a kid turns five years old. And little kids like two things; they like guns and cars and they play with them when they're little. But it's all changed. All the people that used to be in Hot Wheels when we were there are all gone. They don't have any car people there anymore; it's strictly business. They bought up all these other companies that make these little cars and they just don't have anybody there that cares about that kind of stuff anymore. So I think that if you were to do the Mongoose and Snake thing again—even though they do still make some of them—I think you could start out the whole thing again. The problem is, you're going to have a bunch of people there now, the next generations that are just computer guys. They grew up sitting inside playing games on machines and don't really care that much about racing. I can see it in the sports; I can see it in the collectible business.
DI: What about someone else? Are there any current drivers who could pull off a similar marketing rivalry like you guys had with the Snake vs. Mongoose deal?
Snake: No. I don't think so, do you? I think people that got to see those days, they got to see something really special. I don't think it's something that will ever be duplicated again in drag racing or have the following like we did in our match races. And it's not so much of just because it was us. It's the fact that the world has changed so much that young people really don't pay attention to the sport like they used to.
I mean, I still get people come up to me that say, 'Hey, I remember when you came to West Salem, Ohio in 1972 and I helped you unload your Hot Wheels car and I was holding your parachute while you packed it,' and this guy is 60 years old. It's those feelings and the love of the muscle car and the Hemi engines and all that back then was something that was special. That's gone now, as far as I'm concerned. People just aren't into it the same, not like they used to be.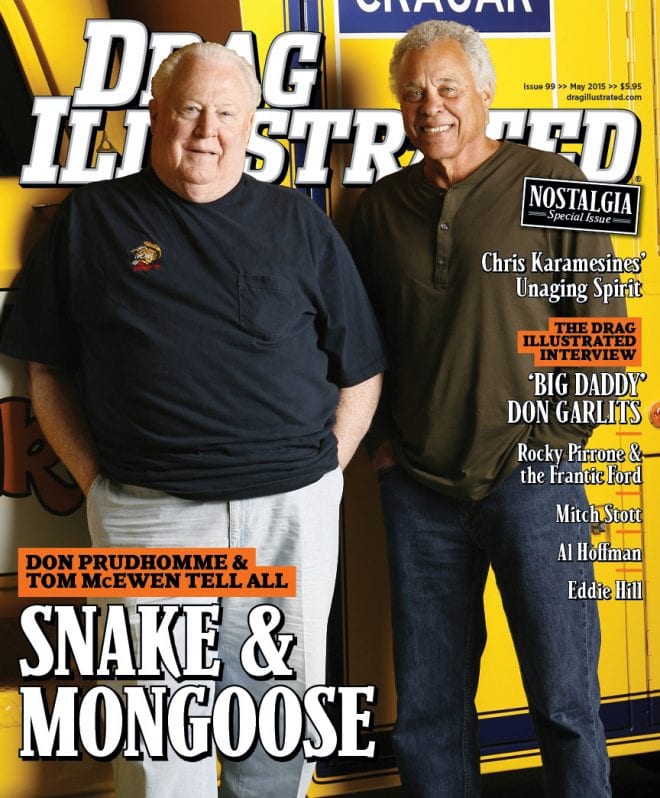 Mongoose: Well, you notice now on TV that after the races, the drivers are all hugging and kissing at the end of the track? They're not like they used to be either. In the old days it was like war, right? You had guys like Garlits and Prudhomme, if they couldn't win, they didn't want anybody to win. They didn't want to just beat you; they wanted to tear your heart out. Now you've got the guys that talk really good on TV, but it's almost like they're too nice.
I mean, the last time we had a real problem was Tony Pedregon and John Force pushing each other at the end of the track and that was years ago now. You don't see a lot of that raising hell anymore. To me, I get kind of bored watching the television every weekend. I get tired of the same old thing all the time, the same interviews. I think you need some hell, some new action on there.
And also there's no nicknames anymore. I don't know why NHRA doesn't work with these young guys. They don't put nicknames on these guys and then coach them how to talk. It seems like they interview the same guys every week on TV and I don't know, it just doesn't have the color to me that it used to have.
Snake: I think it's also a mistake not having the driver's names right up front on these cars like we used to have. You always knew if it was me or Tom or Shirley or Ed McCulloch coming up to the line because we were right there recognizable on the front of the car. The fans today, they can't read a name written on the roof or something. We also had helmets that were recognizable, too, and not just a sponsor opportunity. I saw where even Formula 1 is making a new rule that their drivers can't change their helmets all the time so the fans can get to recognize the drivers better.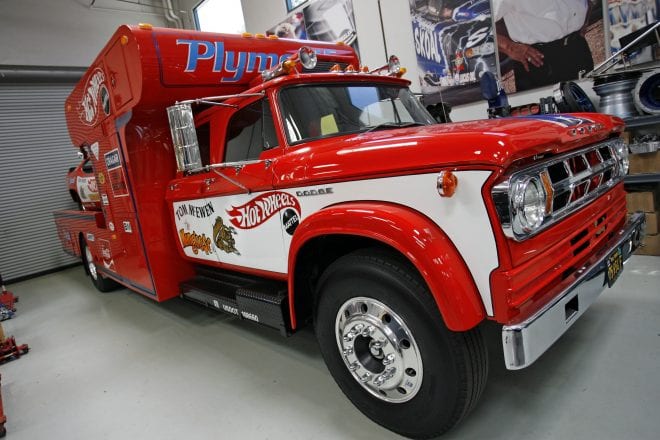 DI: Part of what made it work for the Snake and Mongoose match races was a certain amount of tension between you two, right? It wasn't just like two buddies going out and putting on a show.
Mongoose: Oh, much, much more than most people will ever know. For Prudhomme ego comes first, way more than money. Which is okay because of all the guys that I've raced over the years there were only a very few people like him and Garlits and a few others that really, really lived it. He eats, sleeps and breathes the sport. There was nothing else than winning. There were two or three other guys like that, too. Glidden, I think, was pretty much like that, too, where it was winning at all costs. And they didn't like you. They weren't your friend. All they wanted was to beat you. So it's a whole different ballgame now, but sometimes it takes two different kinds of people to be partners when you have a racing team type thing.
Snake: As far as I'm concerned, the racing was everything. Yeah, it was a show and they booked us in to race. They wanted their three runs and all this stuff, but more than anything I wanted to beat him. If I could beat him, I would do it, even if it cost me money. And we'd both run our engines harder against one another than we would against anybody else. We wanted to beat one another bad. It was totally important to me. The world I was living in was a small world, but it was a huge one to us. It was a huge one to us.
DI: It's easy to romanticize the past, but were things really better in the good old days?
Mongoose: For me, the '60s were the most fun. Of all the years, you ask Prudhomme what he thinks, but I think the '60s were the most fun because of the people and the racing. I mean, everyone wanted to win, but yet if you had a problem, say you just beat a guy and you blew your motor up and you had to come back, you could go to somebody on most occasions and they would loan you a motor or parts to get you back on the track. They don't do that now. The money has come in, they steal each other's crew people, their sponsor money, everything. It's all about money now. But back in the '60s it was hard racing but a lot of fun.
Snake: Well, really and truly? God, when we were just getting started those were the best days ever. I think anybody that raced back in those days could tell you that because the sport was taking off and we were one of the fortunate ones that stuck with it, and of course we got the sponsorship with Mattel, but what a lot of people don't know is that really, it wasn't so much about Mattel and the sponsorship. It was that that's the way we were making our living, going and doing the match races around the country, and Mattel just kind of put the icing on it.
In other words, we were tooling up and down the road, gosh, since 1965 and the first time for me was with Roland (Leong) and the Hawaiian dragster, driving for him. We would go to match races at Cecil County in Maryland, and all these other different places. So were those the best times? Hell, yeah! I mean, imagine pulling into a track and unloading your car and you're going to race the Ramchargers or someone at Detroit Dragway and then not only do you get to do that, you're gonna' get paid to do it. Which was awesome. So yeah, those were the great days and the best days by far, in the '70s and '80s, and even the '60s.
Mongoose: It got more professional when we got the Mattel thing going in '70 and we taught people how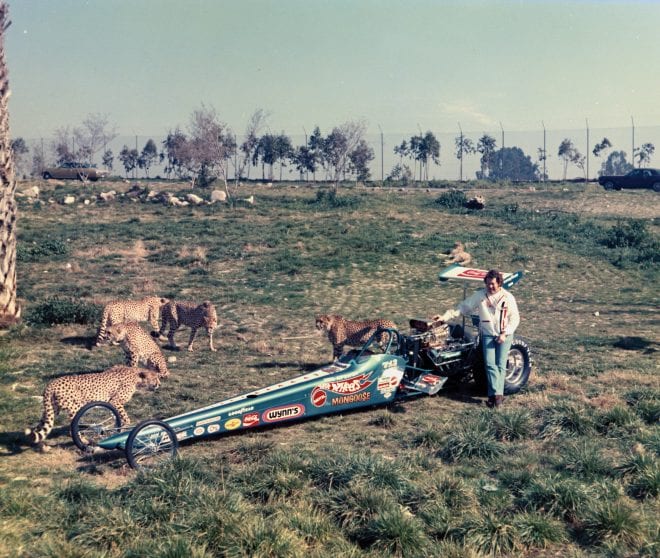 to wear uniforms and have nicer looking equipment and instead of just getting a free can of oil or a spark plug you want money to build your stuff and have an extra motor. We used to show up with maybe a couple of pistons as spare parts and run three or four times a week. I would leave town by myself with a station wagon and a car on the back and Prudhomme and his wife would be on their way up to the East Coast and when we'd get to a track we'd get spectators to help out as the crew because you couldn't afford crewmembers in those days.
And then there's the driving. I remind my guys that after a long, dirty day of racing you had to drive. We would be like in say, Budds Creek, Maryland, on a Saturday night and the guys that were booking the cars would call you up and say, 'Hey, I got a date for you tomorrow in Rockford, Illinois.' I'd say, are you crazy? And he'd say it's only two inches on the map. But it's an 18-hour drive! But that's the kind of stuff we did because then you'd get paid and if you were one of the elite guys back then you got 750 or a thousand bucks to show up and make three runs. And one of the thrills that we had in those days when we were driving all night, before there were Interstates everywhere, it'd be 3:00 in the morning and you'd be out in the middle of nowhere and all a sudden you'd see this glow coming from over the next hill and you'd get there and it'd be the awful Waffle House, open 24 hours. That was like heaven to us in the middle of the night.
Snake: Years ago, we would get free spark plugs, free gaskets, free motor oil, free everything that they would just drop off all kinds of products and stuff we could use on our cars. Then all that stuff came to an end as the economy tightened up and businesses started saying, listen, would you pay a discounted price? Hell, we started paying for spark plugs and I think they still are, but back in the day, they'd back up a truck and you'd get all the spark plugs you wanted. Nobody paid for spark plugs. Now try to get a free spark plug. It's also because they cost more to build these days; they're more technical, more everything.
Anyway, these companies were all building a brand. Well, once they've reached the top of building that brand and they have to show profits and stuff, obviously they started tightening up the reins and when that happened, everything changed. So it's tougher to race today. It's tougher to find sponsorships than it was back then. Back in the '80s and stuff, it was not just drag racing but everything. I mean companies were spending money like crazy. Christ, we used to be sponsored by Chevrolet and they'd pull up to our shop with a truckload of cars and unload them for our crew chiefs and drivers. They all had new Camaros, or anything you wanted. Those days aren't there anymore, but we went through those days and like I say, it's not because the companies don't like us anymore; it's because things have tightened up and they can't do that sort of thing. So I was glad to be there during those days, of course. Those were magical days.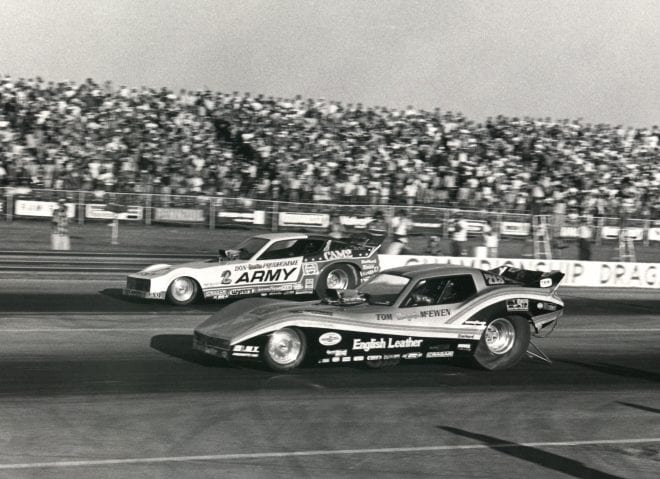 DI: Considering some of the safety issues drag racing has addressed over the decades, does it scare you a little sometimes when you look back on your career?
Mongoose: Oh yeah, how could it not? We used to race back where there'd be one searchlight on a starting line behind the cars and that'd be the only lights actually on the track at night and then they would have people park their cars along the track and have them turn their headlights on so you could see. And then you'd run on tracks that were real short or they were real bumpy or they'd have a stream running across at the end and the shut off area was all rock. If you ever noticed pictures of Garlits back then and how high his cars were off the ground, that's because the tracks that we ran on, you had to go over railroad trestles and rocks. You had to or you'd tear the engine pan off the motor in the early days.
These guys today, they've got no idea; Prudhomme and I, when we started, we were driving 92-inch wheelbase cars with a blown Chrysler in front of you with oil and water coming back in your face on bad tracks with no lighting. And we started out with no parachutes. We started out with just drum brake cars. I mean, we're the ones, we pioneered it. Guys back then made it possible for the guys today to race.
And let me tell you something. When I go to a museum like the NHRA Museum and I look at that Albertson Olds car that I drove I can't help but think about it. Some of these cars that I got into were made right out of muffler tubing and had half a turn of play in the steering wheel. If you're old enough to remember, inside a garage that's got tarpaper on the sides there were little steel things holding the tarpaper on. We used to cut those steel wires that held the tarpaper on and we'd use them to weld up the muffler tubing to build those cars. That's what we actually welded the cars with in the early days, that kind of stuff.
But we didn't think about that. All we wanted to do was drive a car and we'd get in other people's cars on the weekend and drive and just … we were crazy. We're lucky we survived.
DI: If money was not a factor, is there a current car out there, Funny Car, Top Fuel, Pro Stock, maybe even Pro Mod, that you would want to drive?
Snake: Shit, no. No, no, no, no, no, no, no. And here's why; because I've always done it and stayed on top because I felt as though when I was doing it I was the best. I don't feel that way anymore. There's drivers out there now, guys like Antron Brown and Spencer Massey, these guys are trained killers. These guys are so sharp on the lights. I don't want to have to go up there and race one of those guys. I know enough that I don't want to compete with that.
And let me tell you something else. The thing that a lot of people don't realize is that when I raced, it was for keeps. It was always totally, totally serious. But that also takes a toll on you when you wake up in the morning, Sunday morning, knowing that your whole life depends on cutting a good light. But back in the day, it wasn't just about cutting a light; it was about getting in a car at the other end of the course and saying I need to put this much weight on the clutch, it needs more nitro in it, I need to lower the air pressure a little bit, we need to put a different head gasket on it. So you were really involved with the car.
Nowadays, the driver isn't involved with the car. He gets in and he cuts a good light. Now, he can leave the starting line and be a little bit late, but he maybe did a wheelstand all the way down the course. Or he goes over the guardrail, came back on the track, clears the shut down, gets out of the car at the top end and the team would come down and say, 'You no-driving son of a bitch!' Well, what do you mean? Well, you were late. So I don't like that.
There's something about that, when they started coming up with all that reaction time bullshit, they kind of took a little of it out for me because I liked it when I was a driver that I could guide the car down the quarter mile. I could tell you what it needed, what it didn't need. I was much, much more involved. Then when I started having crew chiefs tune my car and stuff and I'm driving it, they didn't even want to talk to me until they got back to the pits and looked at the computer. So a driver is really out of the game now. His job is get off the starting line and don't be late. Outside of that, he's a no-driving son of a bitch.
Mongoose: Well, it really would depend on how much money I had to spend. You know what I mean? What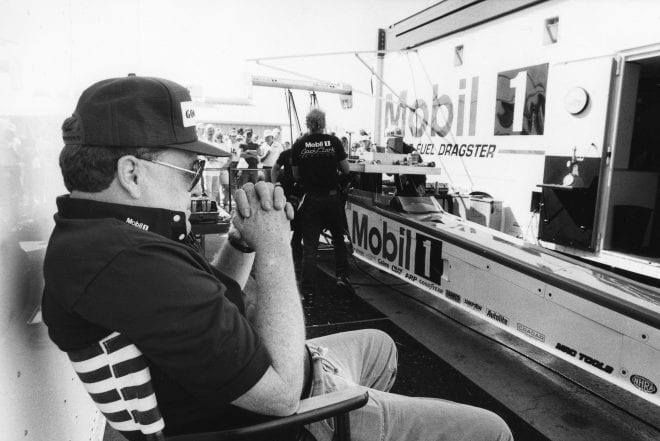 kind of budget I had to spend. I'm sure that myself or Prudhomme or any of the guys retired could do the job. It's just a matter of how much money you can spend. I think that the nostalgia racing would be fun, to build a couple of Hot Wheel cars like we had or the Corvettes or whatever, the Dusters or whatever we had, and go out and just run five seconds at 250 miles an hour and smoke the tires on it. That would be fun to go to Bakersfield a couple of times a year and run those kind of races.
But if I wanted to just go take a ride in something just to see what it feels like, I'd like to get in, say an Alan Johnson-tuned dragster that would run three seconds at 330 or so. Just to see how it felt to pull that hard and to go that fast because the fastest I ever ran was a 4.90 at 297 miles an hour. So it'd be fun to take a ride in a really good car, just to see how it felt versus what I did before.
The two cars I've never driven but would've liked to are a high-boy altered fuel car, which I always thought would be a very hard car to drive because of the short wheelbase and the engine sitting up real high, and a Pro Stock car because you've got to shift perfectly and keep going dead straight. I would think they're the two toughest cars to drive on the track. The easiest car is the Top Fuel dragster.
But I'll tell you, the class I kind of like most right now is the Pro Mods. I like watching those because you have the cubic inches, the supercharger, and the turbos or the nitrous and you have a mix of different cars and they all look different and sound different. In fact, if it were up to me, if I was NHRA I'd get rid of the Pro Stockers and put the Pro Mods in their place. I think it would make a better show.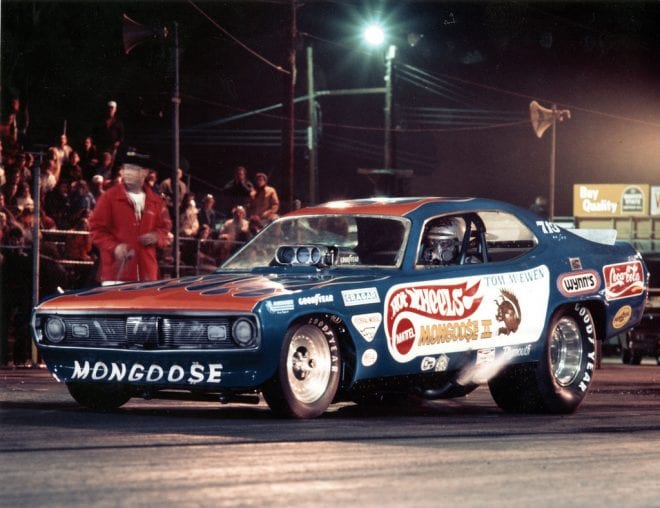 DI: Can you tell a quick bench-racing story from the Snake and Mongoose chronicles that most fans probably haven't heard before?
Snake: No,I don't have a story like that, I'm sorry to tell you, because I can't tell any stories that could get me in trouble. And all the ones that don't get me in trouble have already been told. So no, it was just a great time. We came along at the right time.
Mongoose: I was in my Corvette (Funny Car) once in Norwalk, Ohio, and the lights went out in the middle of a run and I couldn't see anything. I'm going probably 250 miles an hour and when it first happened I thought my helmet had somehow come down over my eyes or something. Everything just went pitch black and what made it worse, I was racing somebody. Fortunately we were both able to keep the cars straight and managed to not hit anything.
But the worst thing I had happen to me, one of the ones that I think back on sometimes, was I was racing the old track at Bristol, Tennessee. In the old days down at the shut off you had to turn right down there because there were trees and a mountainside in the way. So at the shut off down there everybody had to move over and go to the right around the trees. Well, I was in the left lane, qualifying at night and had an explosion, lots of fire, I couldn't see nothing. And I knew that this turn was coming down there and I was racing a guy and I just kind of turned when I thought I was supposed to and luckily it turned out that I did it just right or I'd have gone in the trees and probably wouldn't be here talking to you now.
DI: What made you retire from the NHRA national-event circuit?
Mongoose: I retired from driving in 1992; it was just time for me. I never did have the desire to own a team like Prudhomme did.
Snake: I quit racing after the '09 season. I just woke up one morning after another sleepless night worrying about finding sponsors and said that's it, I'm pulling the plug. And my wife didn't believe me. She didn't believe that I could actually walk away. But I walked away. I walked away because if I hadn't, it would have broke me. I would have went down the path of so many other racers when they didn't have the sponsorship money and started spending their own money, and once you spend that money, you'll never recoup it.
And you know, I didn't have my family in it like Force did. That's another thing. I didn't have those deep roots in the sport like John with his daughters driving and his son-in-law driving and all that stuff. So I didn't have to worry about that. The drivers I had I knew could get another ride, and the crew chiefs—shit, man, they were already jumping off like rats leaving a sinking ship, just trying to get on another one. Once they heard that the sponsorship was going away—and you can't blame the guys—but they're calling me saying, 'Hey, someone else offered me a job,' or 'Schumacher wants to hire me,' and I'd go, well, can you just wait another week; I've been working on this deal, trying to get it done? But after a while, I just said screw it and it really and truly was the best decision I ever made.
DI: How are you staying busy these days?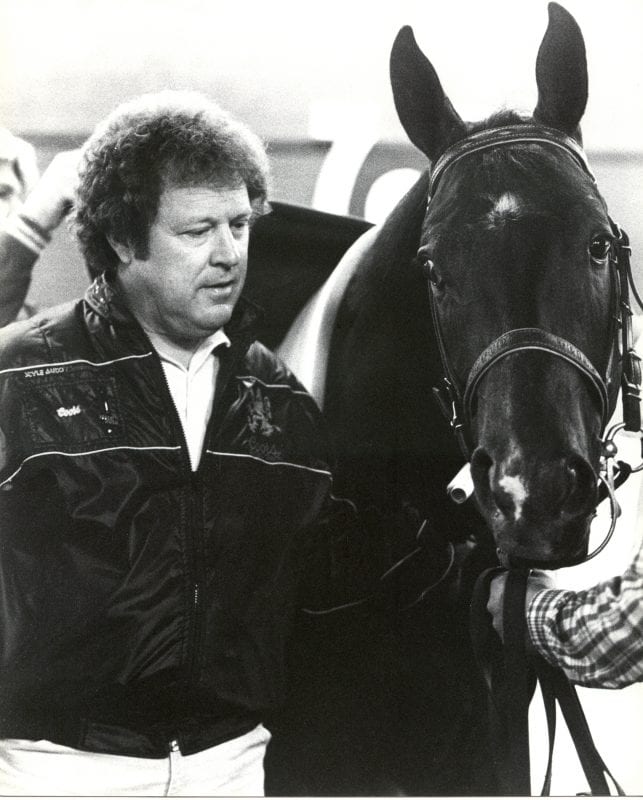 Mongoose: They've got me doing all kinds of stuff, but actually, all I am is the sales guy for Drag Racer. That's really all I am. I'm just an old bird hanging out at Drag Racer and enjoying the sport and the people in it. It's just a fun thing for me to do. And it's close to my house.
One thing we try to do, I treat Drag Racer like it's my own because it's like one of my horses. I'm proud of it and I feel like I race this magazine. I take it serious and my editor, Pete Ward; he takes it serious, too. And with our writers and our stories we really work at making it a nice book with nice pictures and stories. We feature the pros as well as the little guys that work in the garage with their dad and go out to Fontana on a Saturday night, and the bracket racers. I think Drag Racer magazine should cover everything and I try to do that, from top to bottom. And make everybody have fun and be proud of doing it, too.
Snake: Basically I had to build a new life. I built myself a new life and that's what a lot of guys have always struggled with. They spend their dough; they go out and go broke again because they spend all their money. But sometimes you just got to bite the bullet and build a new life. I've been really fortunate, really. Do I miss it? Yeah, I miss it a certain amount. I do. But I don't miss it enough to go broke!
So now I just do all kinds of stuff. I just bought a new Polaris, a dune buggy kind of thing. I'd been riding one down in San Felipe, Mexico, where I've got a buddy who's got a bunch of off-road stuff. I also go to Indy Car races with Chip Ganassi, who's one of my best friends. And I go to functions and stuff and kind of just do what I want to do. I hate to say it like this, but I've got a great home and a pretty nice life. I've got to be honest with you.
You know, once you get away from it, you realize what a small world it is, how in those days I couldn't, or didn't, see past a quarter mile and now I can see a long, long ways. The sky is bluer; the trees are greener, and I kind of wish I knew more about this type of lifestyle when I was racing. I wish I knew more about it but I never had time to stop and check it out. Maybe I'd still be racing if I had. I don't know. All I know is that it tore me up. I gave it everything I had.
Cover photo by Jason Sharp