Brittany Force arrived for testing this January at Wild Horse Pass Motorsports Park determined to erase the memory of her last time behind the wheel of her John Force Racing Top Fuel dragster.
The second-youngest daughter of four for the team owner actually enjoyed a pretty encouraging campaign in 2014, following up her Rookie of the Year season with three top-qualifying efforts, four final-round appearances and a berth in the 10-car NHRA Countdown to the Championship. It also was a somewhat up-and-down year, however, with 12 first-round losses, including two after starting from the number-one position, and a points-devastating string of seven races in a row late in the season when she suffered either an early exit or failed to qualify.
The blow that really hurt, though, the one she most wanted to forget, came last November during the 50th annual Automobile Club of Southern California NHRA Finals in Pomona, California—a hometown race for JFR and right in the backyard of NHRA headquarters just down the road in Glendora—where she managed a best of 3.91 seconds that was good enough only for 18th place and left her missing out on race day for the second time last year.
So, rolling into the track near Phoenix a couple of months later, the disappointing memory lingered but there also were the butterflies in the stomach that quite naturally accompany climbing into a 10,000-plus-horsepower missile capable of eating up a thousand feet in about 3.7 seconds at well over 320 miles an hour. It never becomes routine.
"I was definitely nervous when I got there just because I'd been out of the seat for so long. It was a new car, too, so that always takes some time to adjust to, but I was definitely nervous. When I got strapped in my heart was pounding," Force readily admits. "Those nerves, they die down a little bit once the season gets going and you know you're in the seat for back-to-back weekends. I don't think the nerves will ever go away; they're always going to be there. But I think that's a good thing because it keeps you aware of how fast these cars really go and that things can go wrong."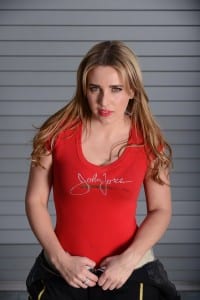 The pre-season test session represented a new era for John Force Racing, too, as it marked the first time in three decades that JFR took to the track without Castrol adorning the flanks of the team's three Nitro Funny Cars and Brittany's lone dragster entry. The occasion wasn't lost on her.
"It definitely was difficult last year losing Castrol because they're the ones that gave me my opportunity to drive so I'll always have them to thank. They're the ones that gave me my start in Top Fuel drag racing so I'll always owe it to them," the 28-year-old driver points out. "They were great to work with and I wish we could have gone a little bit longer with them, but that chapter is kind of closed and we've got to move on.
"I still feel very lucky to have worked with them, though, especially for my rookie season. To be able to take on Castrol Edge was pretty exciting just because I grew up watching my dad and I remember being a kid up in the stands and watching the car go by with the Castrol GTX logo on it and I just thought he had the coolest looking car out there. So for me to take that on and also have that Castrol on my car, it was very meaningful. I was very proud to have the Castrol name, to have them as a sponsor. I was very proud to team up with them."
Additionally, the JFR Funny Car contingent was dealing with another monumental change from donning Mustang-branded bodies for the past 18 seasons to new Chevy Camaro shells after Ford also opted out of its long-standing JFR sponsorship following the 2014 season.
It was a four-day test in Phoenix. The plan was for everyone to get back into the groove, reestablish procedures for the four JFR drivers—Brittany, her sister Courtney, brother-in-law Robert Hight and of course, father John—as well as their small army of crew chiefs, mechanics and other assorted crew members; all while making a few clean passes to set a baseline for the season-opening Winternationals a couple of weeks later at Pomona in early February.
Her dragster team, led by returning crew chief Todd Smith and assistant Ronnie Thompson, added early this year from the now-defunct Al-Anabi team for driver Khalid al Balooshi, got off to a rough start, Brittany says, but soon turned things around. "We were struggling just trying to find our groove again. But once we started making our way down the race track, the car seemed to fly."
Their improvement culminated in an other-worldly 3.698-seconds pass on Friday evening that unofficially represents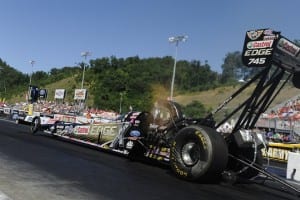 the first 1,000-foot pass ever to dip into the 3.60s. Brittany, with her name prominently displayed on the dragster's side panels where a major sponsor normally would reside, followed up the next day with a solid 3.76 effort at more than 323 mph to leave the track feeling energized about her chances with the season about to begin.
"We ended up making seven or eight runs with our car, I believe, all weekend long. Our early numbers were good so we could tell from the time slips that when we did get down the track, it was going to be a good number. The run before the 3.69 we ran a 3.80, but I only drove it to about 800 feet; but again, looking at the early numbers we knew that the car was going to be on a good run if we could get it to hook up all the way," she explains.
"I know it's an unofficial record. We didn't back it up and it wasn't at a national event. It was just during testing, but we did put a 3.69 on the board so we were pumped and excited about that. It just gave us that extra boost going into Pomona. Now we're just going to go out and jump into the season and our plan is to do it again, put that number on the board again and make it official."
With her team obviously prepared to fly the Force banner alone for another grueling year of Top Fuel competition, Brittany Force recently spoke exclusively with DRAG ILLUSTRATED about her experiences in the long car so far and what she sees as her role within the ever-changing JFR experience.
Has being a Top Fuel driver lived up to your expectations so far?
I absolutely love it. If you would have asked me a few years ago if I would be driving a Top Fuel dragster I would have thought you were crazy. It's something I never saw myself doing. I always knew I'd stay involved in drag racing, but at the time I was driving an A/Fuel dragster and that for me was fast enough. I was comfortable there and the idea of getting into a Top Fuel car; I thought those guys were nuts. I'd stand at a thousand foot and watch them go down the track, but I never thought in a million years I'd actually be getting in one.
But I've always been the adventurous type. I'll try anything once and the opportunity came along to test in a Top Fuel car, so I signed up for it. And then when it came down to it in West Palm (Florida) a couple of years ago and I was getting in the car, I thought, 'shoot, what did I get myself into?' I was absolutely terrified.
But that just comes with the job and learning how to drive the car. I was the same way in Super Comp and A/Fuel; nervous, sick to your stomach, but it's all about being scared of the unknown. Once I climbed into it and made a few passes, I thought, 'okay, I can do this.' And I ended up going down that path and now I'm going into my third year of competition, which is crazy. Last year went by so fast and I'm very proud of my entire team. We had a great season last year; locked into the Countdown, which was amazing. That was one of my major goals, actually was getting to the Countdown. We struggled quite a bit right toward the end, but overall I was very proud of our year and I'm anxious to get going again.
Did it take a couple of years or most of your rookie year at least before you really felt like you belonged in Top Fuel?
I still believe I have so much to learn. Every time I go down the race track I feel like I learn something. The car always does something different. No run will ever feel the same. No run will ever be the same. And you learn from every run, and you mostly learn from your mistakes. That's what I've kind of figured out. But I definitely feel like I fit in a little bit more now.
Obviously, my rookie season was still a very big learning curve for me. It was every time I climbed in the car, it was more about me gaining seat time and experience going down the track. I tested for an entire year before my rookie season, but I definitely feel like I've come a long way. I feel like I've made quite a bit of improvement and I hope to keep moving in that direction. I want to be the competition out there; I want the other guys to be scared when I pull up next to them.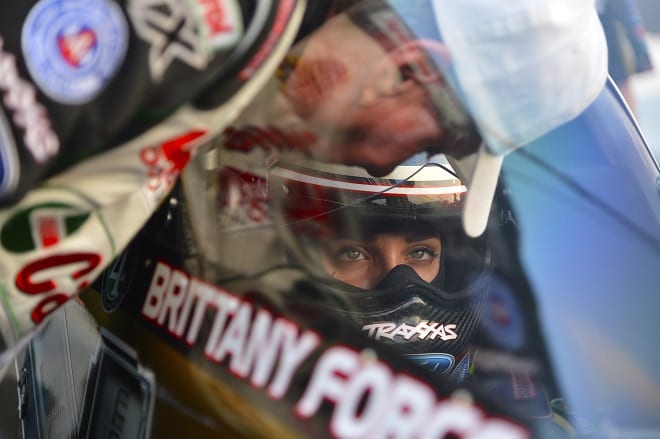 Do you think your last name made it easier for you to be accepted in Top Fuel or does it feel almost a little harder for you to make sure you live up to its reputation?
I definitely feel that can go both ways. Stepping into the Top Fuel dragster, obviously with the last name Force, I gained so many fans, my dad's fans. I gained all of his fans that came on and they were ready to support me. So I was very lucky to have that. But also, my dad, no one could ever fill his shoes. He's done so much for the sport. He's built so much on his own, starting from nothing and all the championships he's won. I don't think anyone can ever fill his shoes. That would be impossible, no matter how many wins you've had or championships. He's done the impossible. So I'm very lucky to have him as my teacher. I believe I have one of the best teachers out there and I have both my sisters I could always go to and Robert Hight, so I'm very lucky to be surrounded by so many great drivers that can give me insights and help me out.
What about the Top Fuel community itself, the other drivers, crew chiefs and crew members? Was it ever a challenge to get them to accept you as one of their own?
I feel like I fit in with them pretty well. I believe during my season of testing and even my rookie season, I had so many drivers go out of their way to come over and talk to me and give me advice or tell me things they noticed or tell me that they've been watching and I'm doing a good job. And that for me was a big deal. Drivers that I remember watching as a kid, like Tony Schumacher, would go out of his way to come over and say, 'Hey, if you ever have any questions about driving, my door is always open.'
Antron Brown has also been awesome. Spencer Massey and I are pretty good friends so I talked to him quite a bit. Shawn Langdon, he and I used to race Super Comp and A/Fuel together, so I remember pulling up next to him a few times. But all the drivers out there, they're all great; they've all really gone out of their way to make me feel accepted and welcome. I felt very lucky to have that. I feel like they definitely opened their doors to me. And I think it's because I grew up out at the race track; I've been out here since I was a kid with my sisters and I've known some of these drivers forever.
Do you feel like being in Top Fuel gives you a sort of separate identity from your sisters, Ashley and Courtney, with them being in the Funny Cars? Is it actually better for you to kind of make your own way by representing the Force name in Top Fuel?
I do love being over in Top Fuel and I have to admit it is nice to kind of have that separation from my sisters and my dad. Obviously, I wouldn't be in the sport if it weren't for my dad. He's the one that gave me the opportunity to drive and I'm very lucky to have his support. But it is nice to not have to worry about bumping into your teammate out there. So that part is nice.
I also definitely think that being in Top Fuel, my dad's kind of taken a step back a little bit during this whole learning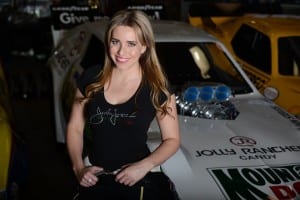 experience for me. I watched him with Ashley and Courtney when they were learning how to drive a Funny Car and I thought that being with my dad would be more stressful than jumping in that car for the first time just because he was all over the place. He's such a character and he's always trying to help but he won't just give you a few words of advice. He'll give you his entire years of experience, all his years of experience in a few sentences before you climb in the car and it's like, 'You're giving me way too much. I can't remember all that. Just give me a few things to focus on for the next run.'
We all know he's only trying to be helpful, but sometimes it is a little difficult to work with. He's only trying to help and give the best advice, but sometimes it's a little too much. So definitely, being in Top Fuel he's kind of stepped back and really let me figure it out on my own. Obviously, I still go to him with questions I have even though he's in a Funny Car. And I've still got him and Robert and Courtney. But if you see us up on the starting line, if I'm still rolling in, getting ready to run, you'll see him come over and lean his head in and he'll start telling me something. 'Okay, make sure to remember to do this, do that,' and he'll lean in and give me some advice and then he usually cuts himself off and says, 'You know what? I've never driven one of these, so you go ahead; you're doing a great job; you've got it figured out. So go ahead.' So it's pretty funny. But I'm really lucky to have his support and have him out there.
A lot of people have observed it seems like Ashley kind of follows your mother as far as personality goes and Courtney has been compared a lot to your dad. Do you feel that you're kind of in between your sisters, personality wise?
Yes, Ashley is very much like my mom and Courtney is scary. She's like my dad in so many ways and sometimes I just have to call her out on it. She's like, 'Oh my gosh, you're right.' But I definitely think I'm a good mix of both of them.
It's been about eight years since the Driving Force reality show was on, so does that feel almost like a different lifetime ago? Compared to your life now, was that a different Brittany back then?
No, it was definitely me; it was just a long time ago. I was pretty young, about 20 years old, just getting into college and I was driving Super Comp at the time and I believe I was testing in an A/Fuel car. That show definitely had its ups and downs for me. I wasn't the biggest fan of it. It wasn't something I loved. My whole family, we were all involved in it so at least I had them by my side. But I didn't love putting everything out there for the world to see. It wasn't my favorite thing that we did, but I went along with it.
You definitely saw, or I think people could see in some of the episodes how I felt about the cameras being around all the time. The crew that we worked with, they were the best part about doing that job, just seeing them every day and working with them. But that show definitely was difficult, going out in public places with five camera crew guys following you and everybody staring and looking. There'd be a guy with a huge camera and a guy with lights and it was just you couldn't miss us when we'd walk in somewhere, into a restaurant or a grocery store or whatever. Everyone was looking and I hated that extra attention. I wasn't a fan of that, but it's something that we'll always have. Looking back on it now, it was kind of fun while it lasted, but I don't know if I'd sign up to do that again.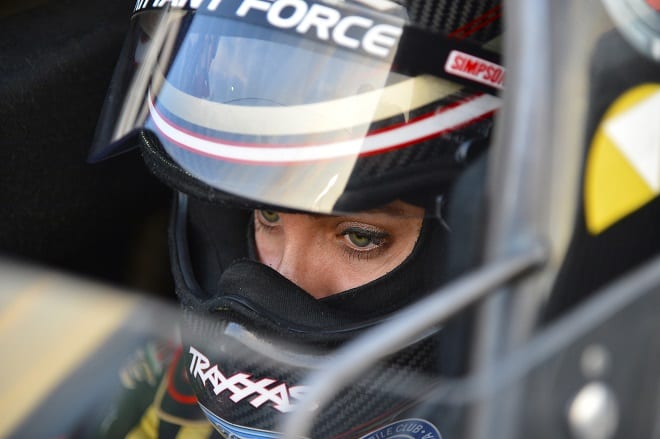 Was it good training at all, though, now that you're in the spotlight in a different way?
Yeah, definitely I think that show helped me make my transition from A/Fuel to Top Fuel. Now that I'm in Top Fuel, cameras are everywhere. When you strap up and jump in the car, doing interviews, there are cameras all over the place. And I definitely think that would have been a little bit more of a challenge for me if I hadn't done that TV show for 2006 and 2007, whenever we did it, and I definitely think learning to be comfortable around cameras, cameras in your face every second, I definitely think that helped out.
You grew up in California, but your race car is kept at the JFR shop in Indianapolis. Where are you most likely to spend your free time these days?
My whole family lives in California so that's where I am most of the time. Obviously during our season, we're all over the place but I try to come home on the free weekends and have a week there. It's nice. But I'm also in Indy quite a bit. So I'm kind of all over the place.
But I love being home. I think it's because I'm gone so much, living out of a suitcase at a different hotel every single weekend and flying in and out of airports constantly. So when I am home, I like to stay home.
What do you like to do on your own when you do go home?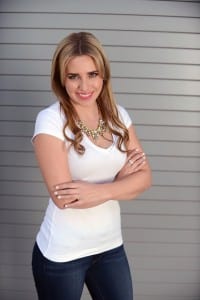 I like to meet up with friends and we'll go eat dinner. I like to jog. Okay, that's a lie. I hate to jog; I just make myself do it. But jogging and hot yoga are the two ways I like to stay active when I'm at home. And I'm like my dad; I like to go to the movies, every night.
And the beach is right down the street so I love going to the beach when it warms up. I just like being home. My family, for as much as we hang out on the road and travel and work together, we hang out all the time at our home. We always go to my parents' house.
Cooking is actually one of my newest hobbies. Courtney and I like to cook quite a bit. We enjoy that. We went up to Lake Tahoe for the holidays and we cooked and baked and did it all.
I like to do pastas, any kind of grilled chicken, or for Thanksgiving I did an entire Thanksgiving spread. Actually, no, the turkey is the one thing I don't touch. But I did all the side dishes; green bean casserole, stuffing, sweet potatoes, the whole thing. So that was a lot of fun. I'm always on Pinterest and if I find new recipes I like I'll try them out.
Do you stay in touch with friends from outside the sport, from college, high school, anything like that?
Oh yeah, I have a good little group back at home that I've been friends with since elementary school. We grew up together and they know all about racing. We used to go watch my dad when we were younger. Now, they come out every year to Pomona. They sometimes come to Vegas. But they know all about the whole drag racing world and they come out to support me, which is awesome. It's great knowing that they'll be in the stands in Pomona. But when we get together racing is always on my mind so I do talk about that a lot, but it is nice sometimes to get away with my girlfriends and just leave work at home and talk about something else.
What about boyfriends? Courtney is in the news right now with her upcoming marriage to Graham Rahal and Ashley has been happily married for a while. Is there anything like that on the horizon for you?
No, not right now. I'm not in any hurry to get married. I'm enjoying traveling and having my own time. I'm in no rush.
How big of an accomplishment was winning the Rookie of the Year title for you, especially since Courtney and Ashley both won it, too?
Yes, both my sisters won it so it was cool to follow in their footsteps and take that home, not just for myself but for the entire team. We won it together and that was a big deal for all of us. We were pretty excited. I was so nervous that night, walking out on stage because you didn't know until they announced it and I was nervous. I was hoping we were going to get it, but I was up there with so many other great competitors, it could have been anybody. So I was very excited to take that home.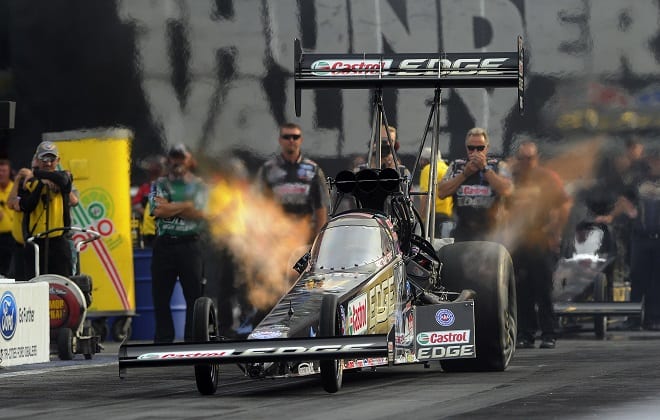 Are you happy with your performance and outcome from last season?
We definitely stepped it up. I feel like we've really come such a long way since we began the rookie season. We didn't win a race, but we were in the final round four times so that to me was pretty exciting. I remember my first final was in the second race of the year in Phoenix last year and as I jumped out on the other end, even though I lost, it was still exciting that my team had made it that far. I was so excited that we even made it to the final.
But as the year went on and we had more and more of those it was like you're so close, yet so far. That was difficult for me, getting out and thinking we almost had it. It was that close. So it definitely became a little bit tougher to take the more the year went on because I knew it was so close and I wanted to take home a win last year so bad for the entire team. We all wanted to take home a win, obviously.
But I definitely feel like we've come a long way. It's difficult. It's been a challenge for John Force Racing. Everyone's been involved in that dragster, but it's the first dragster we've ever had so it's definitely been a challenge. I feel like we've done a great job and like I said, we've come a long way since our rookie season and I hope to only improve and go a little bit further this year again.
With everything that was happening off the track for your dad and for the team, looking for sponsorship—I know he repeatedly said your rides are safe and he'll sit before you or Courtney or Robert does—but how difficult is it to watch everything happening on that front while you're still trying to race?
Well, I've definitely been way more involved in that, especially these last few months trying to find a sponsor because we don't have one yet. But it's something that I've actually enjoyed doing. My dad is teaching me a lot. I think we'll get it figured out.
Did your dad talk to you during the year about what was going on with the sponsor search or did you kind of just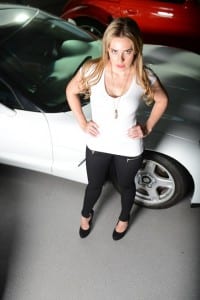 have to leave that to him and whoever else was looking after that for you?
He keeps us in the dark about some things and fills us in too much on other things. You never know with him. He's a bit of a storyteller and exaggerates some things so you never really know if you're getting the hundred-percent truth in everything with him. But we kind of knew; we knew what was going on and what was coming.
What are you most looking forward to this year?
I'm just ready to get back to my race car. The off-season has been too long. I'm getting bored. I'm ready to get back out on the road, get out there with my team and my number-one goal is still going after our first win. That's what I want more than anything and then obviously to lock into the Countdown again. That was a huge accomplishment. Even though we ended up number 10, just to be up there on stage with those champions was a very proud moment for me. It's something I'll never forget. But this year I definitely want to bring home a win, the first Top Fuel win for John Force Racing, but I really want to get to that Countdown again, too.
Photographs by Gary Nastase, Ron Lewis, and NHRA/National Dragster
This story originally appeared as the cover story in Drag Illustrated Issue No. 96, the Hottest 2015 Issue, in February of 2015.