Street-legal racing sensation "SpongeBob" Bob Curran passed away Monday, July 30, after being involved in a motorcycle accident. He was a fixture in the NMCA pits, beloved for his infectious smile and an unending willingness to offer a hand to his fellow racers.
Veteran DI writer Ainsley Jacobs featured Curran in DI #90 in August of 2014, less than a year after he won the 2013 NMCA Xtreme Street season championship. The story appears in its entirety below.
Bob Curran knows small-tire racing. As a multi-time champion with a professional career spanning almost 15 years, he's seen it all, and right now he's confident street-legal drag racing's popularity is quickly gaining speed.
Curran was always interested in cars, but especially so once he got his license at 16 years old. His first ride, a '69 Chevelle, was "kind of beat up and really nothing special," but Curran did some wrenching, had a motor built, and eventually brought it to the track. He laughingly remembers at one of his first races, he got his "butt whooped by a good friend whose motor had been built by his [friend's] sister!"
In the late-'80s, Curran acquired a '67 Camaro that took a long time to build as he had to travel frequently for his IT job. He admits, too, that "chasing girls and going out" sometimes made it tough to fit cars into the mix. As fate would have it, the guy that did the engine work on Curran's Camaro also worked on Nick Scavo's crew. Curran looked up to Scavo and began to take his racing hobby more seriously. With his interest piqued, Curran would often schedule his business trips around racing just so he could hit the track on the weekends while out of town.
Later, a few of Curran's friends collaborated on a '96 Corvette built to run in NMCA's EZ Street class, and long story short, Curran eventually wound up as the lucky owner of the Vette. Not long after, in February 2001, the turnkey 331 c.i. small-block Chevy with a flat-tappet cast cam, iron heads, and a nitrous plate system car took him to his first real race at Moroso Motorsports Park in Florida.
Unfortunately, the Illinois resident's NMCA debut was over practically before it started. A rookie mistake when Curran accidentally tried to leave the line in third gear was a learning experience, though, and he made significant improvements at each subsequent race. Later that year, Curran captured his first number-one qualifying position and set his first speed record. Finishing the '01 season on a high note, he placed fifth overall in NMCA EZ Street.
One year later, however, Curran had risen in the ranks to earn the NMCA EZ Street championship. From there, he moved into NMCA's Limited Street class and finished eighth overall in 2003, while also managing to finish third in the PRO Edelbrock Xtreme Street series. By 2004, Curran was able to add the PRO series class championship to his racing résumé.
"After '04, we pretty much were just there; we showed up, we did okay sometimes, and we tried a couple different combinations, but it wasn't anything great," Curran says. "We switched to a blower in '09 and struggled for a while, but switched to an LSX powerplant built by AES Racing in '13 and never looked back. It's amazing how much better it was and how my program really accelerated from that point on."
Curran also sought out Xtreme Street strongman Bob Kurgan for his expertise and guidance, and eventually teamed up with multi-time champion and legendary NMRA/NMCA racer Mike Murillo to help perfect his LS program.
It took a few years of struggling, but Curran's now got his Vette back on track. "Last year we could do no wrong," says Curran, who took home the 2013 NMCA Aeromotive Xtreme Street season championship.
Curran's Corvette now boasts a modern setup featuring a 400 c.i. LSX motor with a Vortech supercharger pumping out the boost.
"The Corvette is really great to race because they were built to go 200 miles per hour from the factory. The suspension is in place up front to do that, but in back it's another story," says Curran, who is running mostly Strange Engineering parts to keep the car hooked up nicely. He also opted for a Powerglide transmission built by Don Stanley at TSI with a Hughes Performance torque converter, and since Curran recently switched over to X275 racing, a set of Mickey Thompson ET Street Radial Pro tires mounted on Weld V-Series beadlock wheels.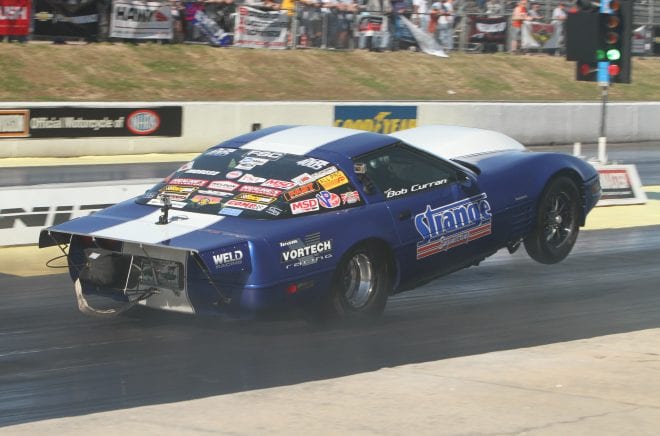 Over the years, rules have changed, classes have come and gone, and Curran's been there to witness the vast majority of it firsthand. He feels one of the biggest changes has been the introduction of radial tires. "I was never a radial guy, and I fought that change," he admits. "I didn't want it in our class and was against it, but now that I've run a 4.73 at 153 mph with a radial strapped on in Memphis, I've definitely become a fan. I had previously gone 4.79 and that big improvement was because of the tire."
With street-legal drag racing in particular, Curran also has noticed the dramatic shift away from traditional series-and-points style racing to the larger single-event, bounty-type races. "There's a big payout if you're the winner. At a No Mercy/Lights Out race, or a Yellowbullet race, you can win five- or even 10-thousand dollars or more in one shot."
Curran predicts the trend of posting bounties and having atypical prize structures will continue to become more widespread. For example, at the Outlaw Street Car Reunion race in March, there was the chance for one racer to score the Battle of the States bonus and walk away with a $15,000 paycheck. Additionally, the Ohio Valley Prize Fight race held this May offered more than $20,000 in cash and prizes, including raffle items given to qualified cars. Curran is a fan of this format in particular, especially because "you could have a horrible weekend and still walk out with a $700 drum of fuel—that's not a bad deal!"
In the future, Curran expects to see more races that give more back to the racers just for coming out, rather than one payment at the end to the winner. He believes the evidence shows people are moving away from points racing to the bounty-type and standalone races. "They attract bigger names, and that means bigger glory if you win. With points races, if you miss one race, you're out of the running, but with these one-race deals it doesn't really matter and that's nice," he clarifies.
Another key component in the popularity of small-tire racing has been the use of social media and Internet presence by event promoters. By effectively utilizing their connections, both digital and in-person, promoters can leverage their social interactions to generate buzz and elevate the popularity of their races to a whole new level. Couple this with the widespread use of racing message boards and forums, it's now easier than ever to get the word out about an event, as well as get the superstar racers themselves directly involved in promoting. The potential for free and word-of-mouth advertising is nearly endless. "Social media draws people in, and gets them pumped," Curran notes. "I think you'll see more of that for promotion of these types of races."
He also appreciates the attraction of competing against large fields of heavy hitters.
"They bring tons of cars to compete for 32 spots. It's super exciting," he says. "No one wants to have a cakewalk and pick up a check. It's not a bad thing, but it's not rewarding. There's nothing better than knowing you went through one hell of a field with rock-star guys out there to get the win."
Not wanting to sit on the sidelines and watch, Curran has decided to hop on the bandwagon and get involved in the action himself. "I got my feet wet with X275 this year, and will go hard next year. For me, it was time to step away and do something different. I didn't want to change my car around much and strapping on a set of radials to go racing made perfect sense."
With more street-legal and small-tire races popping up on the calendar, larger purses and unique payouts this type of racing seems to be picking up momentum with plenty of room left for growth, both in racer participation and fan attendance.
"It's a good show for fans," Curran states. "These cars sure put on a show."
This story originally appeared in DI #90 in August of 2014.