Alexis DeJoria raced to the No. 1 qualifying position in Funny Car in front of a sold-out zMAX Dragway crowd Saturday at the NHRA Four-Wide Nationals presented by Lowes Foods.
Steve Torrence (Top Fuel), Greg Anderson (Pro Stock) and Eddie Krawiec (Pro Stock Motorcycle) also will lead their respective categories into Sunday's noon eliminations as No. 1 qualifiers at the unique event that features NHRA Mello Yello Drag Racing Series teams racing in a four-lane configuration.
DeJoria, who won the circuit's most recent event in Las Vegas, continued her early season momentum by claiming her first No. 1 qualifying position of the season and fourth of her career with a track record time of 3.934 seconds at 321.04 mph in her Tequila Patron Toyota Camry.
DeJoria moved into the top qualifying spot on the day's first attempt, powering to a 3.939-second run. She was even quicker in the final qualifying session.
"Tommy [DeLago, crew chief] got on the radio and said, 'Well, we didn't pick up as much as I wanted to," DeJoria said with a smile. "Another consistent .93. I didn't think we were going to stay No. 1. There are a lot of great cars out there. Fortunately, we were the best one today. I'm just proud of my guys."
DeJoria will try to earn her first Four-Wide Nationals victory and her second title of the season when she opens eliminations against Jeff Diehl, Phoenix winner Tim Wilkerson and series points leader Robert Hight.
"To actually finish the day in the No. 1 spot and get the track record that's just incredible, I am just so proud of my guys," DeJoria said. "Man, she's a handful off the starting line and I'm surprised I could keep her in the groove and get her down to the end of the track. Fortunately they give me good equipment and it makes it easier."
Friday qualifying leader Matt Hagan dropped to second in his Mopar Express Lane/Rocky Boots Dodge Charger with a 3.941 at a track record speed of 323.50 and will open eliminations against Daniel Wilkerson, Chad Head and Ron Capps.
John Force qualified third in his Peak Antifreeze Chevy Camaro SS with a 3.946 at 323.50 and will battle in a first-round foursome that includes Bob Tasca III, Jack Beckman and Tommy Johnson Jr.
In Top Fuel, Torrence will try to end a sluggish early season start that has included first round losses in the past three races when he opens with a quad that features a pair of former world champions. Torrence, who earned his third No. 1 of the season and eighth of his career with his Friday best of 3.736 at 326.48 in his Capco Contractors dragster, will face Terry Haddock, Shawn Langdon and Tony Schumacher in round one.
"I'm glad we stayed No. 1," Torrence said. "J.R. [Todd] threw a pretty good lap at it there by going [3.74] in that last session. I feel confident going into tomorrow, we've got a really good race car right now."
Torrence held on to the top spot despite a misstep during the final qualifying session where he mistakenly looked at the wrong set of bulbs on the Christmas Tree during the staging process. He thought he was staged, but wasn't and was timed-out with a red-light at the start. The Christmas Trees used in the four-wide racing configuration have an additional set of bulbs that show each driver when all four cars are staged.
"I figured something was wrong when I saw the red light come on, but it wasn't until I made the turnoff that I figured out I was the guy who didn't stage the car," Torrence said. "Driver mistake completely. You come here and do this [four-wide racing] once a year and I've never made a mistake before, but if you do it enough it's bound to happen. You just get in your routine and I was focused on doing the best I could at the tree and just dropped the ball. I apologized to Alan [Johnson, tuning consultant]. I will just wipe it out of my mind and show up tomorrow ready to race."
Todd posted Saturday's quickest run in his SealMaster dragster with a 3.743 at 324.28 and he will open racing in a quad alongside Chris Karamesines, Richie Crampton and Terry McMillen.
Points leader Brittany Force qualified third with Saturday's second quickest-run, a 3.751 at 319.90 in her Monster Energy dragster, and she will line up beside veteran Pat Dakin, defending world champ Antron Brown and rival Leah Pritchett.
In Pro Stock, Anderson powered to his second No. 1 qualifying position of the season and the 82nd of his career with a
performance of 6.576 at 210.41. By qualifying, the four-time world champ moved past legendary Warren Johnson on the list of drivers with the most consecutive races qualified with 304 straight, most for a Pro Stock driver in NHRA history.
"We made two great runs today and all three of our cars are fast," Anderson said. "Our guys did a fantastic job today and I am proud of them."
Anderson will face Australian Shane Tucker, Chris McGaha and Allen Johnson in a tough first-round quad as he goes for his third Four-Wide Nationals victory and the 81st win of his career.
"Anything can happen on race day," Anderson said. "When you've got four cars lined up and you look over and realize that any one of them can whup you, depending on who leaves the starting line first. Almost 99 percent of the racing in Pro Stock comes down to how well you do on that Christmas Tree."
Sophomore sensation Drew Skillman qualified second in his Ray Skillman Chevy Camaro with a 6.583 at 209.72 and will open eliminations against John Gaydosh Jr., Alex Laughlin and defending world champ Erica Enders, who qualified 10th in her Elite Motorsports Dodge Dart.
Points leader Jason Line qualified third in his Summit Racing Camaro with a 6.584 at 211.10 and will go for his third victory of the season when he meets V. Gaines, Vincent Nobile and Kenny Delco in his first round quad.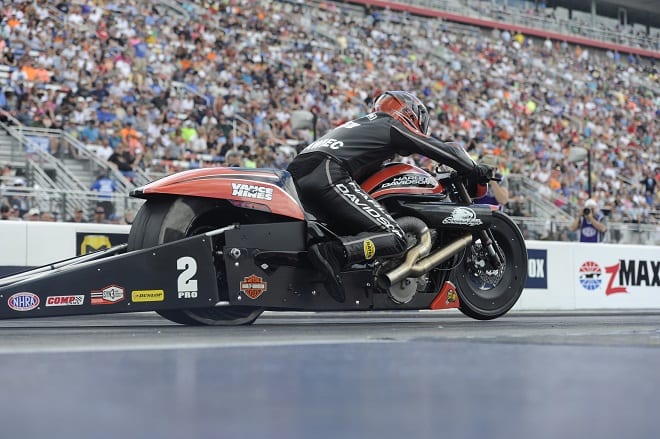 Krawiec took his second No. 1 of the season and 29th of his Pro Stock Motorcycle career with his Friday run of 6.818 at 192.85 on his Screamin' Eagle Vance & Hines Harley-Davidson. Three-time world champ Krawiec will race Melissa Surber, former champ LE Tonglet and Michael Ray in his opening round quad.
"I've got a bad to the bone Harley-Davidson right now and I'm excited to be riding it," said Krawiec, the current points leader who won the season-opening bike race in Gainesville, Fla. "Ultimately I want to be in the media center on Sunday after a bunch of win lights. The No. 1 qualifier is just a bonus to that and give those accolades to the team because they are the ones who give me a fast bike. For me, I want to hold a Wally on Sunday."
Two-time world champ Matt Smith made Saturday's quickest run to qualify second on his NitroFish Victory Gunner with a 6.832 at 195.76. It is a nice rebound for Smith, who failed to qualify at the bike opener in Florida. His quad will also include veteran rider Steve Johnson, Chip Ellis and Scotty Pollacheck.
Defending world champ Andrew Hines, who has claimed the past two Four-Wide Wally trophies, qualified fourth on his Screamin' Eagle Vance & Hines Harley-Davidson and will race Brian Pretzel, Louisiana alligator farmer Jerry Savoie and Jim Underdahl in his opening round quad.