The Ultimate Heat Protection for V8 Spark Plug Wires
Avon Lake, Ohio ( February 3, 2015)…For V8 ignition wires exposed to extreme heat from exhaust manifolds and headers, DEI's new Titanium Protect-A-Wire™ Kit provides the most advanced heat protection on the market.  Developed with proprietary Titanium LR fiber technology, the same material as DEI's Titanium exhaust wrap and plug boots, this this Titanium color sleeving material withstands temperatures up to 1800°F direct heat, or 2500°F radiant.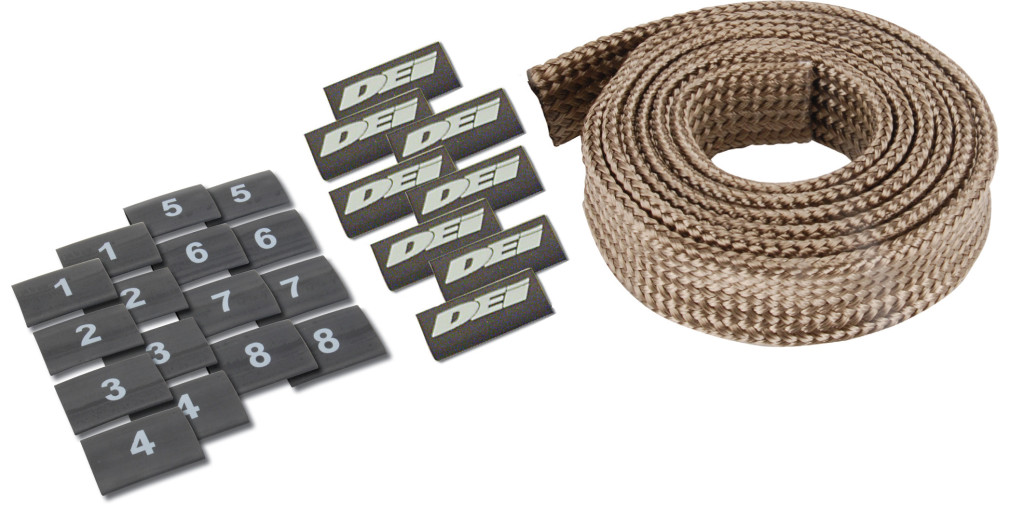 DEI's new Titanium V8 Protect-A-Wire kit includes: 25' of ½" ID Titanium sleeving, 8 qty. DEI is branded high heat shrink tube ends, and 16 qty. high temp shrink tube ends numbered one through eight (two of each) to ensure plug wires are connected to the correct cylinder.
Capable of withstanding extreme hot or cold temperatures, these oil and chemical resistant protection sleeves with its ½" ID easily expands to fit larger spark plug wires often used for the V8.
For more information about DEI's new Titanium Protect-A-Wire Kit, part #010603, visit www.designengineering.com, call 800-264-9472, or e-mail:[email protected]. To keep up with the very latest DEI product introductions and company news connect on Facebook, Twitter, or Pinterest or subscribe toDEI's e-newsletter.