David Hance will make his long-awaited return to Pro Mod racing at the upcoming 46th annual Toyota NHRA Summernationals at Old Bridge Township Raceway Park in Englishtown, NJ on June 5th-7th, 2015.
Hance is widely respected in the drag racing community for having set multiple records with his Pro Mod and Outlaw 10.5 cars, for being the founder of the legendary Shakedown at E-Town (now known as Shakedown at the Summit) races, and for working with the North East Outlaw Pro Mod Association (NEOPMA) in bringing Pro Mod class racing to the North East.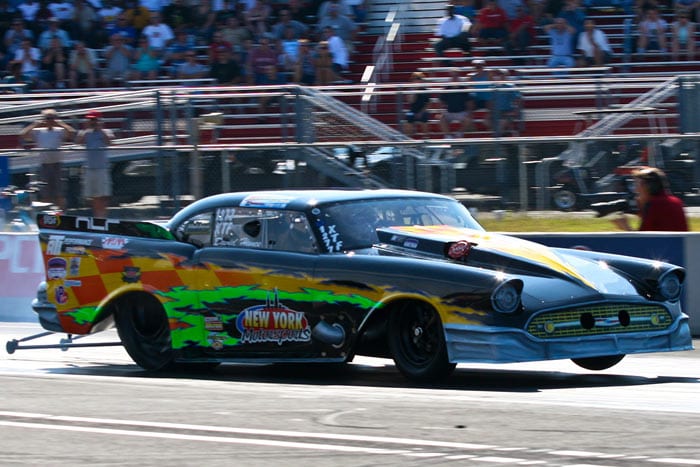 Although he's been noticeably absent from competition during the 2014 and 2015 seasons, Hance has still been working – hard. During his racing hiatus, Hance has taken on multiple new entrepreneurial ventures and focused on his businesses. Now, Hance is ready to make his big comeback and will do so at his home track, Old Bridge Township Raceway Park.
Hance will field his 1957 Chevrolet Bel Air Pro Mod car – a proven winner – for the NHRA event. The beautiful car puts out an estimated 3,200 horsepower and features a 521 CI Hemi motor from Brad Anderson Enterprises (BAE) with twin Precision Pro Mod 88 turbochargers.
At the NEOPMA Pro Mod Wars race in October, 2013, the Chevy propelled Hance to the winner's circle with a 5.867 at 252.14 mph pass. Prior to that, Hance made a semi-finals round appearance at the NHRA Pro Mod race in Charlotte, NC behind the wheel of the beautiful Bel Air.
Fans will notice a big change once the car rolls onto the Englishtown property, though. For 2015, Hance has completely refreshed the look of the car and has chosen a clean, white paint job to act as a "blank canvas" on which he will prominently display his sponsors' logos.
"I'm really excited to start racing again after having worked so hard for the last year," said Hance. "And to be able to do it at Englishtown, where all of our friends and family will be able to come out and cheer us on, is really just perfect."
Currently, Hance is seeking marketing partners who wish to work with the established and well-known New York Motorsports team. "We have a great opportunity for a company to be prominently featured on the sides of our ride for the Englishtown race, and to reach the large New York tri-state area crowd," stated Hance, who will be working tirelessly to get as much visibility as possible for his partners and supporters.
The drag racing world will undoubtedly be watching closely as Hance makes his exciting return to competition on Friday, June 5th, and the crowds will be cheering him on as the hometown hero speeds down the 1,320!