Dart Machinery continues the evolution of the Small Block Ford platform by releasing the all new Iron Eagle Pro block. Designed for maximum competition, the Iron Eagle Pro block is the ideal foundation when using large turbos, large blowers and heavy nitrous applications. This new superior strength 220 BHN cast iron block features a revised priority main oiling system, Steel 4-bolt main caps with upgraded ARP main studs and can accommodate a variety of machining options for virtually any racing application.
Dart Iron Eagle Pro (SBF) Features:
Superior strength 220 BHN Cast Iron.
Steel 4-bolt main caps with upgraded ARP main studs.
4.000" up to 4.185" bore.
Reduced .250" main oil feed holes.
Reduced .090" cam to crank oil feed (Babbit cam).
Removed cam to crank oil feed (Roller cam).
Removed oil filter location.
Removed front -10AN oil feed.
Removed rear lifter cross over.
External dry sump or external wet sump only.
Removed stock oil pump mounting boss.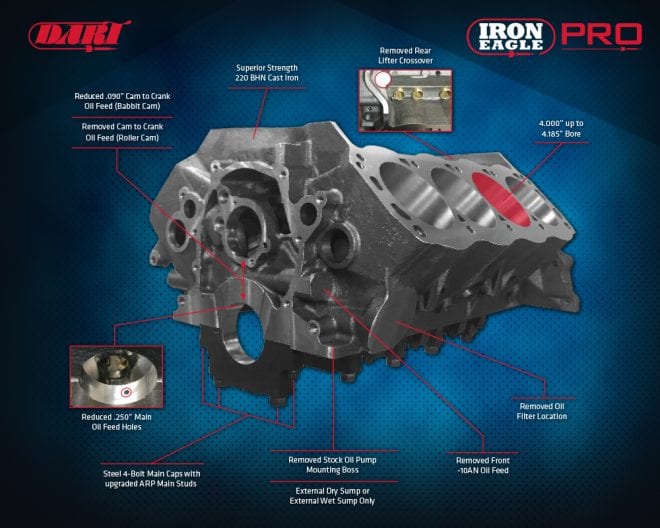 Call Dart's technical sales team today for more information and a dealer near you at 248-362-1188.