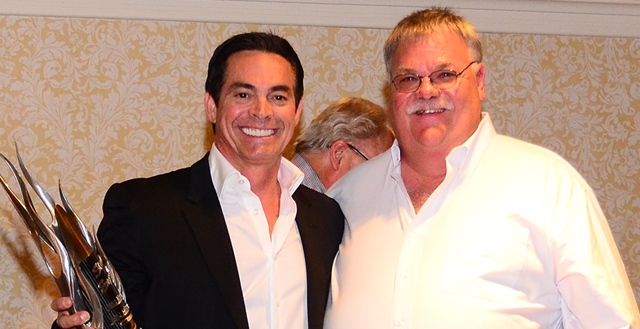 It seemed like a race weekend one step shy of perfect for the Agave Underground Pro Mod team as Danny Rowe came up short in the final round against fellow Pro Mod frontrunner Troy Coughlin, but that all changed later Sunday night during the NHRA Pro Mod Drag Racing Series Awards Banquet when Rowe and longtime crew chief Jimmy Rector were awarded the Steve Engel "Big Man, Big Heart" Award.
In front of a room filled with their racing peers, Rowe and Rector were presented the award that is handed out annually to a member of the Pro Mod community that best exemplify Engel's gregarious spirit and generous nature. The award was created in Engel's memory, following his untimely death in 2008 as a result of a high-speed accident during qualifying for the U.S. Nationals. Rowe and Rector join John Waldie, Mike Knowles, Troy Coughlin and Roger Burgess as recipients of the perpetual honor.
Rowe, a Pro Mod racer for nearly 15 years, and Rector, a multi-time champion Alcohol Funny Car racer himself who has served as Rowe's crew chief since 2006, are amongst the most beloved characters in the pits at any stop on the NHRA Pro Mod Drag Racing Series tour. Though fiercely competitive, their friendly and family-oriented nature is well known in racing circles.
"Jimmy and I are so honored to receive this award," said Rowe. "But, honestly, speaking for myself, I'm humbled more than anything else. My attitude is that I'm so fortunate to get the award, but it's this whole group that deserves it – all the people like Steve Engel who have worked tirelessly to build and grow the Pro Mod series; people like John Waldie, Mike Knowles, Troy Coughlin, Steve Matusek, Mike Janis Jr., Mike Castellana, Harry Hruska and Ryan Haas."
For Rowe, who has raced exclusively with Jimmy Rector since returning to the sport in 2006, it was especially gratifying to see his friend and tuner recognized.
"I think it's huge; I think it says a lot about what people think of Jimmy and our team," said Rowe. "He has stood behind me and lets me do my thing, and he's kind of the silent hero. He's always there for me so that I can do what I need to do, and I couldn't be happier that he was a part of this moment.
"For Jimmy and I to get this award in honor of Steve means more than we can say," continued Rowe. "Steve loved this sport just as much as we do. He had a big heart and even bigger smile, and we're proud to carry on his legacy and continue building Pro Mod in his honor."
Powering to the final round of competition at the season-ending NHRA Toyota Nationals, finishing sixth in the championship points and being awarded the Steve Engel Award will make for an enjoyable offseason for Rowe and company, but the veteran driver is already excited about 2014.
"This weekend in Las Vegas was a great way to put a bow on 2013," Rowe concluded. "Having so much of our family and friends on hand, along with everyone from our sponsor Agave Underground Tequila, just made it that much more special. We're already working on our plans for 2014 and we're looking forward to making a run at the championship."
To learn more about Agave Underground Tequila products, sweepstakes and hosted events, visit www.agaveunderground.com, Facebook.com/AgaveUnderground or Follow @AgaveUground on Twitter.
To keep up with the latest news and results from Danny Rowe Racing, log onto www.dannyroweracing.com
###
ABOUT AGAVE UNDERGROUND
Established in 2009, Agave Underground was started by Mike Ivey who not only was an avid connoisseur of tequila but was intrigued by the story and history behind the making of tequila. Agave Underground has mastered and perfected three unique tastes of their tequilas; Silver, Reposado and Anejo. In addition to offering tequila in the marketplace, Agave Underground Tequila is the marketing sponsor for a NHRA Pro Modified Race Team. For more information about the tequilas, company, events, sweepstakes, or Race Team, please log onto www.agaveunderground.com or call 949.679.4202.