Precision Turbo & Engine announced today that NHRA Pro Mod veteran and former nitrous racer Dan Stevenson will take the wheel of the PTE 2014 Pro Mod Chevrolet Camaro beginning at this weekend's NHRA Carolina Nationals and continuing through the remainder of the 2016 NHRA race season.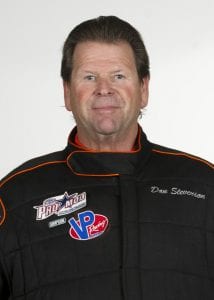 "I am excited to drive the PTE Camaro. It's an opportunity to race with one of the best in the business," stated Stevenson, who resides in Illinois and made the switch from nitrous to turbo after a devastating crash in Gainesville earlier this year.
"We have been working with new turbo driver Dan Stevenson for awhile now, and it was through that relationship that Dan graciously offered to temporarily step into the car to help us finish our season," said Harry Hruska, car owner and president of Precision Turbo & Engine.
"We are very thankful to have Dan behind the wheel of our Pro Mod, while continuously getting Dan's car up to speed and helping improve his program; it's a two-way street requiring a lot of of commitment on both sides," continued Hruska.
Stevenson and Hruska will be teaming up and testing the PTE Camaro and the Stevenson Crane Camaro in what is being a called a two-car and one-driver development program. The shared resources and brainpower should prove to be a potent combination as the duo plans to take both cars to the remaining three races on the NHRA J&A Pro Mod Series schedule.