Competitors from the Tar Heel State nearly swept the Professional Drag Racers Association (PDRA) East Coast Spring Nationals as Jay Cox led a host of fellow North Carolinians into the winner's circle at GALOT Motorsports Park.
Cox, from nearby Smithfield, recorded a string of 3.6-second passes to secure the season-opening win in Switzer Dynamics Pro Nitrous presented by MoTeC over 2014 Pro Nitrous world champion Jason Harris. Joining Cox in victory were Pinetown's Terry Leggett in Bryant Industrial Pro Extreme presented by Pro Line Racing, Jacksonville's Elijah Morton in Liberty's Gears Extreme Pro Stock and Bahama's Rodney Williford in Drag 965 Pro Extreme Motorcycle. Lugoff, SC's Jeremy Ray was the winner in Moroso Pro Boost.
Second-generation drag racer Johnny Pluchino scored the event victory in East Side Auto Transport Pro Outlaw 632, while Canadian John Carinci earned the Atomizer Injectors Outlaw 10.5 win.
The winners in the PDRA's expansive offering of sportsman classes were Donny Urban in MagnaFuel Elite Top Sportsman, John Prime in Top Sportsman 32, Kevin Brannon in Lucas Oil Top Dragster and Josh Duggins in Top Dragster 32. In Coolshirt Pro Jr. Dragster, Anthony Suppers used a superior reaction time and a 7.919 to defeat No. 1 qualifier Noah Cornatzer's 7.905, both on a 7.90 dial-in. The Gilbert Motorsports Top Jr. Dragster final round was also decided on the starting line, as Logan Westmoreland drove his Half Scale dragster to a 9.109 on a 9.05 dial-in to take down Chris Hancock and his 8.949 on an 8.83 dial. Smithfield's Jason Stowe won the Edelbrock Bracket Bash competition in his '92 Chevy S-10.
PRO NITROUS
Jay Cox and his Buck-powered "Pumpkin" '69 Camaro made a strong opening statement in the Flatout Gaskets Nitrous Wars when the local favorite uncorked three of the quickest passes in Pro Nitrous history to win the East Coast Spring Nationals. In the final round against Jason Harris and the "Party Time" '69 Camaro, Cox left the starting line first and maintained his lead through the finish line, posting a 3.696 at 201.31 mph to beat Harris's 3.74 at 201.07.
"We've got a really good motor right now," Cox said. "Me and (engine builder) Charlie Buck worked really hard on this piece. He thrashed day and night last year to get it to me early so I could put a few passes on it. We made some changes over the winter, made some more changes after the Mad Mule race here in March, and today you see the results."
Cox's trip to the winner's circle started from the No. 2 spot. Through eliminations, he posted an unopposed 3.702 at 201.58 and a 3.677 at 202.09 over Danny Sauro before using a holeshot advantage and 3.664 at 202.52 to take down Lizzy Musi's 3.658 at 204.98 in the semifinals. Harris qualified in the No. 12 spot and defeated Jim Halsey, Matt Guenther and two-time and defending world champion Tommy Franklin before facing Cox in the final round.
PRO EXTREME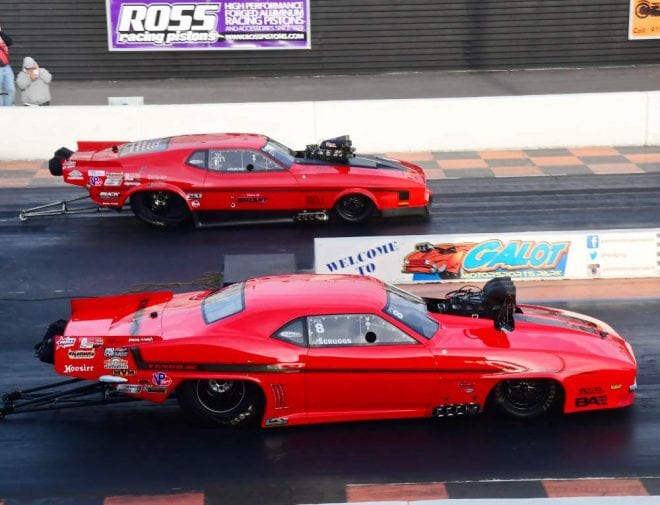 Past Pro Extreme world champion Jason Scruggs's celebrated return to competition was shut down in the final round by North Carolina logger Terry "Legbone" Leggett in his Leggett Logging & Trucking '71 Mustang. Scruggs left first, but an aggressive wheelstand forced the veteran wheelman to back off the throttle, allowing Leggett to charge on to a 3.557 at 213.47.
Leggett qualified No. 2 and earned his spot in the final round with an opening-round 3.697 at 172.61 win over Swedish racer Adam Flamholc, who struggled to an 8-second pass. Scruggs qualified No. 1 Friday night, but faced a late-night thrash to repair the Roger Henson-owned '69 Camaro after a high-speed run-in with the gravel pit at the end of the track. He returned Sunday morning with an unopposed 3.684 at 163.53 in the first round before facing Leggett.
PRO BOOST
After a string of strong performances at various preseason races around the Southeast, Jeremy Ray and his "Carolina Kingpin" '63 Corvette were poised to secure their second PDRA event win. Last year's Indy winner did exactly that, firing off consistent 3.7-second passes capped off by a 3.72 at 200.77 in the final round. Ray's opponent, Outlaw 10.5 legend Chuck Ulsch, broke shortly after leaving the starting line.
"This is just awesome," said the soft-spoken Ray. "I don't get too excited; I'm calm. I race the racetrack. Whatever it takes is what I'll give it. I don't run my mouth – the scoreboard does the talking for Jeremy."
Ray raced from the No. 6 position before beating Larry Higginbotham in the opening round. Second-round opponent Eric Donovan was unable to make the call after suffering an engine explosion in the first round, while semifinal opponent Marc Caruso slowed to a 4-second pass alongside Ray's 3.712 at 200.92. Ulsch qualified No. 4, moved past first round unopposed and beat Pro Mod veterans Ray Commisso and Tommy D'Aprile before the final round.
EXTREME PRO STOCK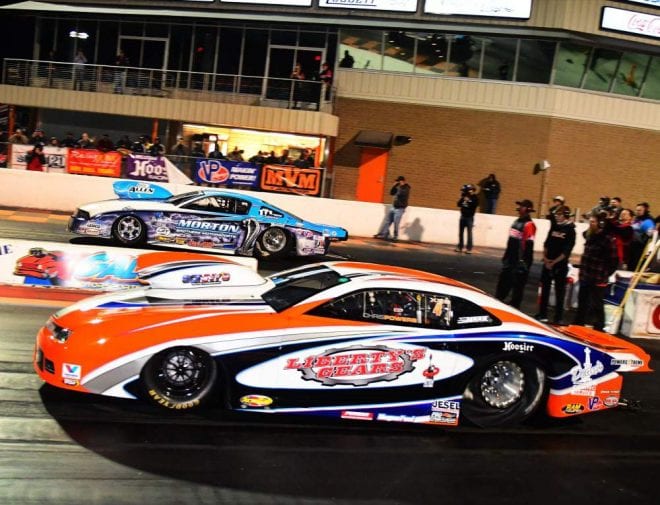 Saturday's rain-out was a letdown for everyone but No. 7 qualifier Elijah Morton, who suffered engine damage during Friday qualifying. The full day of downtime between qualifying and eliminations allowed Morton's crew to drive to their engine builder's shop in Tennessee, fetch a fresh batch of parts and return to GALOT Motorsports Park to make the repairs. Morton went on to beat No. 8 qualifier Chris Powers on a holeshot, running a 4.04 at 177.56 over Powers's 4.033 at 177.56 in an unlikely final round.
"My daughter told me you couldn't start No. 1 if you want a Cinderella story, so we had to start from the bottom and work our way up. I guess this is our little Cinderella story this weekend," Morton said. "My guys here from Allen Competition Engines drove back to Tennessee to get parts. They're just great guys. My crew just did a great job this weekend. Plus, this is my home track, so there's nothing better than coming out and winning in front of your friends and family."
Morton left his troubles behind in qualifying, as he drove his Morton Brothers Motorsports '12 Mustang to a 4.056 at 177.09 over a red-lighting John Pluchino and a 4.055 at 177.44 to beat John DeFlorian's 4.129 at 172.23. On the other side of the ladder, Powers and his Liberty's Gears '14 Camaro raced past No. 1 qualifier Jeff Dobbins and J.R. Carr.
PRO EXTREME MOTORCYCLE
Pro Extreme Motorcycle rookie Rodney Williford came out of the gate swinging came out of the gate swinging as he rode his nitrous-assisted Williford Racing '04 Suzuki Hayabusa to a 4.063 at 177.23 in the final round over multi-time PDRA event winner Brunson Grothus and his troubled 7.50 at 57.93. Williford, a star in the Pro Street scene, had never raced a motorcycle with wheelie bars or a big tire before a prerace test session.
"It's been a crazy week," Williford said. "I told Ehren (Litten, teammate) he was crazy when he said we're going to race a turbo bike and a nitrous bike, but it all worked out in the end. It's like a dream come true. The moon and the stars aligned and we came out with a win at the end of the night. I couldn't be happier."
Williford qualified No. 5 in the 16-motorcycle field and charged to 4.0-second passes over Burke Forster, Tommy Saxon and Terry Schweigert. Grothus qualified No. 2 aboard his Indocil Art Hayabusa and was unopposed in the first round before recording a pair of 4.02s to take down defending world champion Travis Davis and Ronnie Smith.
PRO OUTLAW 632
Johnny Pluchino, the son of 2016 Extreme Pro Stock world champion John Pluchino, used everything he learned from his father about naturally aspirated, clutch-equipped race cars to score the Pro Outlaw 632 win over Matthew Buck. Pluchino's '06 Ford Escort left the line first alongside Buck in Ken Kershaw's Chassis Engineering-built '15 Camaro, then Pluchino's scoreboard lit up first with a 4.265 at 167.68 over Buck's 4.281 at 165.42.
"We really have to thank (engine builder) Jon Kaase," Pluchino said. "We got this motor probably 2-3 weeks ago. My dad and I spent nights nonstop putting this thing together, but it's a bad piece. We're out here running with these nitrous guys and we're showing 'em how to do it."
OUTLAW 10.5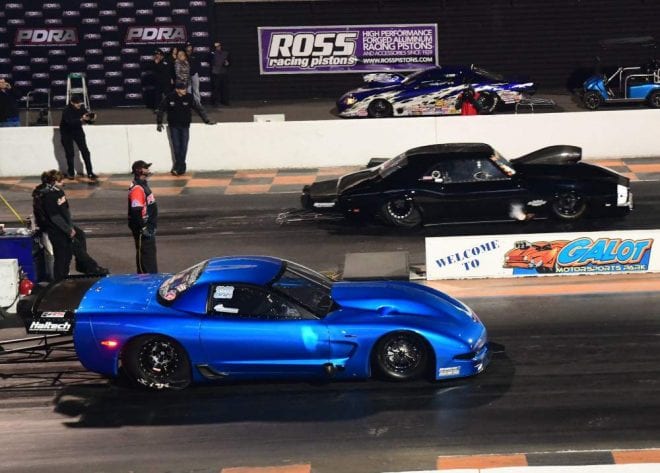 John Carinci's striking blue '04 Corvette quietly reached the semifinals after escaping the first two rounds without an opponent in the other lane, though he popped off a 4.05 and 4.06 in the process. The Canadian driver turned up the wick on his turbocharged entry for the semifinal as he recorded a 3.957 at 200.68 over Joe Newsham's 4.347 at 136.52. Carinci was unopposed again in the final round when low qualifier Phil Sliskovic's Camaro left early. Carinci streaked to a 3.965 at 200.38 to take the win.
TOP SPORTSMAN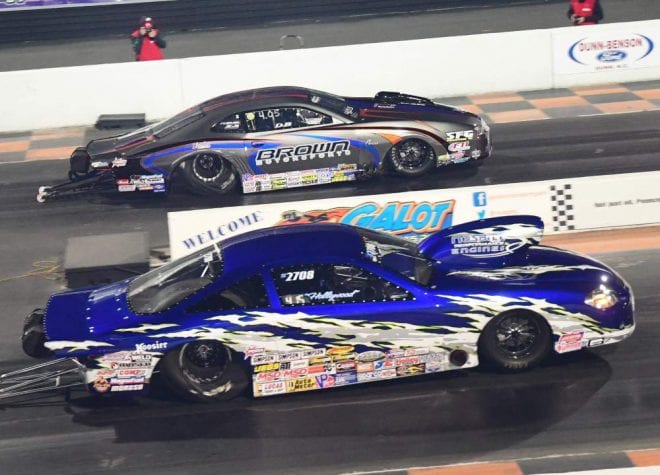 In Elite Top Sportsman, Donny Urban parked his '06 Chevy Cobalt in the winner's circle after running a 4.208 on a 4.15 dial-in, while opponent Derrick Brown left the starting line before the tree activated. John Prime earned the Top Sportsman 32 victory over Huston Dial.
TOP DRAGSTER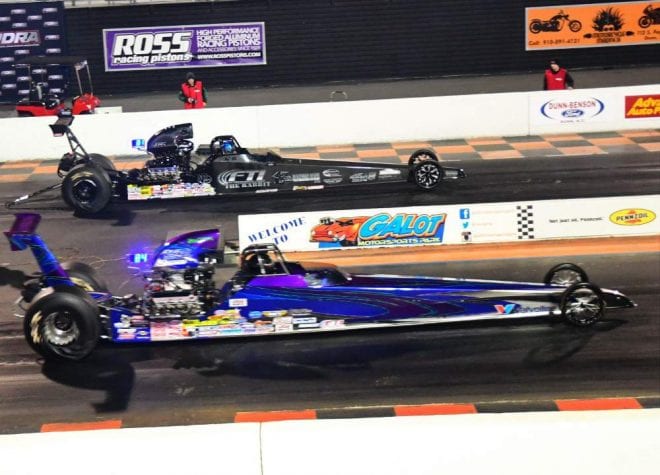 Sportsman racing hero Kevin Brannon drove his brand-new ProCharged '18 Maddox dragster to a 3.785 on a 3.81 dial over Denver Maltba's 3.808 on a 3.84 dial-in in a double breakout Elite Top Dragster final round. Josh Duggins was the winner in Top Dragster 32, scoring over Greg Slack in the final round.
The next stop on the 2018 PDRA Tour is the PDRA North-South Shootout at Maryland International Raceway, May 3-5.