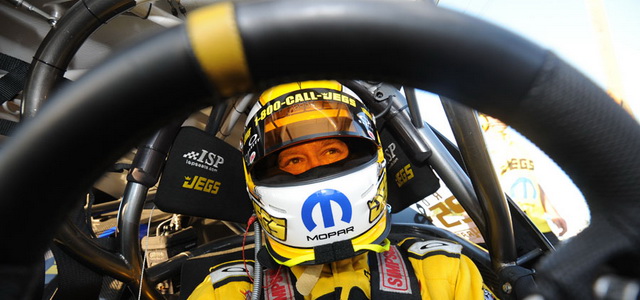 The pre-season preparations of five-time world champion Jeg Coughlin Jr. got off to a career-best start at a recent session in Bradenton, FL. Working alongside new teammate Allen Johnson, the recently-crowned Pro Stock king, Coughlin made several passes in the 6.4-second, 213-mph range, numbers that reflect personal bests for the 42-year-old veteran.
"We went down there hoping to get two teams to come together as one," Coughlin said. "That happened almost immediately, which was very encouraging. Most of his guys and our guys have been in the sport a long time so they all knew each other ahead of time. It was a very natural mix of personalities."
Coughlin's crew had been to Johnson's J&J Racing facility in Eastern Tennessee twice before the test to get the JEGS.com/Mopar Dodge Avenger outfitted with J&J Hemi horsepower. The two teams also worked hard to get Coughlin's car to be as identical to Johnson's Mopar-branded Avenger as possible.
"The multi-car concept has worked so well over the last several years and we want to do all we can to help one another win races for Mopar," Coughlin said.
"Allen set the gold standard last year. He won seven races and was low qualifier 10 times en route to winning the championship, so obviously they had their car and horsepower dialed in perfectly. We hope to emulate their success."
The four-day test started with Coughlin making a multitude of high 6.5-second runs with top speeds of 210 mph or better. Crew chiefs Jim Yates and Mark Ingersoll pecked away at the tune-up from there and after a full day of uninterrupted work, brought on by rain storms, Coughlin found his way into new territory.
"When we got back on track on Day 4 the conditions had improved dramatically," Coughlin said. "The guys had been adjusting several things on my car and right away it showed a big improvement.
"I started running high 6.4s at 213 mph, which put me right beside, or on a few occasions ahead of the top teams there. It was awesome."
Officially, Coughlin's career-best numbers of 6.520 seconds at 212.29 mph were set at the first Charlotte race in 2010.
"We expect to be contending right out of the trailer in Pomona and I'm confident our numbers will improve across the board," said Coughlin, a 52-time winner in the Pro Stock class.
"Allen and his father Roy are pretty comfortable with where we are at the moment but we'll probably swing by The Strip at Las Vegas Motor Speedway on our way to Pomona for another quick test.
"We're very excited about the season. Mopar got its first championship in several years in 2012 and we'd love to give them back-to-back titles in 2013. That's the goal."
(Photo courtesy JEGS)