Of all his vast accomplishments, one that distinctly stands out to Troy Coughlin more than a decade later was the North vs. South Big Dog Shootout victory in 2005 that netted the longtime Pro Mod standout a cool $50,000 prize. With that in mind, you can imagine Coughlin's excitement for a winner-take-all prize double that, which is precisely the case for the Drag Illustrated World Series of Pro Mod, Aug. 4-5 at Bandimere Speedway.
A $100,000 prize is on the line for the inaugural event – making it the biggest single-race payout in Pro Mod history – and as one of the invited participants for Saturday's main event, Coughlin is thrilled to make his Pro Mod debut in Denver.
"That's a lot of money that has been put into the ring," Coughlin said. "We're excited. I haven't raced at Denver since 2003 in the Pro Stock days. I'm looking forward to going back and it's such a cool place to race up on the mountain.
"We've got some work to get (Coughlin's turbocharged Corvette) ready, but we've got a five-star team that's definitely capable of making it happen. I've got faith for sure and it should be a badass race."
Coughlin's inclusion in the event helps give it that status, as his track record in the Pro Mod world speaks for itself. It includes two NHRA Pro Mod world championships, as well as a bevy of other Pro Mod accomplishments.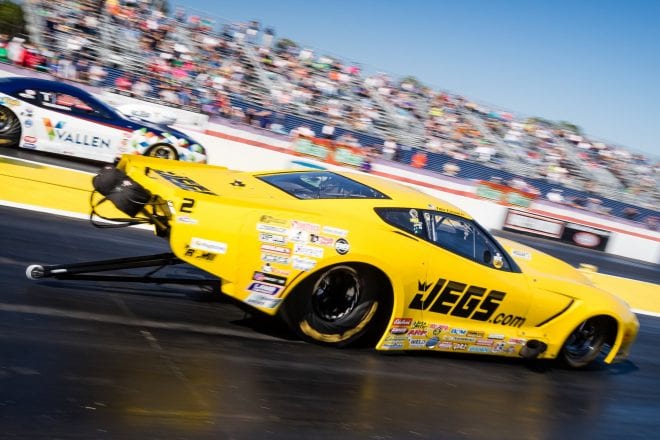 With first-round pairings being announced a month before on Drag Illustrated Editor-In-Chief Wes Buck's Live! Show on Wednesday, July 5, Coughlin's first-round pairing has already been highly-anticipated. Well-known as being one of the best off the starting line in the sport, that first-round matchup will weigh heavily on the minds of many of the invited drivers. But Coughlin recognizes the pressure of having a big spotlight on him heading into the race, adding an element that will be exciting for fans and could be stressful for the talented participants.
"That kind of money on the line, doing the (first-round) matchups randomly a month before, it adds so much more excitement and so much more nervousness at the same time," Coughlin said. "Anything can happen when you go to a place you haven't raced in a long time. That's a cool way of running a race."
Big stakes have often brought out the best in Coughlin, who has repeatedly responded impressively in pressure situations. In addition to the Big Dog Shootout victory, Coughlin claimed another $50,000 single-race prize by winning the historic NHRA Pro Stock Winston Showdown at Bristol. Of course, he can double that in Denver with the richest payout in Pro Mod history, but the race features a few more unique angles.
There will be no qualifying runs, replaced with three shakedown runs where the scoreboard will be turned off. Adjusting to the altitude of nearly 6,000 feet is an added measure of difficulty and Coughlin will be relying on the expertise of an experienced brain trust that includes standout tuner Steve Petty.
"It throws a major, major curveball into the normality of Pro Mod drag racing," Coughlin said.
Coughlin is one of 14 invited drivers for Saturday's main event, with the other two selections coming via fan vote and from the winner of Friday's 16-car, $10,000-to-win shootout. But as far as Coughlin is concerned, the big money grand prize may as well be flashing in lights, as that has his full attention, even with the added tension it brings.
"It goes through your mind and stuff like that, and you're excited about it," Coughlin said. "You do think about the money. (But) we're excited to try and grab that $100,000 for sure."