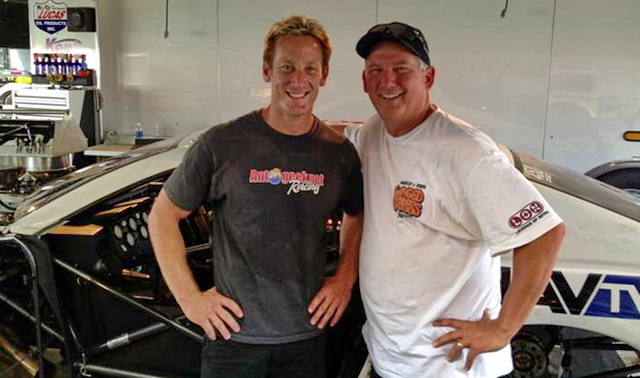 Reigning Competition Eliminator National Champion Bruno Massel (above, left) will make his NHRA Pro Stock debut Nov 7-10, at the season ending Automobile Club of Southern California NHRA Finals in Pomona, CA.
Massel will be behind the wheel of Steve Kent's 2013 Chevrolet Camaro in Pomona, with plans on running a handful of events with the team in 2014. 
"I approached Steve about teaming up for a few races next season and he was open to the idea, so I drove down and tested with the team in St. Louis prior to Indy," said Massel.
"I have to admit, it was a bit humbling at first, as the staging procedure is almost the exact opposite of what I'm used to with my turbo cars.  Thankfully Rodger, Pete and all the guys were more than helpful as I got acclimated to driving a clutch car for the first time.  Steve and Rodger have put together a first class organization and I'm just thrilled to be involved with it."
Autogeek.net will be supporting Massel's Pro Stock debut, as well as longtime marketing partners Lucas Oil, MAV-TV and Chevrolet Performance.  "Its is a just a good fit all the way around.  Not only am I racing with former Comp Eliminator racers, but I'll be driving a Chevrolet that also happens to be part of the Lucas oil family.  I couldn't have asked for a better situation."
"This is something I've wanted to do for a long time," said Massel.  "Pro Stock has been my goal for years, but I honestly never thought I would get the chance to make it a reality.
"Next year we're looking at doing 10 events together, obviously that depends on funding, but right now I'm just focused on dropping the clutch in Pomona.  I just can't thank Steve Kent enough for this tremendous opportunity!"