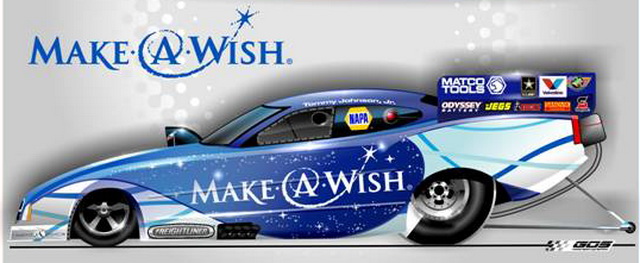 An unprecedented alliance was finalized Jan. 14, as NHRA Mello Yello Drag Racing Series Funny Car team sponsor Terry Chandler, along with team owner Don Schumacher of Don Schumacher Racing, announced that they will soon debut a brilliant Make-A-Wish paint scheme on their Dodge Charger R/T in 2014 with the intention of raising awareness for the non-profit organization.
As announced last October, veteran driver Tommy Johnson Jr., a nine-time national event winner in the series, will pilot the Chandler/DSR Funny Car in 2014.
"For me, this year is about giving back, and I thought a long time about how we could do that," said Chandler, a co-sponsor on the DSR Funny Car last year with her brother and then-driver of the Pitch Energy Dodge, Johnny Gray, who has since retired from full-time racing. Chandler, a passionate fan of drag racing, opted to fund the team on her own in 2014.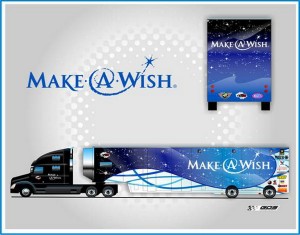 "Being out here with my brother and nephew racing as a family has given me so much joy, especially last year when my brother and I were able to dedicate the season to the memory of our daddy, John R. Gray. That was very special, and now I'm so proud to be able to do something special for a group like Make-A-Wish. We hope that with Tommy driving this car and every person on our team believing in this cause and caring so much, we can raise awareness for Make-A-Wish and make a difference in the lives of children with life-threatening medical conditions.
"Last year, being out here with my brother and this wonderful team and seeing them win four times – each one of those wins was a wish that came true for me. Hopefully, our Make-A-Wish Dodge Charger will inspire people and bring a little joy into the lives of children who need that so much."
The debut of the Make-A-Wish Dodge Charger at the season-opening Circle K NHRA Winternationals at Auto Club Raceway at Pomona, Feb. 6-9, will mark the first time that Make-A-Wish has been involved in NHRA drag racing.
"Having prominent placement on a DSR Funny Car is a marketing opportunity that has great appeal," said David Williams, president and CEO of Make-A-Wish America. "We are grateful for the commitment of Terry Chandler and Don Schumacher to help us grant life-changing wishes to every eligible child."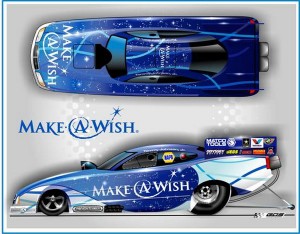 For DSR team owner Schumacher, introducing an esteemed foundation such as Make-A-Wish to NHRA is an honor.
"It's very exciting to have Make-A-Wish on the DSR Dodge Funny Car that Tommy Johnson Jr. will be driving for us this year. Terry Chandler selected a great organization to feature on our Funny Car," said Schumacher.
"Make-A-Wish has granted wishes for thousands of children diagnosed with life-threatening medical conditions throughout the country, and DSR plans to help Terry provide awareness of those efforts so even more kids and their families can be helped through challenging times.
"Terry and her brother, Johnny Gray, have done so much over the past few years to help children across the country and around their homes in New Mexico. Everyone at DSR is proud to be able to help them in any way we can."