Champion Racing Engines' Street Rod/Bracket 383 is custom-built for you with top-quality parts from all the best aftermarket suppliers.
The Champion Racing Engines 383 is based on a Dart block with forged  4340 crankshaft, Manley rods, SRP pistons, Dart Platinum heads, Manley valves, Total Seal rings, Comp Cams roller cam & lifters, Moroso oiling system, SFI approved damper, Comp Cams pushrods, Comp Cams High Energy aluminum roller rockers.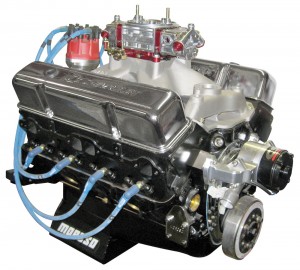 It also features polished aluminum valve covers,  Edelbrock intake manifold, 750 carburetor, Billet aluminum MSD compatible distributor, Moroso insulated race plug wires with separators, and ARP hardware.
Professionally machined, assembled and dyno-tested, this engine combination has a horsepower rating of 500-plus horsepower.
And it's not a crate engine, but an engine custom built for you, to work with your vehicle and your needs.
Pricing starts at $9995.00.
Champion Racing Engines—52 years of experience, quality & horsepower!
Contact:
Champion Racing Engines
McCordsville, Indiana
877-98-24267 (CHAMP)