C & C Motorsports, the BOSS Superstore, is offering an addition to its line of 429-460 aluminum Hemi-style engine blocks. New in 2013, the Roberts design SOLID engine block is available.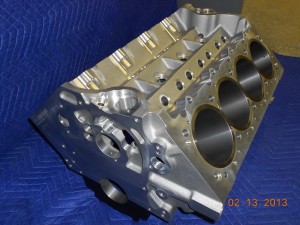 9/16 Main Studs are now standard for all models.  10.320 and 11.200 deck heights, 4.900 bore space (opt. 5.000 BS), .904 lifter bore, std. bores up to 4.625(opt. 4.650), 10/18 bolt pattern, steel main caps. Replacement for any OEM 429/460 – A96/RDI-A460 and Eliminator block.
This block is also available in water or semi-water models from 10.3 to 12.000 decks. Up to 820 cu in and suitable for blown, aspirated, and turbo applications.
For more information call C&C in Manassas, VA, at (703) 368-7878.