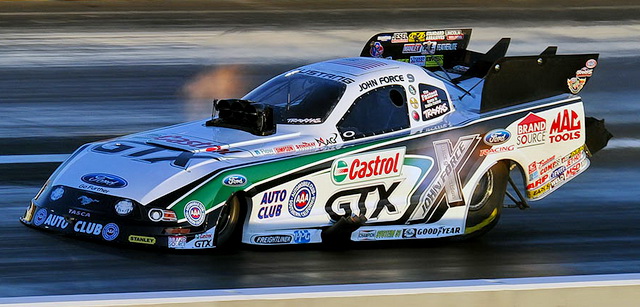 After 29 years together, Castrol has announced it will be withdrawing its sponsorship of John Force Racing after the 2014 season.
"John Force has been the ultimate ambassador for the Castrol brand and we are grateful for his passion and dedication," said Rich Pond, head of US marketing for Castrol, "but after 29 successful years, we have decided to pursue new ways to engage with our consumers and customers, while still celebrating the superiority of Castrol motor oils."
During this partnership, Force and his organization have captured a record 17 NHRA Funny Car championships with 15 won by John himself, including 10 in a row.  That is a record that no other sports team or athlete in the world has accomplished.
"Castrol has been with me for so long now, they really are part of the JFR family," John Force said. "They've been there as my daughters have grown up with the Castrol name on all those cars for all those years. It's gonna be tough to part ways, but I want to thank them for being a great partner.
"All of us are going to stay focused on the rest of the 2013 season and on winning a final championship for Castrol in 2014.  It's far from over.  We've had a great past but I believe we also have a great future.  I'm just going to keep doing my job and we'll see who's ready to be part of our success going forward."
Through the end of their current agreement in 2014, both John and Brittany Force will continue to represent the Castrol brand.
"John will always be part of Castrol's heritage and we will be working closely with John Force Racing to assure a smooth transition" Pond said.  "We look forward to celebrating Castrol's successful relationship with John Force Racing throughout the 2014 season."
(Photos courtesy JFR; NHRA/National Dragster; Click to enlarge)