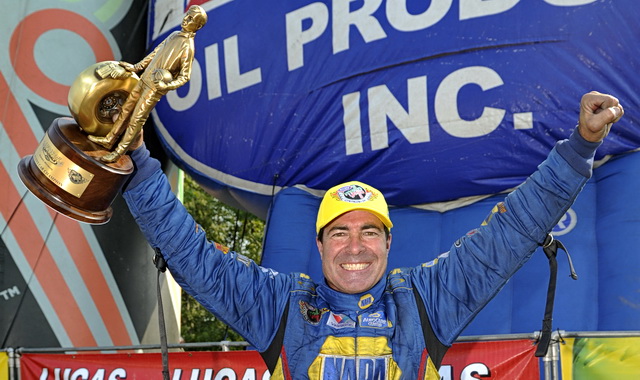 Ron Capps (above) earned his third Funny Car win of the season Aug. 18, by racing to the victory at the Lucas Oil NHRA Nationals at Brainerd International Raceway (BIR) over teammate and points leader Matt Hagan in the final round.
Spencer Massey (Top Fuel) and Mike Edwards (Pro Stock) were also winners in the NHRA Mello Yello Drag Racing Series event at Brainerd, MN.
Capps, driving his NAPA Auto Parts Dodge Charger, defeated his Don Schumacher Racing partner with a run of 4.063 seconds at 312.28 mph to Hagan's losing pass of 4.095 at 312.78 in the tightly contested championship round. Capps rebounded to win for the 41st time in his career after failing to qualify for the previous event in Seattle.
His team also overcame an engine explosion during qualifying on Saturday in Brainerd that forced the team to use a backup Funny Car body for eliminations. Capps knocked off Del Worsham, Jack Beckman and Tim Wilkerson to reach the final round.
"That is the nature of our sport and for sure the Funny Car division," said Capps, who earned the 11th Funny Car win for Don Schumacher Racing in 2013.
"It is a fun class but that final round just epitomizes how tight our category is right now. You have to be on your absolute best and I wasn't today as a driver but Rahn [Tobler, crew chief] made up for it and man, wow, what a weekend."
With the win, Capps was able to secure his entry into the Funny Car field for the Countdown to the Championship, also moving to second in the points standings. Capps joined Hagan, who was previously qualified for the six-race playoffs, as well as Johnny Gray, Cruz Pedregon, John and Courtney Force as drivers who all earned berths during the Lucas Oil NHRA Nationals.
Defending world champion Beckman also earned the seventh slot in the Traxxas Shootout to be held next month during Chevrolet Performance U.S. Nationals at Lucas Oil Raceway at Indianapolis.
"It's huge to have that top spot," Hagan said of his number-one status heading to the U.S Nationals, the last race in the NHRA's "regular season" before the six-event Countdown begins. "It's from hard work. Nobody's giving us anything out here.
"We'll keep working hard starting at testing at Indy this Wednesday and hopefully we'll keep doing what we need to do to keep going rounds and be in position to race for another championship."
Massey piloted his Battery Extender/Schumacher Electric dragster to a fourth win this season in Top Fuel when he powered to the victory over number-one qualifier Clay Millican. It marked the 40th time Don Schumacher Racing had multiple winners in two NHRA pro categories at the same national event.
"Don (Schumacher) has great teams and a great organization," Massey said. "It's not surprising that he has that many double-ups because he has great teams and people and I'm very honored to be in this spot and drive for a person like Don. This is amazing. Hats off to Don."
The win for Massey, who moved to second in points with his 14th career win, was well deserved after an engine fire in the first round of eliminations forced the team to replace many components on the car. Massey overcame the difficulties and in the finals posted a winning pass of 3.811 at 322.11 to Millican's 3.856 at 320.66, giving Massey his first career NHRA Mello Yello Drag Racing Series win at Brainerd International Raceway.
Massey also knocked off Brittany Force, Tony Schumacher and Khalid alBalooshi to reach the championship round.
"It's pretty spectacular just to beat all those drivers, and then Clay (Millican). He was the No. 1 qualifier and that car has been hauling butt all season long and especially this weekend," Massey said.
"We just hadn't had any luck here," he added, referring to having never won a Top Fuel round at BIR before this weekend. "I won in Top Alcohol Dragster [1998], but this is a completely different category and I've always lost in the first round. I wanted to see that win light come on for the first time in Brainerd. I would have been happy no matter what happened in the second round because we got that round win, but we obviously wanted to keep going on."
With his run to the final–the seventh of his NHRA career, though he remains winless–Millican and his Parts Plus team were able to secure a position in the Countdown to the Championship along with GEICO/Lucas Oil dragster pilot Morgan Lucas, leaving only two spots remaining.
In Pro Stock, points leader Edwards recorded his first win at Brainerd International Raceway and his fifth of the season with a victory over V. Gaines in the final in his Interstate Batteries/I am Second Chevy Camaro.
Edwards defeated Gaines with a run of 6.629 at 208.68 to the trailing run of 6.665 at 208.84, capping off a memorable day that also included wins against Greg Stanfield, Vincent Nobile and defending world champion Allen Johnson.
"Finally getting a win here is pretty special," stated Edwards, who earned his 39th career win. "I'm not sure, but I don't think that I've ever been past the second round here before.
"We weren't really that fast this weekend, but we managed to stick around, and I'm so proud of my guys because they really stepped it up," he continued. "We had ignition problems during qualifying and really didn't know if we had it fixed or not before today's eliminations. We swapped ignition systems, engines, and we swapped everything. But it worked out, so we're happy."
The field for the Pro Stock racers in the Countdown to the Championship was filled as Rodger Brogdon earned the final available position on Sunday.
The NHRA Mello Yello Drag Racing Series returns to action with the Chevrolet Performance U.S. Nationals at Lucas Oil Raceway at Indianapolis Aug. 28-sept. 2.
(Photos courtesy NHRA/National Dragster; Click to enlarge)
BRAINERD, Minn. — Final round-by-round results from the 32nd annual Lucas Oil NHRA Nationals at Brainerd International Raceway, the 17th of 24 events in the NHRA Mello Yello Drag Racing Series:
TOP FUEL
ROUND ONE — Steve Torrence, 3.802, 323.43 def. Tommy Johnson Jr., 3.866, 318.17; Shawn Langdon, 3.794, 298.01 def. Bob Vandergriff, 4.184, 202.27; Clay Millican, 3.830, 322.50 def. Terry McMillen, 3.896, 314.02; Spencer Massey, 3.791, 319.67 def. Brittany Force, 3.823, 317.72; Khalid alBalooshi, 3.807, 321.96 def. T.J. Zizzo, 4.342, 191.46; David Grubnic, 3.794, 324.98 def. Morgan Lucas, 4.104, 245.76; Doug Kalitta, 3.821, 318.77 def. Antron Brown, 4.290, 200.14; Tony Schumacher, 3.796, 325.22 def. Brandon Bernstein, 3.825, 319.14; QUARTERFINALS — alBalooshi, 3.850, 302.89 def. Kalitta, 3.827, 321.12; Langdon, 3.787, 321.65 def. Grubnic, 3.780, 324.75; Millican, 3.824, 322.27 def. Torrence, foul; Massey, 3.799, 322.04 def. Schumacher, 3.813, 320.36; SEMIFINALS — Massey, 3.820, 323.50 def. alBalooshi, 3.831, 320.89; Millican, 3.819, 321.50 def. Langdon, 4.307, 216.51; FINAL — Massey, 3.811, 322.11 def. Millican, 3.856, 320.66.
FUNNY CAR
ROUND ONE — Tim Wilkerson, Ford Mustang, 5.348, 139.20 def. Jeff Arend, Dodge Charger, broke; Robert Hight, Mustang, 4.055, 310.41 def. Chad Head, Toyota Camry, 4.970, 157.96; Jack Beckman, Charger, 4.073, 311.63 def. Bob Bode, Chevy Impala, 5.242, 143.34; Matt Hagan, Charger, 4.068, 314.02 def. Tony Pedregon, Camry, 4.153, 281.42; John Force, Mustang, 4.027, 319.45 def. Alexis DeJoria, Camry, 4.164, 265.01; Johnny Gray, Charger, 4.097, 295.85 def. Cruz Pedregon, Camry, 6.079, 111.15; Courtney Force, Mustang, 4.094, 317.42 def. Bob Tasca III, Mustang, 4.114, 308.00; Ron Capps, Charger, 4.054, 311.70 def. Del Worsham, Camry, 4.696, 187.81; QUARTERFINALS — Hagan, 4.056, 311.70 def. C. Force, 4.093, 312.06; Capps, 4.073, 309.77 def. Beckman, 4.102, 309.70; Wilkerson, 4.079, 311.41 def. Hight, 4.113, 298.01; Gray, 4.099, 308.57 def. J. Force, 4.061, 314.24; SEMIFINALS — Capps, 4.116, 304.87 def. Wilkerson, 5.215, 142.70; Hagan, 4.097, 311.34 def. Gray, 4.119, 305.08; FINAL — Capps, 4.063, 312.28 def. Hagan, 4.095, 312.78.
PRO STOCK
ROUND ONE — Mark Martino, Pontiac GXP, 6.647, 207.88 def. Jeg Coughlin, Dodge Avenger, 6.644, 207.40; Jason Line, Chevy Camaro, 6.621, 209.56 def. Shane Gray, Camaro, foul; Larry Morgan, Ford Mustang, 6.647, 207.94 def. Erica Enders-Stevens, Camaro, 6.631, 208.46; Allen Johnson, Avenger, 6.643, 208.49 def. Rodger Brogdon, Camaro, foul; Greg Anderson, Camaro, 6.604, 209.33 def. Deric Kramer, Avenger, foul; Vincent Nobile, Avenger, 6.619, 208.55 def. Chris McGaha, Avenger, 6.741, 206.35; V. Gaines, Avenger, 6.629, 208.97 def. Steve Kent, Camaro, 9.654, 94.90; Mike Edwards, Camaro, 6.601, 208.88 def. Greg Stanfield, Camaro, foul; QUARTERFINALS — Morgan, 6.741, 193.45 def. Gaines, 6.623, 203.26; Nobile, 6.636, 207.78 def. Martino, 6.684, 207.69; Anderson, 6.608, 208.14 def. Line, 6.623, 208.52; Edwards, 6.619, 208.26 def. Johnson, 6.622, 208.62; SEMIFINALS — Edwards, 6.630, 208.71 def. Nobile, 8.414, 106.89; Gaines, 6.632, 208.65 def. Anderson, 6.604, 209.46; FINAL — Edwards, 6.629, 208.68 def. Gaines, 6.665, 208.84.
BRAINERD, Minn. — Sunday's final results from the 32nd annual Lucas Oil NHRA Nationals at Brainerd International Raceway. The race is the 17th of 24 in the NHRA Mello Yello Drag Racing Series:
Top Alcohol Dragster — Gord Gingles, 5.313, 264.65  def. Jim Whiteley, 5.314, 270.92.
Top Alcohol Funny Car — Frank Manzo, Chevy Monte Carlo, 5.568, 261.42  def. Dale Brand, Monte Carlo, 6.888, 118.58.
Competition Eliminator — Bruno Massel, Chevy Cobalt, 7.958, 125.04  def. Arnie Martel, Pontiac GTO, foul.
Super Stock — Jim Thune, Chevy II, 10.681, 122.48  def. Jason DeForrest, Chevy Camaro, 9.550, 134.70.
Stock Eliminator — Bill Feist, Ford Mustang, 10.232, 128.05  def. Chris Knudsen, Chevy Camaro, 10.993, 116.03.
Super Comp — Tommy Phillips, Dragster, 8.910, 168.16  def. Jimmy Paulson, Dragster, 8.921, 170.32.
Super Gas — Kevin Dyck, Chevy Corvette, 9.888, 163.45  def. Russ Ginger, Dodge Aspen, foul.
Top Sportsman — Larry Demers, Chevy Cobalt, 7.630, 179.90  def. Michael Chitty, Chevy Cavalier, foul.
Pro Stock Snowmobile — Louie Wirbel, Ski Doo, 8.327, 154.94  def. Ron Bray, Ski Doo, 8.440, 149.81.