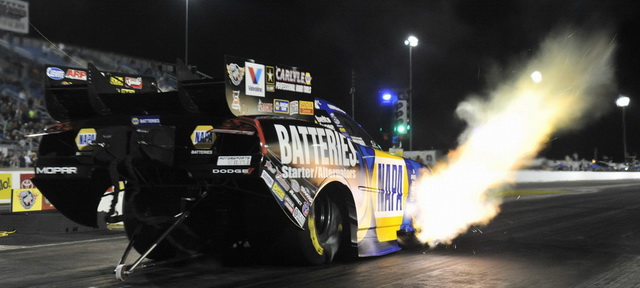 Ron Capps (above) led a parade of three-second Funny Car runs and claimed the No. 1 qualifying position Saturday at the O'Reilly Auto Parts Route 66 NHRA Nationals presented by Super Start Batteries.
Morgan Lucas (Top Fuel), Mike Edwards (Pro Stock) and Matt Smith (Pro Stock Motorcycle) also will lead their categories into Sunday's 11 a.m. eliminations as the No. 1 qualifiers at the NHRA Mello Yello Drag Racing Series event.
Capps posted the first three-second Funny Car run in Route 66 Raceway's history and it proved to be quick enough to hold on to the top spot. His track record performance of 3.988 seconds at 320.28 mph in his NAPA Auto Parts Dodge Charger earned him his first No. 1 qualifying position of the season, 15th of his career and first at this track.
"I really didn't think it would hold since we ran so early in the session," said Capps, who will face Bob Bode in the opening round as he looks to earn his second win of the season and second victory at the state-of-the-art track just south of Chicago. "It was a great run. I thought (Matt) Hagan or (Jack) Beckman would go quicker than that, but we'll take it. I've been hit or miss at this place, so maybe we can get one tomorrow. It's great for the fans to have two night sessions. Funny Cars racing at night; it doesn't get a lot better than that."
There were four three-second runs in the final qualifying session. In addition to Capps' run, Bob Tasca III (3.988, second), defending world champ Beckman (3.983, third) and Del Worsham (3.999, fourth) all broke the four-second barrier.
Saturday's top qualifier, John Force, posted a career-best time of 4.010 at 316.67 in his Castrol GTX Ford Mustang that was good enough for fifth best. Epping winner Courtney Force was not qualified going into the final session, but she powered her Traxxas Mustang to a performance of 4.042 at 315.78 to qualify in seventh place.
In Top Fuel, Lucas claimed his first No. 1 qualifying position of the season with a track record time of 3.737 at a speed of 322.19. It was Lucas' ninth No. 1 of his career and he will face Terry McMillen in the opening round of eliminations as Lucas looks for his first victory at this event.
"This was really big for our team," Lucas said. "I was thinking while I was sitting in the car before the run that I would be happy with anything in the 3.7s because of the way we had been running lately and also because our car doesn't always respond well to night time tune-ups. Afterwards, we had to see if it would stick. And when Tony [Schumacher] made his run, I was sweating it out, especially when [announcer] Alan Reinhart paused before giving out the last digit. We've made a ton of changes to our car, and hopefully things are starting to turn around for us. I have to thank everyone on our team for all their hard work and great efforts."
Hometown favorite and three-time Route 66 winner Schumacher was second in his U.S. Army dragster with a 3.738 at 324.12 and will open against Australian David Grubnic, while Bob Vandergriff will start third in his C&J Energy Services dragster with a 3.742 at 324.28 and will meet rookie Brittany Force.
In Pro Stock, Edwards used a track record performance of 6.542 at 210.64 to claim his category-leading 10th No. 1 qualifying position of the season and 51st of his career. A two-time winner at Route 66 Raceway, Edwards will face local favorite Steve Spiess in the first round.
"We made some good calls and made another good run and it was a great job by all my guys," said Edwards of his fourth No. 1 at Route 66 Raceway. "It was a phenomenal job by the guys at the engine shop. We came here with a totally different combination and it looks like it runs really good. It's so hard to do that in this class and to continue to do it. I can't believe that's 51 number ones for me."
Defending world champ Allen Johnson was second in his Team Mopar Dodge Avenger with a 6.556 at 209.56 and will meet Steve Kent in the first round, while four-time Chicago winner Jeg Coughlin qualified third in his JEGS.com/Mopar Avenger and will race Bristol winner Rodger Brogdon in the opener.
Smith rode his Viper Motorcycle Company Buell to a 6.908 at 193.82 to claim his second No. 1 of the season and 20th of his career in Pro Stock Motorcycle. The 2007 world champ in the two-wheel category will meet defending world champ Eddie Krawiec in a high-profile first round match.
"We've had top speed on every run, but we needed the 60-foot times to go with it," Smith said. "This track is so good that we were bogging the bike, but I made a lot of changes to both my bike and (wife) Angie's bike for the last run, and we ended up 1 and 2 for that session.
Smith was proud that he helped wife Angie make the second-quickest run of the final session and qualify in the top half of the field, in the fifth position.
"This track has a lot of teeth, and you need to get after it," Smith continued. "You need to make a lot of changes, like gear and fuel, to take advantage of it. John [Hall, teammate] won last weekend, and I've been running really good lately, so we decided to work on Angie's bike and try to see if we can get her in the top 10. She has a fast bike, and she made a good run that time. I'm excited about our whole deal."
After opening Friday as the leader, Scotty Pollacheck dropped to second on his Sovereign Star Buell with a 6.929 at 191.24 and he will face Andrew Hines in the opening round. Hector Arana Sr. qualified third on his Lucas Oil Buell with a 6.930 at 193.32 and he will race 71-year-old Joe DeSantis in the first round.
(Photos courtesy NHRA/National Dragster; Click to enlarge) 
JOLIET, Ill. — Sunday's first-round eliminations pairings for the 16th annual O'Reilly Auto Parts Route 66 NHRA Nationals presented by Super Start Batteries at Route 66 Raceway, the 12th of 24 events in the NHRA Mello Yello Drag Racing Series.  Pairings based on results in qualifying, which ended Saturday. DNQs listed below pairings.
Top Fuel
1. Morgan Lucas, 3.737 seconds, 322.27 mph  vs. 16. Terry McMillen, 3.863, 316.60; 2. Tony Schumacher, 3.738, 326.08  vs. 15. David Grubnic, 3.852, 316.82; 3. Bob Vandergriff, 3.742, 324.28  vs. 14. Brittany Force, 3.849, 317.49; 4. Clay Millican, 3.750, 323.81 vs. 13. Leah Pruett, 3.834, 316.08; 5. Doug Kalitta, 3.753, 328.22  vs. 12. Larry Dixon, 3.832, 317.87; 6. Spencer Massey, 3.758, 324.28  vs. 11. Antron Brown, 3.805, 314.97; 7. Brandon Bernstein, 3.761, 327.82  vs. 10. Khalid alBalooshi, 3.798, 326.32; 8. Steve Torrence, 3.784, 326.24  vs. 9. Shawn Langdon, 3.787, 325.92.
Did Not Qualify: 17. T.J. Zizzo, 3.866, 319.90; 18. Sidnei Frigo, 3.873, 312.50; 19. Pat Dakin, 3.873, 308.07; 20. Tim Cullinan, 3.910, 301.40; 21. Luigi Novelli, 4.021, 256.99; 22. Chris Karamesines, broke.
Funny Car
1. Ron Capps, Dodge Charger, 3.988, 320.28  vs. 16. Bob Bode, Chevy Impala, 4.141, 295.85; 2. Bob Tasca III, Ford Mustang, 3.988, 316.97  vs. 15. Jeff Arend, Charger, 4.134, 297.16; 3. Jack Beckman, Charger, 3.993, 319.52  vs. 14. Alexis DeJoria, Toyota Camry, 4.124, 306.88; 4. Del Worsham, Camry, 3.999, 318.99  vs. 13. Cruz Pedregon, Camry, 4.094, 299.53; 5. John Force, Mustang, 4.010, 316.67  vs. 12. Tony Pedregon, Camry, 4.093, 304.67; 6. Matt Hagan, Charger, 4.040, 317.19  vs. 11. Johnny Gray, Charger, 4.064, 310.70; 7. Courtney Force, Mustang, 4.042, 315.78  vs. 10. Tim Wilkerson, Mustang, 4.060, 306.74; 8. Robert Hight, Mustang, 4.052, 315.71  vs. 9. Chad Head, Camry, 4.053, 312.21.
Did Not Qualify: 17. Justin Schriefer, 4.379, 277.94; 18. Terry Haddock, 4.498, 279.85; 19. Todd Lesenko, 5.041, 155.52; 20. Dale Creasy Jr., 6.836, 283.25.
Pro Stock
1. Mike Edwards, Chevy Camaro, 6.542, 210.64  vs. 16. Steve Spiess, Chevy Cobalt, 6.674, 206.20; 2. Allen Johnson, Dodge Avenger, 6.556, 209.56  vs. 15. Steve Kent, Camaro, 6.637, 208.30; 3. Jeg Coughlin, Avenger, 6.565, 209.92  vs. 14. Rodger Brogdon, Camaro, 6.634, 202.09; 4. Greg Anderson, Camaro, 6.569, 209.30  vs. 13. V. Gaines, Avenger, 6.633, 208.68; 5. Erica Enders-Stevens, Camaro, 6.581, 209.75  vs. 12. Rickie Jones, Camaro, 6.625, 208.30; 6. Jason Line, Camaro, 6.584, 209.33  vs. 11. Mark Martino, Pontiac GXP, 6.609, 208.75; 7. Shane Gray, Camaro, 6.589, 208.88  vs. 10. Larry Morgan, Ford Mustang, 6.604, 207.62; 8. Vincent Nobile, Avenger, 6.599, 209.01  vs. 9. Greg Stanfield, Camaro, 6.602, 208.04.
Did Not Qualify: 17. Mark Hogan, 6.734, 205.60; 18. Dave River, 6.818, 203.46.
Pro Stock Motorcycle
1. Matt Smith, Buell, 6.908, 193.82  vs. 16. Eddie Krawiec, Harley-Davidson, 7.038, 188.99; 2. Scotty Pollacheck, Buell, 6.929, 191.24  vs. 15. Andrew Hines, Harley-Davidson, 7.037, 189.39; 3. Hector Arana, Buell, 6.930, 193.32  vs. 14. Joe DeSantis, Suzuki, 7.033, 190.46; 4. Hector Arana Jr, Buell, 6.946, 192.44  vs. 13. Steve Johnson, Suzuki, 7.007, 190.00; 5. Angie Smith, Buell, 6.948, 192.06  vs. 12. Shawn Gann, Buell, 7.005, 190.06; 6. Adam Arana, Buell, 6.966, 191.35  vs. 11. Mike Berry, Buell, 7.001, 190.46; 7. John Hall, Buell, 6.980, 192.60  vs. 10. Michael Ray, Buell, 6.988, 192.06; 8. LE Tonglet, Suzuki, 6.981, 192.00  vs. 9. Jerry Savoie, Suzuki, 6.985, 190.62.
Did Not Qualify: 17. Jim Underdahl, 7.047, 191.73; 18. Michael Phillips, 7.109, 188.54; 19. Wesley Wells, 7.206, 183.54.