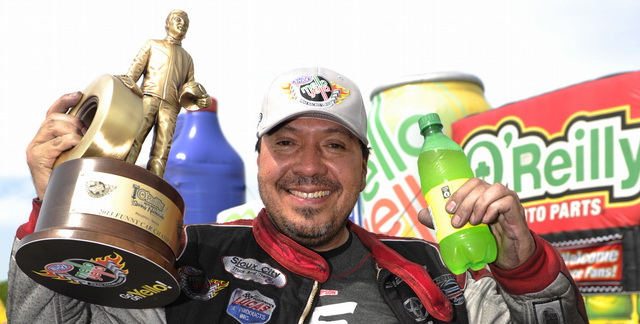 Cruz Pedregon (above) became the first two-time winner in the Funny Car category in 2013 by racing to the victory Sunday at the O'Reilly Auto Parts NHRA SpringNationals at Royal Purple Raceway. The former two-time Funny Car world champion powered his Snap-on Tools Toyota Camry to the win over Tim Wilkerson to take his 32nd career victory.
Bob Vandergriff Jr. (Top Fuel), Jason Line (Pro Stock) and Hector Arana Jr. (Pro Stock Motorcycle) also were winners at the NHRA Mello Yello Drag Racing Series event near Houston.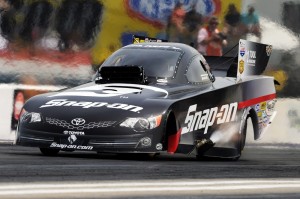 Pedregon, who serves as the driver and crew chief for his team, covered the distance in 4.246 seconds at 296.96 mph to defeat Wilkerson's trailing Levi Ray & Shoup Ford Mustang, which lost traction in the finals and ran 6.914 at 102.28. With the win, Pedregon moves into the series points lead, 37 in front of Matt Hagan.
"Today was a challenging day, dealing with the track conditions," Pedregon said. "We thought we had it pulled back enough for the first round, but we didn't [in his 5.36 to 6.04 pedaling win against Terry Haddcok]. After that, we got the car straightened out and it ran good [with times of 4.18 4.24, and 4.24]."
This is the second career victory at Royal Purple Raceway (also 1992) and he knows that the success they are having this season wouldn't be possible without a full team effort.
"I had to whack my crew chief just once because he went over-center a bit on the tune-up for the first round, but after that everything was good," said a smiling Pedregon, who beat Terry Haddock, Bob Tasca and Alexis DeJoria in earlier rounds.
"It takes a totally different mindset to run a 4.18 and a pair of 4.20s like we did today, and we did some things to the car that we've never done before. It was a great weekend all around."
In Top Fuel, Vandergriff earned his third career victory by holding off Shawn Langdon in the final round. Vandergriff posted a winning run of 3.904 seconds at 316.38 mph in his C&J Energy Services dragster to defeat Langdon, whose Al-Anabi Racing dragster lost traction at the start. After taking the win light in the final round, Vandergriff continued his tradition of jogging from the finish line to join his crew near the starting line.
"After qualifying, winning this race was the farthest thing from my mind," said Vandergriff, who outran defending world champ Antron Brown, Larry Dixon and Morgan Lucas to advance to his 16th career final round. "We just started picking away and got to the point where we made a great run in the final.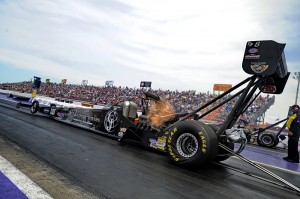 "We had 700 people here with our sponsor, C&J Energy Services, and they were all cheering us on. We couldn't have written a better script for this. It was a total team effort. I have a lot of faith in my crew chiefs, Rob Flynn, Kurt Elliott, and Mike Guger; we have great leadership here."
Points leader Tony Schumacher suffered a rare first-round loss, but retains the points lead and Langdon moves to third in points on the strength of his runner-up finish.
In Pro Stock, Line raced his Summit Racing Chevy Camaro to his second win at Royal Purple Raceway and his first of the year with a holeshot victory over Shane Gray. Both drivers covered the distance at 6.589 seconds, but the .007 reaction time of Line gave him an advantage over the .055 reaction time of Gray, who drove his Gray Motorsports Camaro.
"We've been trying to win a race since Pomona, but until now, we haven't been able to do it, so this was a good win," Line said. "It was very difficult to win with today's conditions, especially because we've been lost [with our tune-up]. Even in the first round today, which was my fastest run [a 6.576], it was a disaster."
This is his 30th win of his career and was his first win of the season and the first since the second Charlotte race in 2012. He defeated Matt Hartford, local favorite Erica Enders-Stevens and Jeg Coughlin in the first three rounds. With the win he moves to fifth in points.
"The big difference this weekend is that we made six good runs in a row, and the car responded well to the changes in our tune-up," Line said. "That's the first time we've been able to do that in a while."
Arana Jr. recorded his third straight win of the year in Pro Stock Motorcycle with a final round performance of 6.912 at 194.74 on his Lucas Oil Buell to defeat  Scotty Pollacheck, who was in his first final round and ran 6.985 at 188.54 on his Sovereign Star Buell. Arana Jr. becomes just the third racer in Pro Stock Motorcycle history to win the first three events of the season, joining Matt Hines and Dave Schultz as the only drivers to accomplish the feat.
"This feels great," said Arana Jr., who raced past Shawn Gann, Hector Arana Sr., and John Hall in earlier rounds. "Of the three wins, this was the most nervous I've been because I know how hard it is to keep going.
"There are so many excellent riders out here. After I beat my dad, he just said. 'Good job'. My bike has not been the fastest but we've been the most consistent. As a rider, I've also been very consistent and that's a lethal combination. We just want to keep going."
The Mello Yello Drag Racing Series continues with the Summit Racing Equipment NHRA Southern Nationals, May 3-5 at Atlanta Dragway.
(Photos courtesy NHRA/National Dragster; Click to enlarge)
BAYTOWN, Texas — Final round-by-round results from the 26th annual O'Reilly NHRA Spring Nationals presented by Super Start Batteries at Royal Purple Raceway, the sixth of 24 events in the NHRA Mello Yello Drag Racing Series:
TOP FUEL
ROUND ONE — Morgan Lucas, 4.190, 292.52 def. Steve Torrence, 7.211, 95.62; Spencer Massey, 3.941, 268.49 def. Brandon Bernstein, 7.935, 56.69; Larry Dixon, 4.878, 265.27 def. T.J. Zizzo, 4.924, 203.40; Khalid alBalooshi, 3.869, 321.96 def. J.R. Todd, 4.758, 202.39; Doug Kalitta, 3.868, 315.93 def. Troy Buff, 5.168, 132.82; Shawn Langdon, 3.846, 319.98 def. Tony Schumacher, 4.666, 169.17; Bob Vandergriff, 4.181, 260.71 def. Antron Brown, 4.902, 158.19; Terry McMillen, 4.275, 242.63 def. David Grubnic, 4.349, 241.45; QUARTERFINALS — Vandergriff, 3.924, 308.35 def. Dixon, 3.978, 301.13; alBalooshi, 3.852, 318.09 def. Massey, 4.327, 215.27; Lucas, 3.884, 311.92 def. Kalitta, 5.410, 158.58; Langdon, 4.280, 259.66 def. McMillen, 6.512, 99.60; SEMIFINALS — Vandergriff, 4.056, 275.11 def. Lucas, 5.049, 166.74; Langdon, 3.973, 284.99 def. alBalooshi, 4.094, 271.90; FINAL — Vandergriff, 3.904, 316.38 def. Langdon, 8.485, 74.90.
FUNNY CAR
ROUND ONE — Tim Wilkerson, Ford Mustang, 4.267, 303.30 def. Del Worsham, Toyota Camry, 5.260, 160.46; Alexis DeJoria, Camry, 4.866, 222.22 def. Courtney Force, Mustang, 6.453, 107.75; Cruz Pedregon, Camry, 5.367, 236.63 def. Terry Haddock, Dodge Stratus, 6.046, 108.45; Johnny Gray, Dodge Charger, 5.147, 235.72 def. Robert Hight, Mustang, 5.167, 212.36; Jack Beckman, Charger, 4.658, 278.00 def. Tony Pedregon, Camry, 5.446, 146.64; John Force, Mustang, 4.706, 231.56 def. Blake Alexander, Charger, 5.228, 244.87; Bob Tasca III, Mustang, 5.005, 238.34 def. Jeff Arend, Charger, 5.512, 160.75; Ron Capps, Charger, 4.308, 287.35 def. Matt Hagan, Charger, DQ; QUARTERFINALS — Wilkerson, 4.198, 298.67 def. J. Force, 5.719, 129.78; DeJoria, 4.484, 283.49 def. Beckman, 4.650, 270.00; R. Capps, 4.306, 291.89 def. Gray, 4.857, 195.19; C. Pedregon, 4.181, 303.37 def. Tasca III, 5.483, 186.82; SEMIFINALS — Wilkerson, 4.202, 297.81 def. R. Capps, 6.656, 109.22; C. Pedregon, 4.243, 295.92 def. DeJoria, 4.332, 291.95; FINAL — C. Pedregon, 4.246, 296.96 def. Wilkerson, 6.914, 102.08.
PRO STOCK
ROUND ONE — Rickie Jones, Chevy Camaro, 6.565, 210.97 def. V. Gaines, Dodge Avenger, 16.204, 50.19; Allen Johnson, Avenger, 6.566, 211.99 def. Rodger Brogdon, Camaro, 6.598, 210.83; Vincent Nobile, Avenger, 6.579, 210.87 def. Greg Anderson, Camaro, 6.609, 211.56; Erica Enders-Stevens, Camaro, 6.617, 209.43 def. Larry Morgan, Ford Mustang, foul; Greg Stanfield, Camaro, 6.589, 209.95 def. Mike Edwards, Camaro, 6.554, 212.66; Shane Gray, Camaro, 6.580, 211.63 def. Chris McGaha, Avenger, foul; Jeg Coughlin, Avenger, 6.572, 211.79 def. Steve Kent, Pontiac GXP, foul; Jason Line, Camaro, 6.576, 211.96 def. Matt Hartford, Avenger, 6.635, 210.70; QUARTERFINALS — Stanfield, 6.617, 210.24 def. Nobile, 6.663, 210.14; Line, 6.582, 212.09 def. Enders-Stevens, 20.193, 39.81; Gray, 7.096, 202.88 def. Johnson, 14.410, 59.11; Coughlin, 6.569, 212.09 def. Jones, 10.957, 81.87; SEMIFINALS — Gray, 6.598, 210.90 def. Stanfield, 6.610, 210.31; Line, 6.580, 212.06 def. Coughlin, 6.678, 210.77; FINAL — Line, 6.589, 211.99 def. Gray, 6.589, 211.26.
PRO STOCK MOTORCYCLE
ROUND ONE — Hector Arana, Buell, 6.942, 192.69 def. Steve Johnson, Suzuki, foul; Angie Smith, Buell, 6.990, 190.48 def. Adam Arana, Buell, foul; LE Tonglet, Suzuki, 6.885, 194.13 def. Matt Smith, Buell, 7.259, 154.81; John Hall, Buell, 6.894, 192.69 def. Katie Sullivan, Suzuki, 16.098, 46.54; Scotty Pollacheck, Buell, 6.894, 193.43 def. Chip Ellis, Buell, foul; Hector Arana Jr, Buell, 6.907, 193.40 def. Shawn Gann, Buell, foul; Andrew Hines, Harley-Davidson, 6.913, 192.49 def. Eddie Krawiec, Harley-Davidson, 6.983, 191.87; Michael Ray, Buell, 6.876, 194.18 def. Jim Underdahl, Suzuki, foul; QUARTERFINALS — Arana Jr, 6.906, 193.68 def. H. Arana, 6.902, 192.22; Pollacheck, 6.913, 190.65 def. A. Smith, 6.968, 191.65; Hall, 6.916, 191.78 def. Tonglet, 6.924, 192.44; Ray, 6.930, 192.19 def. Hines, foul; SEMIFINALS — Arana Jr, 6.928, 193.13 def. Hall, 6.959, 190.11; Pollacheck, 6.987, 191.48 def. Ray, foul; FINAL — Arana Jr, 6.912, 194.74 def. Pollacheck, 6.985, 188.54.