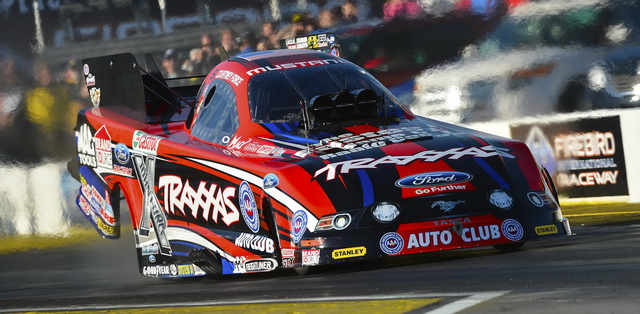 The NHRA Mello Yello Series 24-race schedule begins this week with the 54th annual Circle K NHRA Winternationals in Pomona, Calif.  Defending Winternationals Champion, Courtney Force, has had one busy off season, but the 25-year-old Traxxas Funny Car pilot is looking to win this weekend, making it two-in-a-row for her Ford Mustang team.
At the 2013 Winternationals, Force qualified in the No. 1 spot and dismissed Phil Burkart Jr., Matt Hagan, Bob Tasca III, and Ron Capps to claim the title and  become just the second woman in NHRA history (after older sister Ashley Force Hood) to lead the Funny Car point standings.
"I'm excited to be going into Pomona as the defending champ in Funny Car and I absolutely cannot wait to get our Traxxas Ford Mustang back on a familiar track. It's great coming out here because this is my home track and I'm excited to kick off the new year in hopes of taking home another win at the Winternationals," said the youngest daughter of legend John Force.
This is her third year racing in the Top Fuel Funny Car category. The 2012 Auto Club Rookie of the Year has three national event wins under her belt, three No. 1 qualifiers and eight final rounds. In the past two years, Force has qualified for each event on the circuit and has won 53 rounds of racing on Sunday.
"It's crazy to think I'm already going into my third year of Funny Car. Every season I learn something new and I'm eager to get back out there and see what we can accomplish this year.  Each year, I set my standards for myself a little higher and hope to continue to improve as a driver, but as a team, we have our eyes set on that Championship," said Force.
John Force Racing teams traveled to West Palm Beach, Fla. For pre-season testing, putting them back on track to win their 19th team championship in 2014.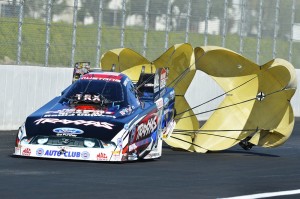 "We tested in West Palm Beach to prepare for the upcoming season and as a driver, I'm back at it in the gym. I'm working out to be physically prepared as well as practicing my reaction times to be more mentally prepared for getting back in the seat and driving," said Force.
Both Courtney and her sister Brittany will take part in the NHRA press conference in Pasadena before the race weekend starts and participating in various media opportunities in the area.
"It was a long off-season so I'm more than ready to be back piloting my Traxxas Ford Mustang Funny Car. I'm eager to be back on the road and back in my routine- that's the hardest part when you've been out of the seat for so long. I need to get back in, brush the dust off and hopefully pick up from where I left off in November," said Force.
(Photos courtesy JFR; Click to enlarge)