Courtney Force raced to the provisional qualifying lead in Funny Car on Friday at the 34th annual Dodge NHRA Nationals at Maple Grove Raceway.
Clay Millican (Top Fuel), Erica Enders (Pro Stock) and Matt Smith (Pro Stock Motorcycle) are also provisional No. 1 qualifiers in their respective categories at the first of six playoff events during the 2018 NHRA Mello Yello Drag Racing Series Countdown to the Championship.
Force, the current Funny Car points leader, is aiming for her 11th No. 1 qualifier of the 2018 season after her run of 3.907-seconds at 323.27 mph in her Advance Auto Parts Chevrolet Camaro SS.
"We went for it on that second run and I was excited," said Force, who is seeking her first world championship. "I knew we were going to go for it and it was awesome. It's amazing to pick up some of those bonus points. It would be huge to go into race day in the No. 1 spot. We've got two more runs (Saturday) and hopefully a long day on race day. But our focus coming into this race is obviously to try and keep that points lead."
Tim Wilkerson is second after the first day of qualifying, going 3.912 at 324.20 in his Levi, Ray & Shoup Ford Shelby Mustang, while Tommy Johnson Jr.'s run of 3.939 at 326.00 has him in third.
Top Fuel's Millican will look to secure his eighth No. 1 qualifier of 2018 and the top spot at Maple Grove Raceway for a second straight year following his pass of 3.723 at 330.72 in his Parts Plus/Great Clips dragster. It would also mark the 18th career No. 1 qualifier for Millican, who is beginning the quest for his first championship second in the points standings.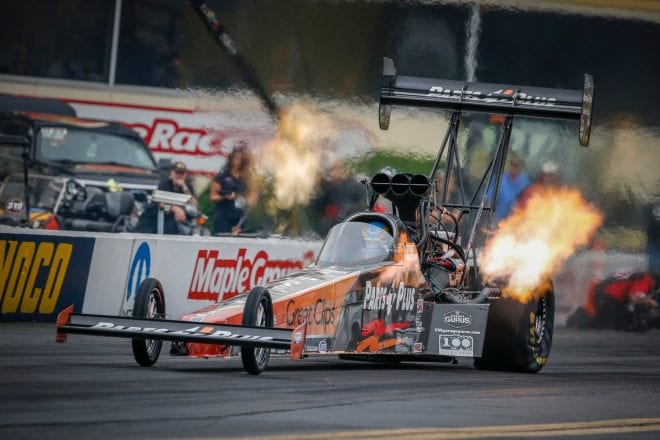 "Our group of guys are pretty incredible," Millican said. "Our goal (Saturday) is to outrun everybody and get those three bonus points per qualifying session. Our whole thing is these little points right now and then on Sunday, it's win lights. Without a doubt, the goal for everybody involved in this entire team is the championship, hands-down. That's what we're looking for right now."
Leah Pritchett sits in the second spot after Friday's two qualifying sessions with a run of 3.758 at 312.50 in her Mopar Dodge 1320 "Angry Bee" dragster, while Mike Salinas is third after his pass of 3.764 at 328.46. Points leader Steve Torrence went 3.785 at 327.74 in his Capco Contractors dragster, putting him sixth.
Two-time Pro Stock world champion Erica Enders currently holds the top spot after driving to a 6.550 at 209.88 in her Melling/Elite Performance Chevrolet Camaro. It would mark the second No. 1 qualifier in the past three races and 20th overall for Enders, who is seeking her first career victory at the track.
"We had the Elite Performance cars at the top of the pack, and the really cool part for me was hearing the confidence back in the voice of our crew chief, Rick Jones," said Enders, who starts the Countdown to the Championship in third place. "That gives me confidence and helps me drive better, and it was awesome. Our goal is obviously to run strong through these Countdown races and hopefully secure a third championship."
Enders' teammate Jeg Coughlin Jr., who has four wins at Maple Grove, is currently second after his run of 6.552 at 208.81 in his JEGS.com/Elite Chevrolet Camaro, while Drew Skillman is a spot back with a pass of 6.560 at 210.24. Points leader Tanner Gray is fourth after going 6.563 at 209.69 in his Valvoline/Nova Services Chevrolet Camaro.
Smith, a two-time world champ, finished atop the qualifying order in Pro Stock Motorcycle with a 6.828 at 198.20 on his Elite Motorsports Denso Auto Parts EBR. Should it hold, it would mark the third straight No. 1 qualifier and fourth overall in 2018 for Smith, who last won at Maple Grove Raceway in 2013 and currently sits sixth in the playoffs.
"We've got a good hot rod and we've had a good hot rod the last two races, so we just have to perform better on Sunday," said Smith, who has 29 career No. 1 qualifiers. "We can go 200 (mph) if we can get the weather right. We want to become part of the elite team and I want to be the No. 3 guy to get it done."
Hector Arana Jr. is second after going 6.832 at 197.33 on his Lucas Oil EBR and Andrew Hines follows in third with a run of 6.847 at 196.02. Points leader and defending world champ Eddie Krawiec is a spot back in fourth on his Screamin' Eagle Vance & Hines Harley-Davidson with a pass of 6.859 at 196.22.
Qualifying continues at the 34th annual Dodge NHRA Nationals at 1:15 and 4:15 p.m. on Saturday.