This weekend Courtney Force will race a Rookie of the Year-themed Traxxas Ford Mustang specialty car aimed to reflect her 2012 Automobile Club of Southern California Road to the Future Award.
Force designed the black and turquoise Funny Car herself. The hot rod features a collage of photos of the racing sensation as she grew up in the first family of NHRA drag racing.
"It was exciting to watch my ideas come to life on the computer. I put a lot of time and thought into how I wanted to design this body with (JFR graphic designer) Brandon Baker. I wanted to make sure fans could see the growth from where my passion for racing began to where I am now," Force said.
"The sort of timeline on the car shows me as a young kid in the winner's circle with my dad which is shown on the side panels of the car, then racing up through the ranks of Super Comp and Top Alcohol Dragster with wins of my own before making the biggest transition into the professional ranks with my Traxxas Ford Mustang Nitro Funny Car which is shown on the hood."
"I wanted to make sure to highlight my family because they were my biggest support group and my dad was my mentor, however, on the hood I wanted to highlight my team and my win during my rookie season. The winner's circle picture of me with my dad and crew chiefs, Ron Douglas and Dan Hood was perfect because they were the ones that gave me a great and competitive race car all season long," said Force.
In 2012, Force drove her Traxxas Ford Mustang to a national-event win in Seattle and three additional final rounds, qualified No. 1 at the Mac Tools U.S. Nationals in Indianapolis and finished No. 5 overall in the NHRA Funny Car point standings.
"This car represents my past and hopefully my future in racing. It represents the growth of me as a driver and our team and the foundation of it all. It shows where my passion for racing really began.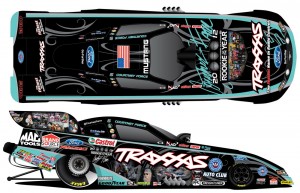 "Winning the Auto Club of Southern California Road to the Future Award for Rookie of the Year is a big deal to me and I just want this car to show how thankful I am for the support of my family, my team, my sponsors and of course the fans who helped get me to where I am today."
The 25-year-old will race her specialty car at the Toyota NHRA Nationals in Las Vegas and the Auto Club NHRA Finals in Pomona, Calif. to complete the 24-event NHRA Mello Yello Drag Racing series schedule for 2013. As an added bonus, the "Rookie of the Year" die cast car will be available from Lionel Racing during the Spring of 2014.
The Rookie of the Year Traxxas Ford Mustang is the second specialty car Force has driven this season, after competing in a one-of-a-kind pink Funny Car body in honor of breast cancer awareness month at the 29th annual Auto-Plus NHRA Nationals earlier this month at Maple Grove Raceway.
"I'm so excited to be running my second specialty car of the season and look forward to closing out the year with one that has so much importance to me. Winning Rookie of the Year last season was such an honor. It meant so much to me that I couldn't wait to help design the specialty body with the help of Brandon Baker, our graphic designer," said Force.
(Photos courtesy JFR; Click to enlarge)