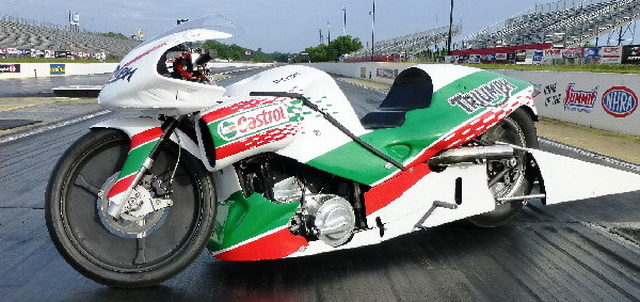 Junior Pippin Racing will enter four NHRA Full Throttle Drag Racing Series events this season with promising newcomer Keith Burley riding a Pro Stock Motorcycle supported by Castrol and Triumph Motorcycles, beginning with this weekend's O'Reilly Auto Parts Route 66 Nationals.
Burley has been racing on two-wheels since the age of five when the Southern California native's father, a multi-time champion motorcycle drag racer, taught him to ride. Kieth won numerous victories on the All Harley Drag Racing Association (AHDRA) circuit before venturing to the business side of motorsports as a marketing manager with NHRA and then expanding his career within the motorsports industry.
Junior Pippin is a long-time Pro Stock Motorcycle competitor who was nominated for the Automobile Club of Southern California Road to the Future award in his 2008 rookie season of NHRA Pro Stock Motorcycle racing. Bob Taft, a 30-year veteran of the sport, is the team's crew chief.
Castrol and Triumph have deep ties to racing and the sponsorship is a marketing venture to engage with drag racing fans who share the same passion for racing and performance.
"Triumph has a rich racing heritage that primarily includes land speed records, road racing and flat track racing," said Greg Heichelbech, CEO of Triumph North America. "Our partners at Castrol have found great success with the NHRA and Triumph builds the largest displacement production motorcycle on the planet, so it's only logical to meet fans who have an appreciation for acceleration and top end speed at the races."
Larry Cabot, Director of Distributor Sales for the South Division at Castrol, agreed. "Castrol has found great success in motorsports. We're proud to be the OEM oil for Triumph Motorcycles and we're looking forward to working with them on this program. Kieth and Junior Pippin have both demonstrated their ability to be competitive and win, and we're looking forward to engaging with fans and customers through the NHRA Pro Stock Motorcycle class."
"My first ride on a Triumph was when I was just 12 years old," said Burley. "Every motorcycle has a different feel, a different vibe. When I got on a Triumph, it was another world; it was just so smooth. The 'cool factor' was there, and I never forgot that feeling. I'm extremely honored to have the opportunity to represent Triumph as they venture into NHRA Full Throttle Drag Racing, and to do so with Castrol as a partner is just beyond my wildest dreams."
Burley will make his Pro Stock Motorcycle debut at the 15th annual O'Reilly Auto Parts Route 66 NHRA Nationals in Joliet, near Chicago, June 28-July 1, 2012. He will also compete at the Mac Tools U.S. Nationals in Indianapolis, the Big O Tires NHRA Nationals in Las Vegas, and the season-ending Automobile Club of Southern California NHRA Finals in Pomona.