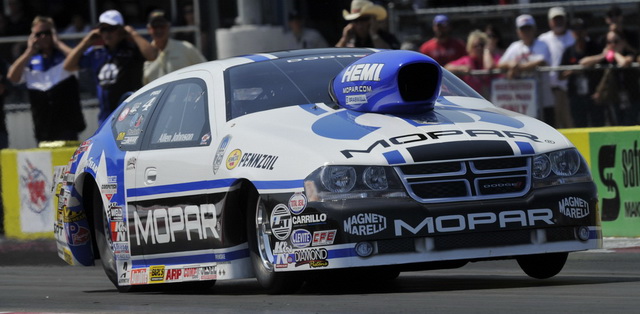 Antron Brown raced to the Top Fuel victory Sunday at the AAA Texas NHRA Fall Nationals at the famed all-concrete Texas Motorplex near Dallas. Bob Tasca III (Funny Car), Allen Johnson (Pro Stock, above) and Michael Ray (Pro Stock Motorcycle) also were winners at the second of six playoff events in the NHRA Full Throttle Countdown to the Championship.
Brown claimed his fifth victory of the season and moved into a tie for the points lead with the driver he beat in the final round, teammate Spencer Massey. Brown powered his Matco Tools dragster to a 3.898 second run at 311.49 mph to hold off Massey's FRAM dragster, which finished with a 3.945 at 300.60.
"This is definitely the way to rebound," said Brown, the playoff top seed who dropped to fourth in the standings after a first round loss at the playoff-opener last weekend in Charlotte, N.C.
"I have to give credit to my team for sticking together. We were winning in the first round in Charlotte when we broke an input shaft. It's so easy to get down after something like that. We came here, and the car was throwing us fits by being overaggressive. Brian [Corradi] and Mark [Oswald, co-crew chiefs] kept backing it off until they got a good handle on it in the semis."
Brown and Massey lead seven-time world champ Tony Schumacher by 24 points and the suddenly surging Shawn Langdon is 41 back as the playoff race in the 8,000-horsepower category gets intense.
"In that final, we had to give it everything we had against the FRAM car," said Brown, who beat three Countdown contenders — David Grubnic, Langdon and Morgan Lucas – in the first three rounds. "We edged them, and it felt really good to win and to tie them in the points lead. We have four races left, and it's going to be a slugfest to the end. Everybody's throwing haymakers. It's an all-out battle royal right now."
Funny Car featured a final-round battle between two drivers who aren't in the Countdown playoffs, as Tasca prevailed in a tire-smoking final round duel with defending world champ Matt Hagan. Both cars lost traction near mid-track, but Tasca was able to guide his Motorcraft/Quick Lane Shelby Ford Mustang to the finish line in front of Hagan's Aaron's/Mopar Dodge Charger.
"This weekend just kind of epitomized our whole season, just keep fighting," Tasca said. "We went through three motors. The guys haven't worked this hard all year, but to put Motorcraft and Ford in the winner's circle where they belong, I tell you, is long overdue for our team. We just kept fighting. Marc [Denner] and Chris [Cunningham, crew chiefs] just pulled together and got this car back on track.
"It wasn't pretty. Trust me, there was some driving that had to be done out there, but we got it done. We got a win, and hopefully this is the momentum we need to finish the year strong."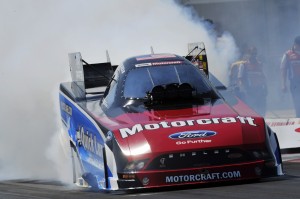 Tasca outran Alexis DeJoria, top qualifier Courtney Force and defending event winner Cruz Pedregon to advance to the final round. Tasca was very proud of his team's effort in taking out two top Countdown contenders and claiming the team's first victory of the season and fourth of his career.
"We have as much fight now, and I think we're more determined now than ever before," Tasca said. "Not making the top 10 was a lot of heartache for the guys on this team. I said to my team, 'This will be a defining six races because I want to see what we're all made of, me included. Are we going to roll over and play dead these next six races, or are we going to come out with some fire in us and take this thing to Pomona and let everyone know that we may not be in this year, but watch out next year?'
"I think this weekend was a defining weekend for our team because we fought through some tough rounds, three motor changes in four rounds in this heat, and we put ourselves in a position to win. I did my job, and we're leaving with the trophy."
Series leader Ron Capps, who lost to Hagan in the semifinals, increased his Countdown playoff lead to 96 over second place Mike Neff, who lost in the second round to Pedregon. Saturday's Traxxas Nitro Shootout winner, John Force, lost in the first round to Hagan.
Johnson earned his fifth Pro Stock victory of the season and first in the Countdown playoffs by outrunning local favorite Erica Enders in the final round. Johnson's Team Mopar Dodge Avenger pulled away at the start and finished with a 6.598 at 210.93, while Enders' GK Motorsports Chevy Cobalt slowed to a 6.835 at 209.39.
"The Mopar Dodge Avenger was consistent," Johnson said. "It was low in all four qualifying rounds, low in two of four rounds today, and got the job done. We've got a great crew that makes great decisions. We've got great power from Dad [Roy Johnson] and the guys at the engine shop. The driver, fortunately, did his job."
Johnson outran the 'Professor of Pro Stock' Warren Johnson, Charlotte winner Dave Connolly and the ultra-quick Vincent Nobile in the first three rounds.  With the win, Johnson increased his points lead to 93 over defending world champ Jason Line.
"I looked at the elimination ladder last night and thought, 'Oh, my, I'm going to have to work for this one,'" Johnson said. "We just took it one round at a time without getting ahead of ourselves. Somebody who's won several championships called me before this thing ever started and told me, 'Just enjoy it, and have fun.' That advice was very important. I'm up for this challenge, and I'm enjoying it."
In Pro Stock Motorcycle, Texas native Ray claimed his first career victory, powering his Viper Motorcycle Company/GottSpeed Racing Buell to a performance of 6.920 at 192.77 to hold off Karen Stoffer's GEICO Suzuki, which trailed with a 7.028 at 190.48.
"It's really surreal, and I don't think it's really sank in yet that I'm getting to go home with the biggest thing that I've worked my whole life for," Ray said.
"When we got here this weekend, we knew we had a great bike that could go out there and be competitive, coming off our performance in Charlotte. I just knew that as long as I just kept my cool and rode the bike consistently there's not a better tuner out here when it's hot than Matt Smith, and I think we showcased that today."
Ray, who beat Scotty Pollacheck, Hector Arana Jr., and Andrew Hines to advance to his second career final round, moved from seventh to fourth in the standings with the victory. Points leader Eddie Krawiec increased his championship lead to 11 over second place Hines.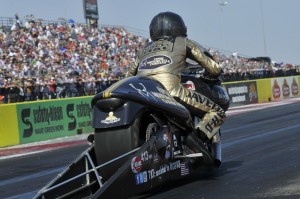 "I think there's no better time than now to start a run at [the championship]," Ray said. "I don't think there's any better team on Sunday to be consistent than our bike.
"I think if I'm sitting here answering questions in Reading my response might be a little bit different, but right now I just want to go out and be consistent and then let the points shake out where they're supposed to."
The NHRA Full Throttle Countdown to the Championship playoffs continues with the AAA Insurance NHRA Midwest Nationals, Sept. 28-30 at Gateway Motorsports Park near St. Louis.
(Photos courtesy NHRA/National Dragster; Click to enlarge)
ENNIS, Texas — Final round-by-round results from the 27th annual AAA Texas NHRA Fall Nationals at Texas Motorplex, the 19th of 23 events in the NHRA Full Throttle Drag Racing Series:
TOP FUEL
ROUND ONE — Morgan Lucas, 3.816, 321.12 def. Bob Vandergriff, 3.865, 317.87; J.R. Todd, 3.828, 319.82 def. Bruce Litton, 4.133, 261.78; Tony Schumacher, 3.824, 321.81 def. Chris Karamesines, 6.873, 94.64; Shawn Langdon, 3.821, 323.50 def. Scott Palmer, 4.118, 233.24; Brandon Bernstein, 3.848, 319.52 def. Doug Kalitta, 3.864, 305.70; Khalid alBalooshi, 3.865, 321.81 def. Terry McMillen, 8.851, 89.74; Spencer Massey, 3.814, 322.11 def. Steve Torrence, 3.852, 318.17; Antron Brown, 4.151, 238.93 def. David Grubnic, 5.342, 129.39; QUARTERFINALS — Bernstein, 3.914, 310.91 def. alBalooshi, 3.968, 261.83; Brown, 4.126, 245.05 def. Langdon, 4.229, 256.06; Lucas, 3.865, 315.34 def. Todd, 3.923, 312.64; Massey, 3.870, 317.79 def. Schumacher, 3.982, 295.85; SEMIFINALS — Massey, 4.275, 270.54 def. Bernstein, 4.824, 170.73; Brown, 3.984, 303.50 def. Lucas, 3.997, 280.25; FINAL — Brown, 3.898, 311.49 def. Massey, 3.945, 300.60
FUNNY CAR
ROUND ONE — Ron Capps, Dodge Charger, 4.119, 303.64 def. Blake Alexander, Chevy Monte Carlo, 4.189, 292.52; Mike Neff, Ford Mustang, 4.107, 309.20 def. Tony Pedregon, Toyota Camry, 4.326, 278.29; Courtney Force, Mustang, 4.151, 305.70 def. Todd Lesenko, Chevy Impala, foul; Jack Beckman, Charger, 4.143, 298.54 def. Jeff Arend, Camry, 4.499, 203.74; Tim Wilkerson, Mustang, 4.279, 249.90 def. Robert Hight, Mustang, 5.976, 114.61; Cruz Pedregon, Camry, 4.105, 303.03 def. Johnny Gray, Charger, 4.665, 180.07; Matt Hagan, Charger, 4.134, 302.48 def. John Force, Mustang, 4.225, 298.01; Bob Tasca III, Mustang, 4.728, 211.79 def. Alexis DeJoria, Camry, 4.957, 184.50; QUARTERFINALS — Tasca III, 4.309, 282.13 def. C. Force, 4.908, 162.33; Capps, 4.194, 299.06 def. Beckman, 4.235, 296.76; C. Pedregon, 4.169, 305.08 def. Neff, 4.186, 303.78; Hagan, 4.172, 297.48 def. Wilkerson, 4.509, 204.66; SEMIFINALS — Hagan, 4.203, 293.03 def. Capps, 4.220, 288.09; Tasca III, 4.292, 278.17 def. C. Pedregon, 4.266, 256.31; FINAL — Tasca III, 4.826, 197.59 def. Hagan, 5.025, 188.15.
PRO STOCK
ROUND ONE — Dave Connolly, Chevy Cobalt, 6.616, 210.44 def. Mike Edwards, Pontiac GXP, 14.139, 54.86; Jeg Coughlin, Dodge Avenger, 6.629, 209.14 def. V. Gaines, Avenger, foul; Richard Freeman, GXP, 6.660, 209.88 def. Ron Krisher, GXP, 6.624, 208.78; Greg Anderson, Chevy Camaro, 6.592, 210.37 def. Greg Stanfield, Camaro, 6.640, 208.65; Erica Enders, Cobalt, 6.577, 210.47 def. Chris McGaha, Avenger, 6.637, 207.59; Allen Johnson, Avenger, 6.582, 211.00 def. Warren Johnson, GXP, 6.615, 209.62; Rodger Brogdon, Camaro, 6.608, 209.20 def. Jason Line, Camaro, 6.581, 210.67; Vincent Nobile, Avenger, 6.577, 210.37 def. Larry Morgan, Ford Mustang, 6.625, 209.14; QUARTERFINALS — Freeman, 6.663, 208.36 def. Brogdon, 7.559, 136.73; A. Johnson, 6.603, 210.54 def. Connolly, 6.626, 210.05; Nobile, 6.590, 210.01 def. Anderson, 6.603, 210.41; Enders, 6.601, 209.72 def. Coughlin, 6.640, 209.39; SEMIFINALS — Enders, 6.623, 210.18 def. Freeman, 9.118, 103.47; A. Johnson, 6.599, 210.90 def. Nobile, 6.613, 210.21; FINAL — A. Johnson, 6.598, 210.93 def. Enders, 6.835, 209.39.
PRO STOCK MOTORCYCLE
ROUND ONE — Michael Ray, Buell, 6.913, 192.85 def. Scotty Pollacheck, Buell, foul; Karen Stoffer, Suzuki, 6.921, 193.38 def. Jerry Savoie, Suzuki, 6.986, 190.11; Mike Berry, Buell, 7.017, 190.73 def. Chip Ellis, Buell, 6.967, 191.59; Andrew Hines, Harley-Davidson, 6.880, 194.69 def. Steve Johnson, Suzuki, 7.001, 190.46; Eddie Krawiec, Harley-Davidson, 6.887, 194.77 def. Shawn Gann, Buell, 7.062, 191.57; Hector Arana Jr, Buell, 6.863, 195.70 def. Matt Guidera, Buell, foul; Redell Harris, Buell, 7.113, 188.54 def. Hector Arana, Buell, broke; LE Tonglet, Suzuki, 6.921, 192.96 def. Matt Smith, Buell, foul; QUARTERFINALS — Stoffer, 6.948, 193.40 def. Harris, 7.125, 187.96; Krawiec, 6.918, 195.17 def. Tonglet, 6.979, 192.47; Hines, 6.903, 195.03 def. Berry, foul; Ray, 7.498, 135.76 def. Arana Jr, foul; SEMIFINALS — Stoffer, 6.998, 191.21 def. Krawiec, 6.980, 191.81; Ray, 6.966, 190.19 def. Hines, 6.974, 191.48; FINAL — Ray, 6.920, 192.77 def. Stoffer, 7.028, 190.48.
ENNIS, Texas — Sportsman final results from the 27th annual AAA Texas NHRA Fall Nationals at Texas Motorplex. The race is the 19th of 23 in the NHRA Full Throttle Drag Racing Series:
Top Alcohol Dragster — Jim Whiteley, 5.275, 271.68  def. Chris Demke, 5.739, 263.77.
Top Alcohol Funny Car — Clint Thompson, Chevy Monte Carlo, 5.591, 259.46  def. Tony Bartone, Ford Mustang, 5.685, 260.36.
Competition Eliminator — David Rampy, Bantam Roadster, 7.230, 182.75  def. Joey Tanksley, Dragster, 6.764, 197.36.
Super Stock — Eric Pearson, AMX, 10.789, 108.58  def. David Latino, Chevy Cobalt, foul.
Stock Eliminator — Terry Emmons, Camaro, 10.537, 117.36  def. Jacob Pitt, Plymouth Duster, 11.426, 112.00.
Super Comp — Tommy Phillips, Dragster, 8.907, 160.46  def. Austin Williams, Dragster, 8.868, 157.19.
Super Gas — Tommy Phillips, Chevy Corvette, 9.911, 149.08  def. Jimmy Lewis, Corvette, 9.921, 156.55.
Super Street — Steven Wilson, Chevy II, 10.873, 131.22  def. Jeff Hefler, Chevy Vega, 10.864, 118.98.
Top Sportsman — Jimmy Lewis, Pontiac GXP, 6.960, 201.61  def. Joe Pigford, GXP, 7.129, 193.63