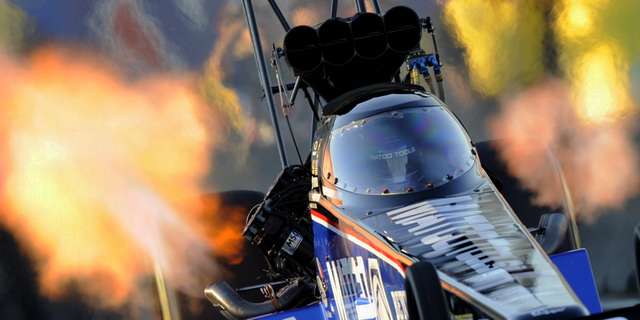 Antron Brown raced to the qualifying lead in Top Fuel Feb. 22, at the NHRA Arizona Nationals at Firebird International Raceway.
Johnny Gray (Funny Car) and Mike Edwards (Pro Stock) also were qualifying leaders at the NHRA Mello Yello Drag Racing Series event near Phoenix.
Five days after walking away from a spectacular crash at the season-opening event in Pomona, Calif., Brown powered his brand new Matco Tools dragster to a leading time of 3.765 seconds at 314.83 mph.
"I can't say enough for my team," Brown said. "They came out here with a brand new car, and it was planned that we made a half-lap on the first pass to make sure that everything was right.
"Then we came back (for the second run), and the car left good. But I had to remember, that when you go one-to-one at half-track [with the clutch lock-up], this track always makes your car sashay. And I just lifted a little bit early because I felt the car go from side to side.
"But it was a phenomenal run, and I couldn't be happier. To come out here and on the second run of the new car and be number one, you can't ask for much more than that."
Brown says he was examined this week by his doctor in Indianapolis and given a good report.
"I had X-rays to make sure that everything was okay with my spine, and I'm doing all right," Brown said. "I have some bruises, but all my muscles are back to normal, my neck was never tight, and there weren't any marks on my helmet."
Tony Schumacher is second in the U.S. Army dragster with a performance of 3.768 at 321.96 and Doug Kalitta sits third in the Mac Tools dragster with a 3.769 at a track record speed of 325.92.
In Funny Car, Gray paced the 16-car field with a performance of 4.034 at 313.80 in his Pitch Energy Dodge Charger.
"[Crew chief] Rob [Wendland and [assistant crew chief] Rip [Reynolds] have really got a handle on this car," Gray said.
"In the first run it dropped a hole and [still] ran a 4.12 on seven cylinders, and so we knew that if it ran on all eight and stayed hooked up it might make a decent run. We're happy with it."
Matt Hagan qualified second in his Mopar/Rocky Footwear Dodge Charger with a 4.062 at 311.20, while Winternationals winner Courtney Force was third in her Traxxas Ford Mustang with a 4.064 at a track record speed of 315.71.
Edwards was quickest in Pro Stock, covering the distance in a track record time of 6.498 at 213.13 in his Interstate Batteries / I Am Second Chevy Camaro.
"Hats off to Jerry Haas and all his guys back at their shop," Edwards said. "They did an awesome job. This Camaro, it's just fast. My guys have worked very hard all over the winter, but the other teams have too. It's just a great all-around effort by our team."
Edwards, who also was No. 1 at the season-opener last weekend, says this season is starting to resemble his world championship year a few seasons back.
"In a way, it's starting to remind me of 2009, when we had a big tune-up window," Edwards said. "It's a long season yet, but any time you run good, it feels good. We want to go down the track on every run."
V Gaines qualified second with a 6.529 at 212.63 in his Kendall Oil Dodge Avenger, while defending event winner Jason Line is third in his Summit Racing Chevy Camaro with a 6.535 at 212.56.
Qualifying continues Saturday with sessions at 12:30 and 2:30 p.m. Sunday's eliminations are set for 11 a.m.
(Photos courtesy NHRA/National Dragster; Click to enlarge)
CHANDLER, Ariz. — Friday's results after the first two of four rounds of qualifying for the 29th annual NHRA Arizona Nationals at Firebird International Raceway, second of 24 events in the NHRA Mello Yello Drag Racing Series.  Qualifying will continue Saturday for Sunday's final eliminations.
Top Fuel
1. Antron Brown, 3.765 seconds, 314.83 mph; 2. Tony Schumacher, 3.768, 321.96; 3. Doug Kalitta, 3.769, 325.92; 4. David Grubnic, 3.783, 321.27; 5. Leah Pruett, 3.812, 310.63; 6. Bob Vandergriff, 3.818, 321.88; 7. Larry Dixon, 3.818, 320.74; 8. Brandon Bernstein, 3.843, 267.64; 9. Clay Millican, 3.860, 300.60; 10. Khalid alBalooshi, 3.871, 298.01; 11. Terry McMillen, 3.872, 320.51; 12. Sidnei Frigo, 4.001, 292.71.  Not Qualified: 13. Spencer Massey, 4.034, 222.22; 14. Brittany Force, 4.069, 223.54; 15. Steve Torrence, 4.284, 192.52; 16. Shawn Langdon, 4.618, 160.37; 17. Mike Strasburg, 6.108, 95.90; 18. Morgan Lucas, 7.359, 91.31.
Funny Car
1. Johnny Gray, Dodge Charger, 4.034, 313.80; 2. Matt Hagan, Charger, 4.062, 311.20; 3. Courtney Force, Ford Mustang, 4.064, 315.71; 4. Cruz Pedregon, Toyota Camry, 4.078, 306.40; 5. Del Worsham, Camry, 4.140, 303.30; 6. Alexis DeJoria, Camry, 4.157, 303.09; 7. Ron Capps, Charger, 4.167, 293.15; 8. Bob Tasca III, Mustang, 4.280, 236.71; 9. Robert Hight, Mustang, 4.321, 219.58; 10. Jack Beckman, Charger, 4.322, 215.58; 11. Phil Burkart, Chevy Impala, 4.358, 278.75; 12. Jeff Arend, Charger, 4.855, 165.72.  Not Qualified: 13. Jeff Diehl, 4.947, 161.69; 14. Todd Lesenko, 5.092, 155.45; 15. Tim Wilkerson, 5.452, 136.59; 16. Tony Pedregon, 5.499, 129.08; 17. John Force, 6.120, 109.40; 18. Terry Haddock, 7.826, 90.82.
Pro Stock
1. Mike Edwards, Chevy Camaro, 6.498, 213.13; 2. V. Gaines, Dodge Avenger, 6.529, 212.63; 3. Jason Line, Camaro, 6.535, 213.03; 4. Greg Anderson, Camaro, 6.536, 212.56; 5. Jeg Coughlin, Avenger, 6.544, 211.36; 6. Allen Johnson, Avenger, 6.554, 211.83; 7. Erica Enders-Stevens, Chevy Cobalt, 6.555, 211.93; 8. Vincent Nobile, Avenger, 6.555, 211.13; 9. Greg Stanfield, Camaro, 6.561, 210.73; 10. Shane Gray, Camaro, 6.568, 210.57; 11. Rodger Brogdon, Camaro, 6.578, 210.70; 12. Chris McGaha, Avenger, 6.582, 210.90.  Not Qualified: 13. Steve Kent, 6.584, 210.21; 14. Matt Hartford, 6.586, 211.73; 15. Larry Morgan, 6.588, 210.50; 16. Kurt Johnson, 6.605, 210.24; 17. Deric Kramer, 6.625, 209.43; 18. Mark Wolfe, 6.692, 206.80; 19. Warren Johnson, 6.747, 207.82.