Antron Brown extended his mastery of Gateway Motorsports Park by racing to his fourth consecutive victory at the facility Sunday during the AAA Insurance NHRA Midwest Nationals.
Del Worsham (Funny Car), Drew Skillman (Pro Stock), and Hector Arana Jr. (Pro Stock Motorcycle) also were winners in their respective categories at the second of six playoff races in the NHRA Mello Yello Countdown to the Championship event near St. Louis.
Brown defeated Dave Connolly in the final round to take his 53rd career victory and his fifth win overall at the track with a performance of 3.721 seconds at 325.92 mph in his Matco Tools dragster to Connolly's trailing run of 3.753 at 328.94 in the C&J Energy Services dragster.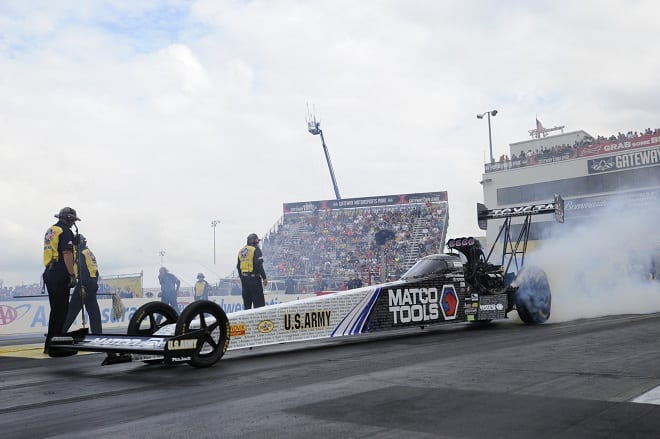 "There are two words: truly blessed," said Brown. "When [track owner] Curt Francois and [general manager] Chris Blair brought this track back [in 2011], they brought it back better than ever. You can put a slew of runs together that are quick and fast, because you're not worried about the track not being there. The class is so competitive right now that you're going home if you throw out a high-.70."
The win, his sixth of the season, extended his points lead over teammate Tony Schumacher by 77 points. Larry Dixon suffered a first round loss to Billy Torrence and is 159 points behind Brown.
"We have to keep marching right now," said Brown, who beat Terry McMillen, Shawn Langdon and Billy Torrence in the first three rounds. "We had a 200-point lead in 2012 and almost lost the championship at the end. We're off to an incredible start. Charlotte is usually our kryptonite, but we were able to get through there this year with a good start."
In Funny Car, Worsham continued his hot streak when he defeated Matt Hagan to earn his second consecutive victory in the playoffs. Worsham defeated No. 1 qualifier Hagan in his with a pass of 3.964 at 320.13 in his DHL Toyota Camry to the defending world champ's losing run of 3.983 at 324.20 in his Mopar Express Lane/Rocky Boots Dodge Charger R/T. Worsham took the win in spectacular fashion as the engine on his yellow Toyota exploded as he crossed the finish line.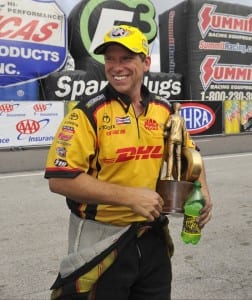 "It made a hard dart to the right, I had full input on the wheel to the left, and it went 'ka-boom!' right before I got to the finish line," said Worsham. "It blew up, the dash came up, and fire went back there. Luckily, in today's racing, the chutes deployed themselves and slowed it down right away. In my 25 years of racing, I don't know if I've ever driven a Funny Car that made that many good runs. The team assembling it, the tune-up, and what [team owner] Connie Kalitta has given us here has been unreal. When I came back to Funny Car racing [in 2012], this is the dream I had."
Worsham also earned a 20-bonus points during the event when he set a national elapsed time record of 3.899 seconds during qualifying. He now has a 90 point lead over Hagan, the two-time and defending Funny Car world champion. Jack Beckman, who entered the Countdown as the No. 1 seed carrying a ton of momentum, fell to fourth following his second round loss to Cruz Pedregon. Tommy Johnson is third in the points standings.
Pro Stock rookie Skillman raced his Ray Skillman Chevy Camaro to his first career victory when he defeated his teammate Erica Enders. It was a rematch from the final in Indianapolis, which Enders won. In this matchup, Skillman powered past Ender's Elite Motorsports Camaro, which lost traction early in the run, with his winning pass of 6.529 at 211.63.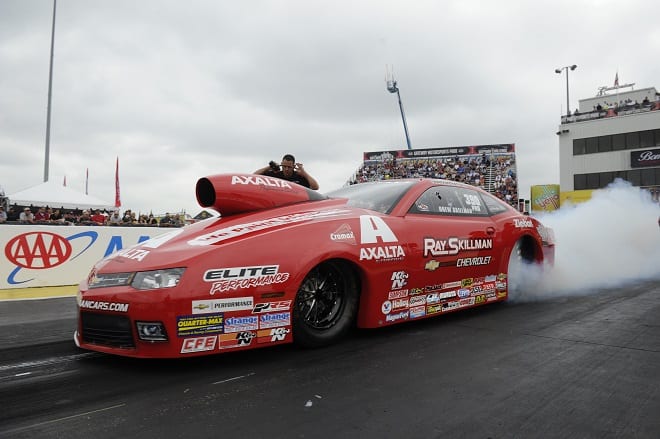 "This is my fourth time to the finals and I knew that Erica has been insane on the Tree," said Skillman. "A little luck came our way and we got it done this weekend. I lost the first three finals but I don't know how you can get frustrated when you get to a pro category for the first time and have the kind of year we're having. This is not normal. I'm just very excited to win this today. I have a great team."
Enders, who was in her fourth consecutive final round, increased her series lead to 113 markers over Greg Anderson.
Arana Jr. raced to his second Pro Stock Motorcycle win of the season when he defeated his father Hector Arana in the finals. Arana Jr. raced his Lucas Oil Buell to a winning pass of 6.860 at 196.50 to his father's trailing run of 6.932 at 195.03, also on a Lucas Oil Buell. This is the first career win in St. Louis for Arana Jr. The win moves him to 34 points behind Andrew Hines and caps a significant week for the racer.
"This has been a great week; I don't know if I could ask for anything more," said Arana Jr. "On Monday, I pulled the
trigger and asked my beautiful girlfriend [Nicole Nobile] to marry me and to get this win is just icing on the cake. I tell you what, that is a bittersweet win. I watched my dad win in the semis and I said to myself, 'I have to win' so we can see which one of us can take home the Wally. I want to see him win and of course he wants to see me win, but at the same time I want to beat him. We also needed this to move forward in the points."
The third of six rounds of the NHRA Mello Yello Countdown to the Championship playoffs is next weekend at the NHRA Keystone Nationals at Maple Grove Raceway near Reading, Pa.