For the fourth time in the history of NHRA's famed Western Swing, multiple drivers head to the third and final race of the grueling three races in three weeks trek with an opportunity to make history.
Top Fuel's Antron Brown and Pro Stock's Allen Johnson (above) could become the first duo to sweep the Western Swing simultaneously. Brown, who was the last driver to sweep the Swing in 2009, has an additional carrot on the table; he could become the first driver to sweep the Swing twice.
Only seven drivers have broken out the traditional broom in the Winner's Circle celebration at the end of the Western Swing. In addition to Brown, they are Joe Amato (1991), John Force (1994), Cory McClenathan (1997), Larry Dixon (2003), Greg Anderson (2004) and Tony Schumacher (2008).
On three previous occasions there were multiple drivers chasing the goal. When Force did it in '94, Scott Kalitta and Darrell Alderman each came up short in their quests. When McClenathan swept Top Fuel in 1997, Jim Yates just missed becoming the first Pro Stock driver to do it. And in 2003 when Dixon accomplished the feat, Force missed the chance to become the first driver to sweep the Swing two times.
Brown and Johnson are certainly riding a strong wave of momentum as they prepare for their opportunity to sweep the Western Swing at the O'Reilly Auto Parts NHRA Northwest Nationals presented by Super Start Batteries, Aug. 3-5 at Pacific Raceways near Seattle. Del Worsham (Top Fuel), Tim Wilkerson (Funny Car) and Jason Line (Pro Stock) were the 2011 winners at the NHRA Full Throttle Drag Racing Series event that will be televised on ESPN2HD.
Brown, who has been there before, says a little bit of Zen practice is what's required to make it happen.
"We're going to take the same approach this time like we did the last time," Brown said. "We aren't going to look into the future and we'll just focus on the here and now."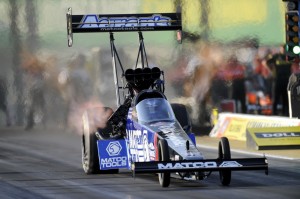 Brown, who squeaked past Brandon Bernstein for the win at Denver and then had to face red-hot Steve Torrence in the first round at Sonoma and later beat four-time season winner Spencer Massey in a photo finish in a thrilling side-by-side final round, knows the competition is simply too good to try and make predictions about possible outcomes.
"We aren't going to talk about (sweeping the Western Swing)," Brown said. "We can talk about sweeping if we get to the final round at Seattle. First we have to qualify. Then we have to get past first round. There are a million little things that can go wrong on these cars at any time. We have to take it one round at a time. We need to keep our head down and keep digging."
Johnson's Team Mopar Dodge Avenger seems to be picking up steam with each event. He's earned the most No. 1 qualifying positions in the category, including the last five in a row, and is now tied for the class lead in victories, with four.  Johnson outran fellow Mopar driver V. Gaines in the final round at Denver and then overcame a holeshot start by Anderson in the final to take the win at Sonoma.
His confidence seems to be growing and he's getting more comfortable being called the Full Throttle Series points leader.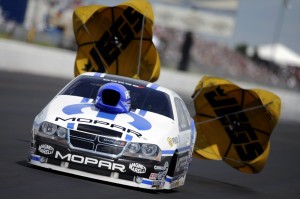 "We're learning how to win, round by round by round," Johnson said. "And we're taking it one round at a time."
A strong stable of competitors in the 200-mph factory hot rod class will be working hard to end Johnson's streak, including Anderson, Line, Mike Edwards, Vincent Nobile and recent first-time winner Erica Enders.
However, with a victory and two runner-up finishes to his credit in recent seasons at Pacific Raceways and also given how well his car is performing at the moment, Johnson really likes his chances to become the second Pro Stock driver to sweep the Swing.
"We've got an awesome race car and a great team making decisions," Johnson said. "It's a sweet feeling knowing every time you go up there you are going to be the fastest car. You just have to be consistent as a driver. I was able to do that (in Denver and Sonoma) and hopefully I can carry that on into Seattle."
(Photos courtesy NHRA/National Dragster; Click to enlarge)