Steve Jackson, perennial frontrunner in the hyper-competitive Professional Drag Racing Association's Pro Nitrous division, announced today a multi-year partnership with His Highness Sheikh Abdullah Bin Hamad Al Khalifa and Bahrain 1 Racing. The agreement will see Jackson continue to field his popular 1969 Chevy Camaro in PDRA Pro Nitrous competition beginning with the fast-approaching PDRA Summer Drags at U.S. 131 Motorsports Park in Martin, Michigan.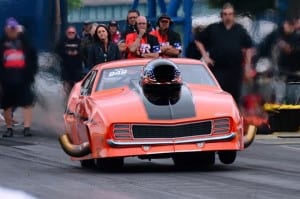 "I have to admit, I'm pretty fired up right now," says Jackson, one of drag racing's most colorful and celebrated personalities. "To have a partner like Bahrain 1 Racing, honestly, is a big deal – an extremely big deal. Me, H.H. Sheikh Abdullah Bin Hamad Al Khalifa, and the whole Bahrain 1 Racing team, we all have the same goals, so I think this is going to be a fun and exciting deal for all of us."
Jackson, currently 4th in the PDRA Pro Nitrous championship points battle, is eager to put Bahrain 1 Racing in the winner's circle, along with his longtime sponsor Jeff Sitton's SEI Oilfield.
"I can't begin to explain the amount of thought and planning, as well as time, that went into this deal," continues Jackson, who just returned from the Kingdom of Bahrain where the partnership was finalized yesterday. "We have a long-term plan that will benefit everyone involved. I can't wait to get started. I'm always fired up – I think people know that – but like I said earlier, now I'm really fired up.
"The plan is to finish out the 2016 PDRA season and then field a car for Bahrain 1 Racing in the Arabian Gulf Region," concludes Jackson. "We'll then head back 'Stateside and get ready for a full season in 2017. I truly believe this is the beginning of something pretty big."
Bahrain 1 Racing will make its Pro Nitrous debut during the opening round of qualifying for the PDRA Summer Nationals on Friday, June 9th, 2016, at U.S. 131 Motorsports Park.