Bob Vandergriff, team owner of Bob Vandergriff Racing (BVR), an organization that has been fielding two Top Fuel Dragsters on the NHRA Mello Yello Drag Racing tour, has announced his retirement from the sport following the NHRA Denso Nationals in Las Vegas.
The Top Fuel cars had been driven by Dave Connolly and Leah Pritchett. Effective immediately, the entire BVR organization has been shut down and all employees have been released from their duties.
Vandergriff issued the following statement: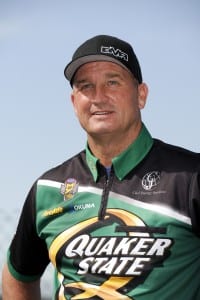 "I've been considering retirement for a few years now, and I've actually done it once already when I retired from the driver's seat at the end of the 2014 season. Now it's time to retire from the sport altogether. The recent unexpected death of BVR supporter and close friend Josh Comstock, from C&J Energy Services, has made me reflect and seriously reevaluate my priorities in life.
"I've missed a lot of things in my children's lives over the years and the desire to spend more time at home with my family has weighed on me greatly the last few years and when combined with the struggles the oil and gas industry has been facing over the last 12-18 months it seemed like now was the right time to retire. C&J Energy Services CEO Randy McMullen and I sat down recently, and after lengthy discussions he was in agreement and fully supported my decision.
"I want to thank everyone who supported BVR, from our sponsors, to our vendors, employees, and most of all my father Bob Vandergriff Sr. My father has been the bedrock throughout my career and, without any hesitation, he has supported our efforts through the many challenges we've faced over the years. We've had a tremendous group of people at BVR and I expect and wish for great things in the future for each and every one of them. I've enjoyed spending the last 22 years of my life in drag racing. I owe a lot to the sport, its fans, and the individuals who have who played key roles in my career."
Randy McMullen issued the following statement from C&J Energy Services:" We have enjoyed and greatly benefited from our relationship with Bob over the last 8 years, both on and off the track. We support Bob in his next steps and look forward to continuing to work with him for many years to come on other ventures"