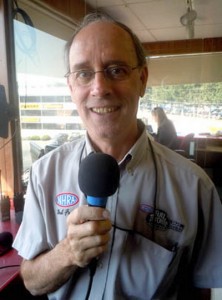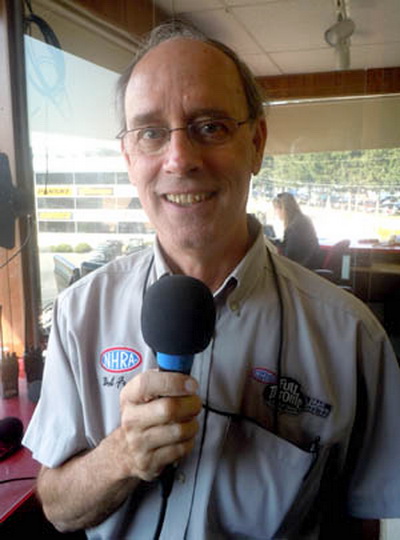 Bob Frey, the long-time announcer and voice of NHRA, has announced that he will retire from announcing at the end of the year.
"I've been doing this since 1966 and traveling extensively and it's time to settle down," Frey said. "There are a lot of things at home I would like to do and take care of. I have six grandsons and I would like to see them grow up, play ball and be a bigger part of their lives. Plus, after all these years on the road, I'd like to share some time with my wife. In fact, I think next year I'd like to travel and see the world."
He quickly added that he was only kidding about that last part. "If I never see another airport security line in my life I'll be happy."
Frey started announcing at Atco Dragway in 1966 and has been a part of the sport ever since.
"I've been doing this since before Funny Cars or Pro Stocks were even classes," he said. "I've been blessed to meet most of the stars of the sport and to be able to call them friends. It's been a great ride but it's time to move on."
He went on to say that he intends to stay involved in the sport but in a very limited and selective way.
"I plan on doing the Don Garlits Hall of Fame inductions in March and the DRAW auction in October along with other selected events, but not in an announcing capacity. Plus, I hope to be able to continue to write my weekly columns for DragRaceCentral.com. That's something I really enjoy, plus that is something I can do from home and that's a real bonus. And I hope to continue to provide my stats to the folks at ESPN so they can use them on their shows."
When asked about some of his most memorable moments, Frey said that it would be tough to pick out any single one.
"There has been so much that I have seen, from twin-engine dragsters to today's fuel cars and everything in between. I love a good Competition Eliminator race as much as a Top Fuel one so I really can't single out any particular moment. I've enjoyed every aspect of my career but I'm looking forward to slowing down."
Frey will finish out the season with the races in Las Vegas and Pomona and then begin his retirement.
"I'd like to thank everyone who has been so kind to me over the years, especially everyone at NHRA. It's been a dream job and I will miss it."