Bo Butner was standing in line, preparing to board on a plane – a drill he repeats hundreds of times each year, both as a racer and as the owner of Jim Butner Auto Group – when he was recognized by two fans. What happened next is something that has become commonplace for Butner since his rise in Pro Stock culminated in a 2017 world championship. "They were standing in front of (Butner's fiancé) Randi Lyn (Shipp) and myself and he said, 'You're Bo Butner, right?' I said, 'yeah,' and he asked for a picture, and that was pretty neat," Butner says. "Another time, I was walking through another airport and a woman said, 'Hey, you're Bo Butner,'" but the Floyds Knobs, Indiana, native had to pause momentarily before realizing she was a fan and that, yes, he indeed was Bo Butner.
It's a rise to stardom the man referred to as "The People's Champ" never expected when he made his Pro Stock debut in 2015. Racing was his outlet, a way to have fun with friends and his fiancé. Not once did he think that would turn into being recognized at airports, car auctions and everywhere else Butner's life takes him.
"I never would've imagined this in a million years," Butner says. "We kind of do this deal to get away from our car dealerships at home, and just to enjoy it. Plus, we're very competitive, but to get to a point where we're actually recognized, I never thought that would happen."
Butner's story is a fascinating one, starting with the fact he never went down a dragstrip until he was 21 years old. He climbed the sportsman ranks before jumping into Pro Stock, formed strong friendships with the likes of the late Bob Glidden and just recently acquired Nitro Fish, one of the more iconic brands in the sport.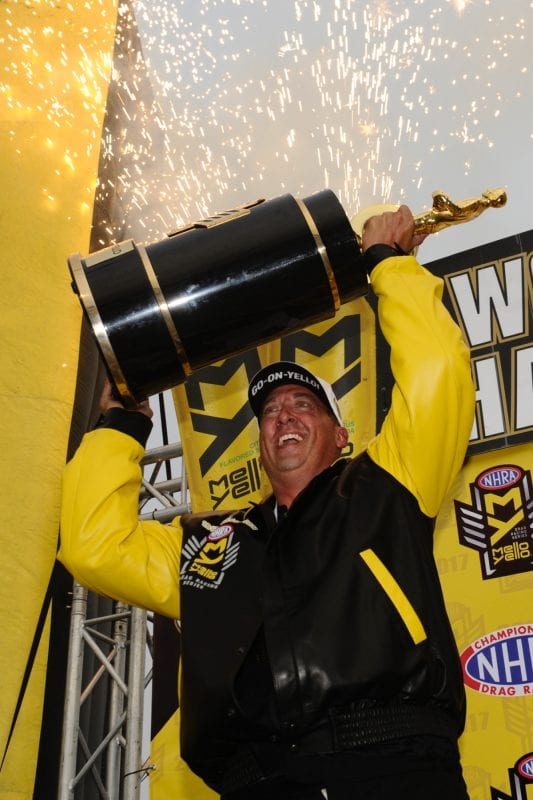 Butner has also battled his demons and has now been sober for 11 years, an aspect of his story that has made him the person and racer he is today. As much as he may be "The People's Champ," Butner's willingness to help racers, genuinely listen to fans and cater to almost everyone he comes across almost makes him the Robin Hood of the sport as well.
At heart, he remains a sportsman racer, a major reason for the groundswell of support he received through his championship run. By carrying the flag for the sportsman crowd, Butner became a sensation for the hardcore racer and that fanbase, receiving texts and phone calls from every major sportsman racer along the way.
It has been a wild ride, one Butner shared with DRAG ILLUSTRATED in an interview that touched on a variety of topics, including suddenly becoming a prominent face in the sport, his unique approach to running his business, the foray into no-prep racing, his relationship with KB Racing teammates Jason Line and Greg Anderson, and how his story of becoming sober can be an inspiration to others.
The nickname "The People's Champ" really seems to fit with how this has all played out for you. Where did that originate and how cool has it been to receive such heartfelt support from fans?
If I had to guess, it's probably something from Brian Lohnes. He knows just about everything on anybody. For somebody to come in and that wasn't supposed to win and they come from a straight sportsman background, I think that's where all the support came from. We get a kick out of it. It's a funny deal and I can't thank the people that support us enough. I've met a lot of great people through this.
Since we're traveling up the East Coast (for the NHRA race in Virginia), I haven't been able to see a lot of the people there since we won. I've gotten a lot of message and calls and texts, and some of the racers I don't even particularly know, which kind of makes it even bigger yet because they're watching, too. It's a win-win for us, and I think it was really good for the sport.
It's proof that dreams still come true. You can start out in a Super Street car, maybe get lucky enough to get licensed and show up and do well. There's room out there for those people still.
You're a sportsman racer through and through, and that was certainly a big part of the story of winning the Pro Stock world title. How satisfying was that aspect of your championship?
That's really satisfying for me because if you look at Bob Glidden and just a lot of the great people through this sport, that's how it started. They ran Super Stock back then and they kind of had to work their way up the ranks. That's kind of the way we have done things. I'm still a sportsman racer. That's where I started and that's probably where I will end my career.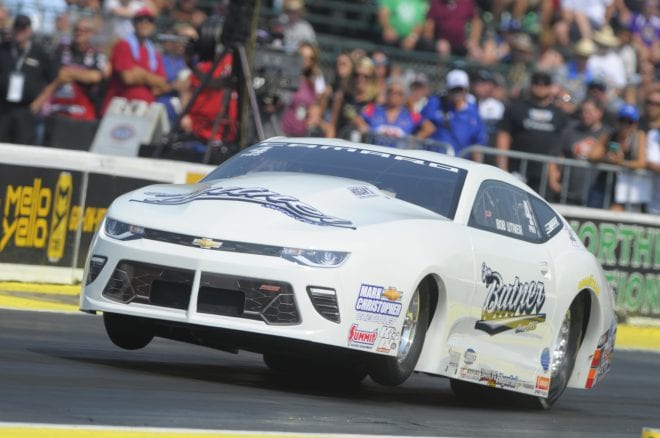 It's been awesome to see that support and we've been blessed that it's happened to us, but we still get the support day in and day out at every track. Even when we're pulling into Virginia (for the Virginia NHRA Nationals in June) there's a couple racers that come up and they watch everything you do, whether it's on social media or whatever. We get a lot of support at every single track and that means a lot. We're out there to have fun. This is definitely not the way we make our living. If we can't have fun doing this, it would be tough to come out here every week.
What was it like to have a relationship with Bob Glidden?
I'm real close with Billy (Glidden) and these last few years I was able to be close with Bob. Actually, they used to babysit Randi Lyn. She grew up right down the street from them. They've known her their whole life, and after I won (the championship) and right before the PRI show, I went up and Bob took me to Ruth's Chris (Steakhouse) in Indy. It actually shocked me because I didn't think Bob would spend the money to do that, but as we walked in they knew him, so evidently he ate there 2-3 times a week (laughs). It was a great, great meal – a little bit of talking and a whole lot of BS'ing. He was a great guy and a tough-headed hard worker.
When you talk about a hard worker like Glidden or a hardcore racer, how do you define that?
Not to say that everybody out here doesn't work hard on their cars, but there's nothing like somebody working on a Pro Stock engine. It's just those of type of guys, and Greg Anderson is one of them. Just the old school, hardcore guys that made the sport what it is, and that's what I respect.
You jumped into this Pro Stock thing by teaming with KB Racing. Greg and Jason Line have long been a standout 1-2 punch, and then you came into the mix, which has seemed to benefit everyone. What's impressed you with the way they work, and what is one thing you've seen from each of them the racing public may not know?
They've been through a ton. To see what Greg has built there, it's amazing. The shop, the personnel, he's the backbone of it. He's a hard worker and he's there every day. He never quits. I'm really impressed with hard work and hustlers. I don't think you should sit around and do nothing.
Everybody probably knows they're both hard workers. You can see that. But, in all honesty, Greg has the biggest heart and he cares for each and every person more than they can ever imagine. That really blew my mind when I first got to really know him outside of the track. He's just a competitive SOB. He wants to rip your eyes out; I don't care if it's testing in Bristol, he wants to beat you. But bottom line, he's a great guy and he knows what he's doing and what he's talking about.
Jason, on the other hand, that is a big, tall goofy guy (laughs). He's quiet, he does smile a lot and he's kind of a bigger brother to me. We cut up a lot and a lot of people probably don't know it or see it, but he's very family-oriented. He does keep his personal life very, very quiet. We all click together good. Jason and I probably click together good because we come from the sportsman ranks. Greg and I click together good because we're both pretty competitive. It's just a good group of guys, and I'm just blessed and, luckily, I picked the right team to be with.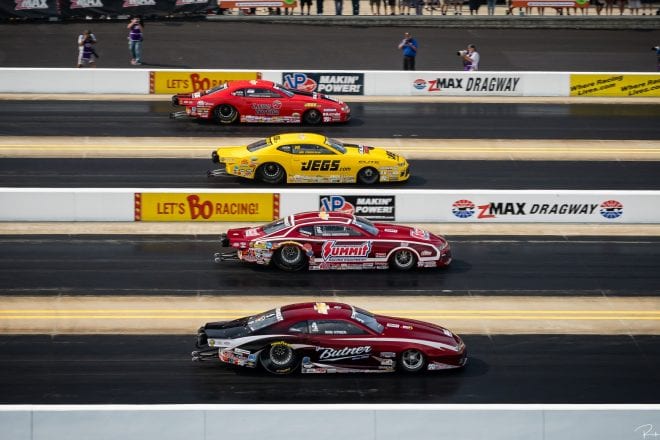 Your racing story isn't actually conventional. You didn't grow up around it and you didn't start at a young age. How did you get hooked on it and where has that path taken you?
As funny as it may seem, it started with a trade-in car from my dad's dealership. I had never step foot at a drag race in my life, and I was probably 21. We took an old Nova in on a trade, like a '72 Nova, and I just decided, and I don't know why, but we had Ohio Valley Dragway right across the river. Again, I had never been there the first 20 years of my life. So, I just decided to go over on a regular Wednesday night and they had a race.
I had no idea anything about drag racing. I did a burnout and I went to stage and the starter taps on my car and he says, "Hey, dude, you can have the radio on, but your window has to be up." I didn't know.
We got through that and we won that race, just pure luck. Of course, that's when your hook sets, and then you want to go faster and your whole goal is to go faster and keep going. I ran some IHRA, some modified Super Stock stuff, and slid over here to the NHRA.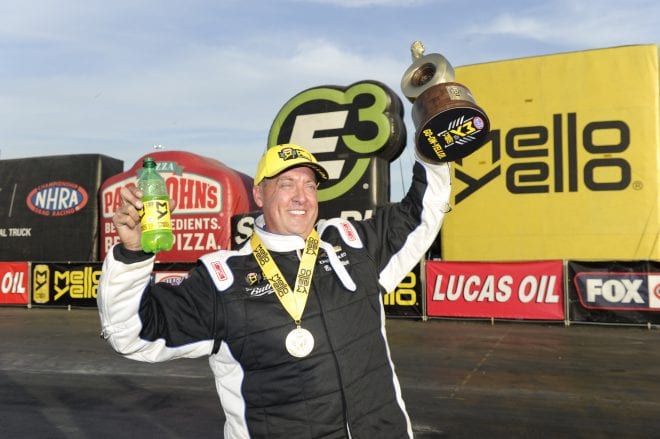 I think, to this day, I'm the only man in history that went to the U.S. Nationals in Super Stock and I won class (in 2006). That was a big deal. It was great to have a little class trophy from U.S. Nationals. That was as big as winning a national event somewhere else. But I actually won class and I left before eliminations so I could race an IHRA points meet because I was chasing points.
So we drove all night to North Carolina for me to go race, and I finished second that year. We would try to do both, and eventually stepped on over straight to NHRA when I started running Comp Eliminator. I loved that class. It's a tough class and it's about who is smart enough to find the right combination. I think I've run every class. Whatever it is, we enjoy racing and we enjoy the people around it.
You have raced in a lot of classes and that's something we'll touch on. But what keeps you passionate about racing Pro Stock?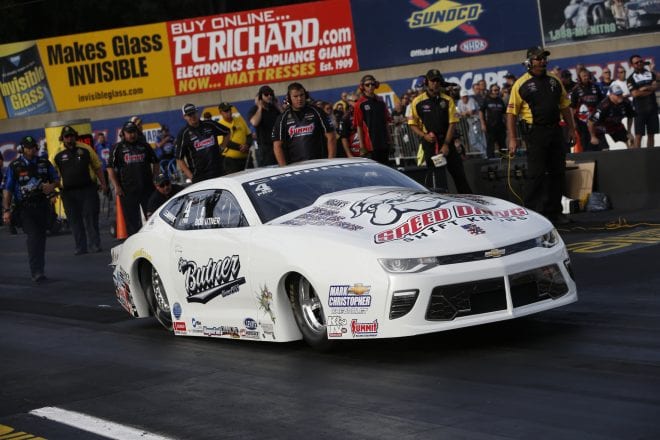 Of course, in my eyes and a lot of people's eyes, it's the most competitive thing you could ever do. Today, there's probably 12-13 people you could pick to win any race. It's the most competitive thing, it's tough, but it still has that prestige. Bob and I had this same discussion before he passed. It just goes back to the hardcore racing days. That's the kind of thing that drew me to the no-prep stuff, because if you go to one of those races, these are guys showing up in old duallies and really old trailers, putting every penny they have into their cars. It's just a whole different atmosphere, kind of the way I thought this used to be.
Speaking of the no-prep deal, your foray into that a couple months ago really got people talking. How did that all come to be and what was your impression of it?
Harry (Hruska) and I got hanging around each other the last couple years and he let me get my Pro Mod license in his car at Phoenix, and we get talking about this no-prep stuff. He bought the Duster the week of that race. It was a big-tire, outlaw Pro Mod car, so I told him I would meet him in Louisiana, me and my crew guy. I called up and ordered the right set of tires and wheels to make it all legal, and we put it all together in one afternoon, and it looked really funny on those little, small tires. Once we got the wheels on the car, the back end drug the ground, so we had to make some bars, raise the shocks and do a lot of stuff, and it all went smooth. It was a mess up on my part; I think we probably would have went a couple more rounds.
But as we pull in the gates, I had my bus and the Nitro Fish trailer, then our semi because we were on our way out to Vegas for the NHRA race. When I pulled in, the guy was like, "Hey, don't take any offense because you probably won't sell much of your apparel and there's not going to be many people that know you here." But we did have a lot of fans there, and I got to meet a lot of the drivers and became pretty good friends with a lot of those guys. I even gave them a shout-out in Vegas. They interviewed me after I called out Vincent (Nobile, on a side bet in the first round of K&N Horsepower Challenge) after I beat him. I said, "Yeah, that's something my old no-prep buddies taught me." Instantly, when I did that my social media and Facebook blew up. There's just a little-bitty bridge that we've got to put between all of us. There's enough room for all of us at one event.
It's an interesting point, but you've got a unique perspective on it, having raced in both. How do we bridge that gap, where it's the best of both worlds for the NHRA and the Street Outlaws, no-prep crowd?
Our numbers are down (in Pro Stock), but our numbers aren't much off Fuel and Funny Car. It's pro racing altogether that we have to make better. Everybody loves the Street Outlawsguys, so they somehow need to get that viewership or what makes that show work and get it here. They have to be willing to change. There's nothing I would love more than if (NHRA) went up there this weekend and say, "We're not going to qualify. Everybody pull a card and you race whoever you pull the card with, and that's the lane you get." Our crew chiefs would hate it, but the fans would love it. And then if you could get out there and trash-talk, and say let's run for $1,000 per round or something crazy.
We're trying to work out a deal now where four of us NHRA racers, in our non-NHRA cars, race four of their best no-prep racers. We were trying to get them to come to Indy, but the scheduling is tough for them, too. If they can make something like that work and NHRA wants it, I actually think that would be a large draw at the U.S. Nationals. It's different, it's people they don't see, and all of those racers, believe it or not, love to watch us and I think they're big supporters of us. Until I met them and was around them, I thought they hated us. But they are big fans in my eyes and they would like to be on this stage, also. It's kind of funny – some of us want to be on their stage. Their world is a whole different world, but it's still the same backbone of hardcore racing.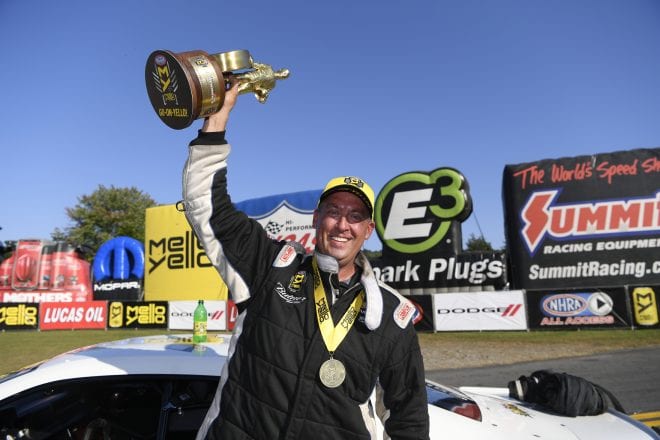 What are your plans as far as the no-prep deal is concerned?
My car I won Comp with in 2006, that Cobalt, is a steel-quarters, steel-roof car and it fits all their guidelines. Jonnie Lindberg is building me a Hemi, and then Harry just this week sent me two twin-turbos and Tyler Hogan is making me an intake. We'll have that together in about three weeks and then it's going to be strictly a no-prep, big-tire, little-tire, Street Outlaw type of car. That's probably our plans, to do some of that, too. Harry is also taking that Duster to make it legal for that class, so we'll probably have two cars at some of the races.
Switching gears, you make your day-to-day living selling cars, but you're very active when it comes to traveling to auctions and buying cars for the dealership. What all goes into that and what's your approach to being so successful there?
I do all the car buying, so I'll pick an auction to drive to between Virginia and Bristol, and I'll go buy 30-50 cars, ship them home and they will get them ready. About every other week I'll do that, somehow, somewhere. We'll sell close to 150-200 cars a month. I put a lot of faith in people. Yes, I run a credit report, but just really to tell me if they're telling the truth. I'll talk to them face-to-face, one-on-one and I'll have my decision made in a couple minutes. That's kind of what's different from our deal than most others.
If I pay attention and listen to other people, there's probably something I can learn from each and every one of them.
My dad started in 1955, so we've got over 2,500 customers we've had forever who just keep coming back.
I'm telling you, since I've started running Pro Stock, I can honestly say I've cut way back on TV commercials. I keep my national championship trophy right there in the showroom and you cannot believe how many people have come just to take a picture of it. It's pretty neat.
Speaking of trusting people, there was an extreme example of that in Chicago, while you were racing, no less. What exactly happened there?
Yeah, we were In Chicago, and I went to a local Harley store and looked at some bikes, and one of the salesmen, we talked about us racing and how we were in town for the race. We were talking about collector cars and he was into some cars, and he had just bought a '71 Camaro. I said, "Well, do you want to sell it?" He sent some pictures and he said, "Yeah, I would like to make a little bit." So, we came up with a deal and he delivered it to me Saturday night (at Route 66 Raceway) when he was at the race. It was after the pros just got finished and he brought it up to me. I buy it from him, we make the deal, and I just drove it around because I like to drive and I want to make sure it drives good. As I was driving through the sportsman pits, a guy stopped me and says, "Hey, is this for sale?" I say, "Absolutely," and he came back Sunday after our race and paid for it and drove it home.
A lot of them do know I deal (cars), so I've probably bought 10 or so the last couple years from this deal. So in some ways, (being recognizable) helps every once in a while. I hate to say it, but some people might want to sell a Pro Stock world champion a car over somebody they don't know. It's a good conversation piece.
It's not your only example of some off-the-cuff action. You've had the Nitro Fish trailer for almost a year now. That's a very recognizable name in the sport and you've added some racers to it and done some unique things. What was the plan behind all of that?
Kenny (Koretsky) and I are kind of partners on it. I took it over and I kind of acquired it, but if it were ever to sell and go big nationwide, Kenny and I would have to write up a big contract or something like that. As of now, it's just kind of a verbal agreement. He's happy, we're happy and it's fun to do.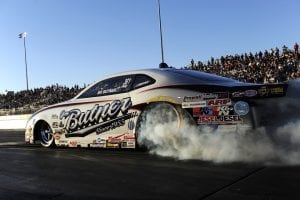 I actually had a couple of vendors, where they would have some of my shirts, I would pay for them and give them the shirts and never get any money back. As I'm talking to other racers, they're all getting the same deal. I've known Kenny a while, and I called him up right before the U.S. Nationals and I said, "Hey, I know you still have the Nitro Fish trailer. Is there any way I could rent or borrow that from you for Indy?" I had a lot of inventory of shirts left and Indy is our home track, so I thought I'm just going to pay for a spot and sell some shirts.
Before I could get that out of my mouth, he's like, "Let's bring back Nitro Fish." He said you just take it over and do it. He had some old inventory we moved, and it's actually worked out great because it is one of the iconic names in drag racing. We're going to do some neat stuff with that coming up, maybe wrap the car old-school style like Kenny used to have. It's cool, but everybody remembers Nitro Fish.
I just really planned to do it for one race in Indy. But all the drivers, they're all happy, and they all sell a lot of product, and that's good. If we can just get them a little bit more money, the whole goal is to keep everybody racing.
I'm not sure the other vendors are real happy, but Kenny was around a long time and put a lot of people out there. He's helped a lot of racers.
I understand Randi Lyn handles all the online orders for the Nitro Fish deal, too. But your relationship with her seems to be so important in a lot of aspects. How has that impacted your career?
She was with me through all my bad times, and now she's starting to be with me through some of my good times, which is good. She's a car girl and I could probably just leave it that. She has a passion for cars as much or more than me. She's been by my side pretty much every day and if I tell her, "Pack a bag, we're going to go to California tomorrow," she would say, "OK, let's go." It's tough to find that.
Through all the ups and downs, you've managed to end up in a pretty good place. You're 10-plus years sober and have enjoyed a lot of success racing and in business. Looking back at the journey you've been on, what sticks out about how you managed to pull through?
I went away to rehab for 16 weeks and I had to learn a lot. A lot of stuff has stuck in my head, but it only works if it comes from you. I was locked up before for drunk driving, a lot of different things that should have made me quit drinking, but nothing did. Eventually something clicked in (me) and some people never get it, and that's the sad part. I get so many AA members and people who are one-day sober or 40 years sober who come up and talk to me, and I love to hear their stories.
I still get a lot of parents who will send me messages, and even some kids who have some struggles, and, again, all I can tell you is what works for me. The first thing I had to do was be honest with myself, and I have to do it every day because it would be very easy to jump right back in. I know how I was before and what it did to me before, so it's not an option. I tell them you have to like the person you look at in the mirror every morning. That's where it starts. If you're not happy there, you're not going to be happy anywhere.
Photographs by Rick Belden and NHRA
This story originally appeared in DI #134, the Interview Issue, in July of 2018.