"By the time the cops showed up they said it was probably already chopped up. And it was only gone two hours. I feel like the car is already destroyed. I figure the trailer will show up because it's a special order trailer. The truck is a dime a dozen. It's probably in Mexico."
David "Bird" Jones was just 16 years old when he earned his first $10,000 paycheck at a drag race. And although he continued a fairly illustrious career in bracket racing, he's only risen to prominence in the last two years as he's made the switch to street and grudge racing. His name spread like wildfire when he was called out by a host of the Street Outlaws characters in 2015, successfully beating them all. Unfortunately, his name went viral again in May of 2016 when his truck, trailer and '67 Chevrolet Camaro were stolen from a hotel parking lot in Forest Hill, Texas.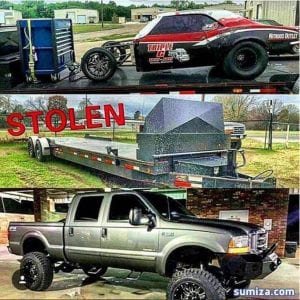 "I thought I was in the nice part of town, but I was about five miles from there," Jones told. He pieced together details of the theft from hotel cameras. "I got to the hotel at 12:30. It was gone at 2:36. Mitch Clary from Overkill Motorsports Facetimed me at five o'clock in the morning. I looked out the window and it was gone. I ran to the front desk, thinking they had it towed. I don't think I know personally anybody smart enough to steal a truck that quick. It's somebody that either followed me or was watching that location. There was no glass on the ground so they had to be able to get in the truck and get it started within three minutes. Obviously it's no crack addict because nobody's snitched. I figured for 20 grand somebody would roll," Jones said with a few extra expletives.
The "Bird's the Word" Camaro had already had a rough go of it the last few months. Jones had wrecked it testing at a bracket race earlier in March. He and a team at TNT front halved the car and put a new roof on it in three and half weeks, just in time for American Outlaws Live. In test runs there Bird had an intense nitrous backfire that shot flames the length of the car. He did, however, make a couple of good passes, beating Monza from Street Outlaws in round one before losing to eventual winner, Birdman, in round two. It was just days later when the car was stolen.
"I made the best pass I'd ever made in the car. I turned it all the way up. It was either gonna backfire again or haul ass. And it hauled ass, but Birdman – I mean, he's on a whole different level. But that's who sold me the car I got now, so it all worked out."
With no car and little hope of finding it, Jones sought every option to get ready for filming of Street Outlaws: New Orleans in early June. He has a Pro Mod style grudge car he's building, but it's six months away from completion. "Birdman Racing [James Finney and Gary Weatherly] sold me their old car for $5000. Never driven a turbo car so I gotta figure out how."
Jones says he was depressed over losing his car at first, "but everybody helped me out. I got a buddy that's been
trying to give me money to buy a motor. It's overwhelming everybody trying to help me out, giving up what they've got for me. The first five days I was getting twenty to a hundred texts every morning I woke up with hints and leads. It had like 50,000 shares within 24 hours on Facebook. It's crazy how it spread. I've had people I've raced with and known a long time donating a thousand here and then one guy added five thousand to the reward. I only put up five thousand. Other people have put up fifteen thousand to help me out.
"My plan was to put all my nitrous and my big motor over into [the new Pro Mod]. But I don't have my motor anymore so I don't know where I'm going to go. I've been talking about doing a ProCharger now that my nitrous setup is gone. We might go ProCharger with a little bit of nitrous, something different that nobody has done. The deal with the ProCharger is I can use a bunch of the bracket motors we've got. I can put the ProCharger on one of them and make the same horsepower everybody else has got without spending forty grand to do it."
Bird has built a large network through his days as a bracket racer, and it's those friends and partnerships that have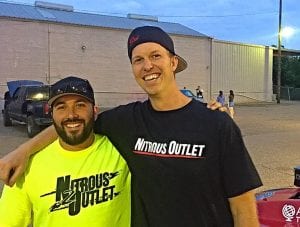 continued the most support into his street racing. "Businesses like Nitrous Outlet and Triple G Driveway that I've been connected with through bracket racing for a while are continuing to help. From the bracket racers the support has been awesome. The grudge racers don't really like bracket racers all that much. I guess because we can tree 'em. They're always talking shit about bracket racing. I laugh."
Jones still plans to bracket race as much as possible, hitting the big money races across the country, but his main focus will be the street car, because, he says, "it's fun going fast. Just hauling ass is the fun part. I've always been the gambling type, so I enjoy the bettin'. It gets your heart racing a whole lot more. Whereas bracket racing you can get your ass beat three different ways at a ten grander and get put in your place real quick. You can't get a big head at a bracket race.
"I grew up at the race track," Jones continued. "That's where all my best friends were from and that's where they still are. That's all I've ever wanted to do. I've been pretty fortunate the last six or seven years [to race for a living]. My dad busts his ass through the week just to race on the weekend. All this started because of him really."
Jackie Jones has been competing for 37 years and continues to race today. His biggest victory was winning the 2005 NHRA ET Series Super Pro Championship. It's just Bird and his dad in the shop, partnering in both their efforts in racing and Bird's Texas Trucking hot shot transport business. Although it was the family patriarch who initiated Bird's passion for racing, it was technically his brother that first introduced him to street racing.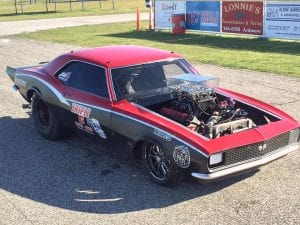 "My brother has always been the street racing type," Jones explained. "He got me to go to a race at an airport a few years ago. I lost at six cars at that race. The guy that won it beat me. So the next year we were on the street and I called that guy out for $1000 first round. Then I beat Doc from Street Outlaws in the finals for ten grand. That night Kye Kelley called me out. I beat Kye Kelley and it just kinda blew up from there.
"It kinda got me scared [when I got called out], because I knew I didn't have the cubic inches. That was my car and I've always been on a budget with it. So we had to start shedding weight and turn it into a grudge car because it was a true bracket car. It had steel doors and electric windows, a radio, mufflers. It was as close to an actual street car as you can get. I put fiberglass doors on it, a fiberglass deck lid and then got a bigger motor. I was more scared than anything 'cause I don't like losing. From there it progressed."
At 6'8" Bird stands out in a crowd. His height earned him the nickname "Big Bird" early on, but it was "Bird" that stuck. The majority of the high profile street racers have larger-than-life personas and Bird fits right in, nickname and all. He's not the type to hold back in conversation or on the track, and with his immediate success in street racing it's no surprise he's earned guest appearances on Street Outlaws.
"The fans wanna see big burnouts, heads up racing, where cars break loose, where there's a possibility for a wreck or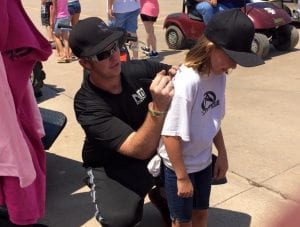 explosion, where it's good tight racing. It's ridiculous how many people were at American Outlaws Live. The stands were full and the pits were full. I felt like I was John Force or something there for a little bit. I've only been on the show three times. You can only imagine how Chief and Shawn and Kye Kelley and all them felt."
Despite his rise to fame, street racing success, and on-camera opportunities Bird still recounts a memory from when he was just 16 as a favorite of his career. It was his second final round appearance in a $10,000 to win bracket race at the Texas Motorplex. His opponent? Good 'ol dad. Bird beat his father fair and square. "He wasn't happy about it either," Bird said with a hint of a smile.