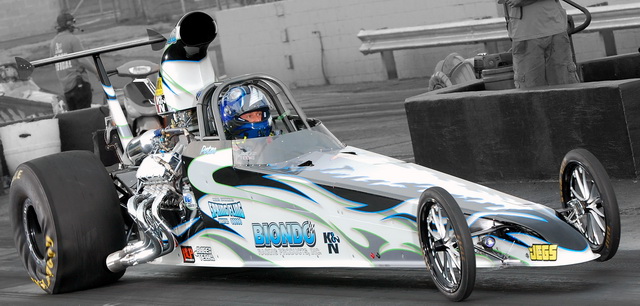 Peter Biondo has a day job: most racers know him as a mainstay in his family's business, Biondo Racing Products, where he works alongside his father Sam, brother Sal, and a network of talented employees.
In recent years, Biondo has also teamed with longtime friend Kyle Seipel to establish two of the most prestigious and well-attended bracket events in the nation: the K&N Spring Fling 5-Day and the K&N Spring Fling Vegas.
In his spare time, Biondo also drives a race car–to the tune of six NHRA national championships and 46 national-event wins.
Last year brought a whirlwind of sorts for the New York City native.
"Although I cut my racing schedule down a bit, 2013 was extremely busy overall," he said.  "My partner Kyle and I put on two K&N Spring Fling big buck bracket events, one in Bristol and one in Vegas.  We also expanded Biondo Racing Products from mostly delay boxes and electronics to now selling safety equipment including firesuits, helmets and head/neck restraints."
Biondo and Seipel held their first west coast event at The Strip at Las Vegas Motor Speedway back in April.  The K&N Spring Fling 5-Day in Bristol, TN, which takes place each May, has quickly established itself as one of, if not the premier event in sportsman bracket racing: the 2013 'Fling featured over 500 competition entrants.  While Biondo enjoys the interaction and challenges associated with the family business and the promotion end of racing, his heart is still behind the wheel.
"As the end of the season approached I really started to get the itch to do more racing.  I do wear a lot of hats but my favorite one by far is when I am going down the ¼ mile."
Biondo, who has driven just about everything imaginable and earned national event titles in a record-tying 6 NHRA categories, returned to his racing roots by driving what he calls "The Family Firebird" in local bracket competition.

"The Firebird has been driven by my father for over 30 years," Biondo explained.  "It's a slow door car that I would never expect to be competitive in this day and age, but it really proved me wrong.  It's been a lot of fun."
In October Biondo drove the 11-second bracket car to a $5,000 victory at Numidia Dragway.  In the process, he defeated seven consecutive 7-second dragsters in the quarter mile event.  The 'Bird was dialed 11.16 throughout eliminations, and in typical Biondo fashion, he never left the starting line with a reaction time worse than .011.
While a victory for an 11-second door car is rare in today's bracket racing world, Biondo proved that his win was no fluke.  He drove the same machine to a runner-up finish in another $5,000-to-win event, and was a semi-finalist in a $10,000 race.
As the 2013 season neared a close, Biondo decided it was time to take his '69 Camaro Stock Eliminator machine out of moth balls and back to the NHRA circuit.
"I chose to park the Camaro in 2010 because I wanted to try some Super Gas, but recently decided to bring it back out."
It's not as if the Super Gas idea was a mistake: Biondo did win the 2011 NHRA Super Gas World Championship.  But after its time off, it was apparent that his Camaro was as competitive as ever, and that its championship driver remembered how to bottom bulb race at the highest level.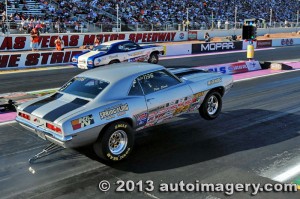 Biondo's first race back in Stock Eliminator brought his 46th NHRA national event victory and first in nearly 18 months when he won the NHRA Las Vegas Nationals.  There, he flirted with a double victory, falling in the quarterfinal round of Super Stock behind the wheel of longtime car owner Phil Monteith's "Hatari" Firebird.  Biondo would go on to win 13 consecutive rounds in his triumphant return to Stock Eliminator, nearly running the west coast table before losing in the final round of the NHRA Finals to Bo Butner by a scant .002 of a second.
On the heels of his success, Biondo gave credit to his Stock Eliminator machine.
"Not only is the car fast but it does what it's supposed to do round after round," Peter said.  "I am looking forward to running it some more next year".
He also praised his supporters, saying sincerely, "I am surrounded by some of the best companies in the industry."  Biondo thanked K&N Filters, Goodyear Tires, Jegs, Racetech, Numidia Dragway and ATI for their continued support of his racing program.  He also wished to recognize great companies like Digital Delay, Sparco Safety, and Simpson for giving Biondo Racing Products the opportunity to offer quality products to racers.
"Also thanks to the people at our shop that help make it all happen; my father Sam, brother Sal, Rich, Kenny and of course my wife Emily."
Looking ahead to 2014, Biondo sees another exciting and challenging year on the horizon.
"Biondo Racing Products will no doubt keep me busy.  Staying on top of this market with the best products and competitive prices is no doubt a challenge.  And the two K&N Spring Fling events, well let's just say they keep me up late at night, but I wouldn't change a thing.  Putting on an event for 500 customers has so many moving parts to cover.  Drag racing is my passion and learning the promoter side of things is very rewarding to me."
As for his racing program in 2014, Biondo was guarded in making any hefty predictions.
"Between the 69' Camaro Stocker, the Hatari Super Stocker and my Racetech Dragster, I plan on putting my race face on and having some fun.  Where that takes me is hard to say."
(Photos courtesy Peter Biondo; Click to enlarge)