Summit Racing Equipment's annual 'Super Summit' is an absolute must  for auto enthusiasts in the Cleveland, Ohio, area. This year it is bigger and better than ever with the best of Super Summit and TruckFest combined into one giant show–so big they had to move it from the Summit Racing retail location to the Summit County Fairgrounds.
Pete Berner will have his Summit Racing Equipment ZL1 Camaro on display for this event that also touts some of the hottest street machines, muscle cars, trucks and off-road vehicles, along with an expanded Cruise-In where you can drive in your own car for free. Super Summit is open Friday, June 21 from 2-9 p.m. and Saturday, June 22nd from 9-5 p.m.
"This Super Summit is quite the deal," told Berner. "We attended one a couple of years ago and it was a fantastic show. This one promises to be even bigger and better.
"I'm really looking forward to it. This will be like a vacation for me. I enjoy viewing the cars and attractions just as much as the next guy, so it will be fun to see some neat cars and our friends at Summit."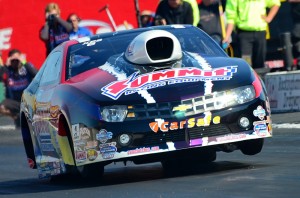 Admission is free and on top of the car show, more than 100 manufacturers will be on hand along Manufacturers Midway. The Summit Racing Power Experience racing simulator, Summit Racing BIGFOOT monster truck and TEAM FMX motorcycle stunt team also will offer a thrilling experience for fans of all ages. Plus, gearheads can save on all the parts they need both at the Fairgrounds and at the Summit Racing Retail Super Store.
"Summit is continually making things bigger and better for their customers," added Berner. "The Super Summit is a prime example of what they do for the automotive community.
"I hope all of our fans in the area will come out and take advantage of this free event and stop by to see us outside of the track. It's a relaxed time for us where we can engage with our fans and hopefully make some new ones. The ADRL Summer Drags are coming up next weekend [June 29-30] at US 131 Motorsports Park in Martin, Michigan. If Summit car show fans like what they see of us at the Super Summit, Martin won't be too far of a drive for them to come check out the drag racing scene and get hooked like the rest of us!"
Following Super Summit, Berner plans to test for the upcoming Summer Drags, which he considers his home stop on the ADRL tour.
(Photos by Ian Tocher; Click to enlarge)