Drag racing, or any kind of motorsport, is inherently dangerous. Every time a driver straps in to make a run, pass, or lap, they knowingly accept it could be their last. Fortunately, the vast majority of the time the run is uneventful and the driver doesn't give a second thought to what could have happened. Sometimes, however, it all goes horribly wrong.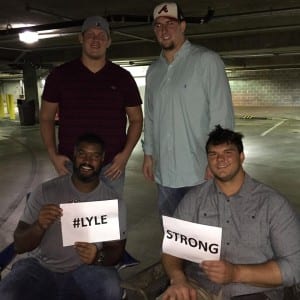 North Carolina-based Lyle Barnett was the unfortunate victim of the latter circumstance. The radial tire racer was critically injured Thursday, Sept 24th, while qualifying for the No Mercy VI race at South Georgia Motorsports Park and is still in recovery over a month later.
Barnett's turbocharged Corvette had been running well and he staged his car in the right lane alongside fellow radial tire heavy-hitter Jamie Hancock for the first qualifying pass of the weekend. The run started out harmlessly, but toward the top end of the track, disaster struck. "The rotating assembly did not fail, but one of the two injectors on the number-eight cylinder dropped, and with 50-plus pounds of boost it went lean and burned a hole out back of the block, blowing burning oil and alcohol through the carbon trans tunnel into the car," explained Barnett's father, Mark Barnett.
The entire car burst into flames and continued past the finish line (clocking a 4.25 at 175-mph run), and into the shutdown area, still aflame. "Lyle went into the left wall because he was batting flames," his father added. "He steered it into the right wall to try and stop the car." He eventually did come to a stop, still on fire, and the SGMP safety crew quickly arrived on the scene.
It seemed a miracle, but Barnett was able to escape the burning wreckage. "He was conscious at the track but has some extensive burns to hands and feet and some to face. More serious was inhalation issues," Mark said. The racer was then air lifted to the Joseph M. Still Burn Center in Augusta, Georgia, where he remained in critical condition due to massive third-degree burns. "His airway was burned as well," Mark added.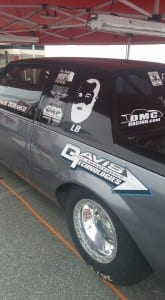 The drag racing community responded almost instantaneously to Barnett's accident, with countless drivers showing their support by placing "Lyle Strong" decals—featuring his beloved thick beard—on their cars. A GoFundMe account was set up at www.gofundme.com/lylestrong in order for donations to be sent to support Barnett's recovery.
"The outpouring of love and support for Lyle and our family has truly been overwhelming and greatly appreciated. We love you guys and your continued prayers are much needed," added Mark, who has been posting regular updates on Facebook to keep the community aware of his son's recovery progress.
Barnett endured multiple surgeries, skin grafts, and stem-cell procedures to not only regain function of his hands, legs and feet, but also to repair his severely damaged skin. It was a roller coaster ride of ups and downs immediately after his intake to the treatment center. Barnett's family parked their racing toterhome at the facility so they could stay close by.
One week later, Barnett was slowly yet steadily improving. The skin grafts were working well and his lung function got a little better each day. "He had some anxious moments when he had trouble communicating and then got frustrated when we didn't understand him. It's heartbreaking when he said not to leave and visiting hours were up, or he wanted to leave with us," his father expressed.
For a man so full of life, who loves being out with his friends and having a good time, being relegated to a hospital bed has been an extremely difficult pill for Barnett to swallow. "He's in pain, can hardly open his eyes, can't talk, hurts to move his lips much, dealing with a vent, feeding tube, face itching terribly but cannot be scratched, arms in restraints, and he has just enough meds on board to not be able to rationalize why he has to be this way. Long story short … he's pissed!" Mark said about his son's condition.
Barnett began physical therapy not long after, with a focus on regaining his range of motion. The sessions were exhausting and extremely demanding, both physically and mentally, yet he continued on without complaint. His determination helped him progress quicker than anyone expected. While Barnett was out for a walk around the hospital during a physical therapy session, his father recalled, "He was approached by his two primary doctors Dr. Mullins and Dr. Shaver and they both told him how miraculous his recovery had been."
Two weeks after the accident, Barnett was back in surgery. "They harvested skin from his left thigh and grafted his left hand and foot and the few spots on his legs. The doctor decided the right hand and foot still needed a little clean up before he wanted to risk putting on good grafts, so he took a little more off and put temporary grafts back on," Mark explained. The doctors completed the skin grafts with another surgery the following week.
The stem-cell membrane treatment applied to Barnett's face worked better than expected, but the area around his eyes, including his eyelids, was not healing as his doctors had hoped. They then made a decision that, while uncomfortable for Barnett, they felt offered his best bet at recovery. "He would be getting some grafts around his eyes and they would be stitching his eyes closed for up to six months. After the first two weeks he will get peep holes opened so he will have some limited sight," Mark said of the dramatic procedure planned for his son. "I was scared to death."
Regarding Barnett's healing process and the struggles he's had to endure, Mark noted, "it's just amazing the work the staff here are doing, even more impressive is the resolve the Lord has put upon our boy who before this had no patience whatsoever. It's amazing!"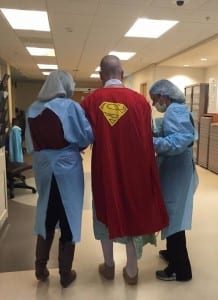 Each day, Barnett would make laps around the hospital floor to work on his physical therapy and regaining the ability to walk. "He likes wearing another gown like a cape to cover his backside when walking, so his mom picked up one more fitting for him," Mark said about his son proudly parading while dressed in a Superman cape. "He stopped by a little boy's room to visit because he heard it was his favorite super hero!"
One month after Barnett's fiery crash, he finally got his first breath of fresh air again. "We were on our walk, and he mentioned to PT (his physical therapist) that he liked walking a certain route because he could look out the door to the outside in a certain hall. She said 'we'll do one better' and opened the door and let him walk just outside to feel the sun," his father recalled, who was so grateful for his son's incredible spirit.
More than a month after the terrible accident, Barnett is still fighting strong. Thankfully, his lungs have healed dramatically and function has almost been completely restored. His burns have progressed in the healing process as well and he's starting to look like himself again. "It takes a year for the grafts to fully mature, and even if he regains his range of motion early, it will be a constant battle to keep it as the grafts heal," Mark detailed of his son's status. A plastic face mask was made for Barnett to wear so the grafts on his face can be kept as smooth as possible while healing. He'll also have to wear compression wraps on his hands and feet for the next year to help reduce scarring, as well as continue enduring the painful physical therapy sessions.
On Nov. 1—five weeks since his life-altering accident occurred—with the family's spirits high, Barnett was transferred out of the intensive care unit. He returned home to North Carolina, where he will continue on the long road to recovery. He and his family will return to the burn center in Augusta once a week for Barnett's continued treatment until the doctors are comfortable with his state.
"The amount of prayers and support cannot be measured and it's been a true blessing. We are seeing a true miracle at the hands of God. Thanks so much to the safety crews, emergency response, transport staff and hospital staff for all their help. Friends, family and racing family keep up the prayers, we love ya!" Barnett's extremely committed father declared.
The amount of dedication, perseverance and fight Barnett has shown is truly inspiring to many people. Whereas many others may have felt overwhelmed and quit, this young man continues to push on through the pain and relentlessly works towards healing. The support of his friends, family, and fellow racers help to keep his spirits up and hopefully he will soon be back to doing what he loves.