You may not know the name Austin Philpot yet, but with a little help from one of the greatest competitors in the history of NHRA drag racing, you soon will be familiar with the Pro Stock protégé.
Philpot, a former Jr. Dragster champion and Top Dragster competitor, and his family plan to debut the Philpot Family Racing Pro Stock team in the 2017 NHRA Mello Yello Drag Racing Series.
The 18-year-old native of Boerne, Texas, knows he and his family have an uphill climb ahead of them, but his enthusiasm and optimism leave no room for doubt that their lofty goals will be achieved.
"Right now, we're starting from scratch," Philpot said. "I don't even have a car yet. The plan is to get a car, transmission, and test motor as soon as we can and get me out on the track as soon as possible. We feel like we're putting all the pieces in the right places to make that happen.
"I've got to get comfortable with pulling gears and get comfortable with how the clutch works, so there's a big learning curve for me. We've also got to get used to running an EFI (electronic fuel injection) combination, but we have some legendary help in that department."
That help is not just legendary, it's iconic. Mentoring Philpot as a driver as well as providing the team with motors will be Warren "the Professor" Johnson, the winningest driver/tuner in the history of NHRA's Pro Stock class. No longer behind the wheel, Johnson, a six-time world champion, now holds class by turning the dynamometer controls at his Georgia-based engine shop.
After a few phone calls and face-to-face conversations with Philpot, Johnson is impressed with Philpot's maturity beyond his young age and by his determination to be a successful Pro Stock racer.
"Austin seems to have his head screwed on straight as a post," Johnson said. "These days, that's getting to be a rare thing with kids his age.
"I told him if he's going to do this Pro Stock thing he's going to have to do it at a serious level or I don't want to be involved. I don't do this thing for my entertainment; I've made my living in racing and plan to continue doing so.
"Austin knows he's going to have to do this with 100 percent focus on it, which I think he'll be able to do. We've got a long way to go before he's actually out there racing, but everything looks very promising so far."
Philpot and his team hope to get everything they need ready to roll by year's end so they can hit the track with their new entry as soon as the calendar flips.
"The big plan is to be able to put a car on the track in January or February of next year and, depending on the funding, going to as many events as we can in 2017," Philpot said. "Of course, we'd love to go to them all and be on the tour full time, but we will have to wait and see how funding and sponsorships go until then."
Rule changes, including the switch to EFI, in 2016 have helped the Pro Stock class regain some of its waning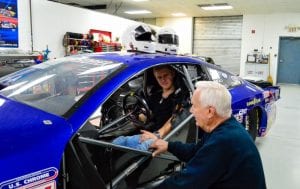 prominence in the world's quickest and fastest motorsport, and Philpot is excited to bring even more fans to the racetrack to see the ultra-close, side-by-side racing of the factory hot rods.
"I want to do my part to help continue making Pro Stock as great as it ever was," Philpot said. "I want to excite not only the fans and sponsors but the current and up-and-coming drivers as well. I want to make it the class everyone wants to run again. I'm ready to work hard and make everyone see that Pro Stock is the best class in racing. With help from my family and Mr. Johnson, I'm sure we're going to be successful."