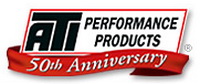 ATI is pleased to announce that the all-new ATI Turbo 400 SuperCase has received SEMA's Best Performance Racing Product for 2013!
SEMA announced the winners of the New Products Showcase Awards Tuesday morning (Oct. 30). The awards go to the most cutting-edge automotive products either on the market or about to hit the market, and ATI's new Turbo 400 Case was one of more than 2,000 new products submitted for consideration at the 2012 SEMA Show!
The new cast aluminum Turbo 400 SuperCase is the result of over 2 years of development. Designed in-house at ATI, cast in the USA, and machined at ATI on 4-Axis Horizontal CNC machines, the T400 SuperCase features improved fluid pathways to assure better-performance. The SuperCase will accept any of ATI's SFI bellhousings (Chevy, Mopar, Toyota and Ford), as well as bellhousings from Reid and Browell.
ATI Performance Products, Inc. is located in Baltimore, MD, and specializes in producing and maintaining high performance products for street and strip applications. Over the years ATI has earned a reputation for its superior technology, attention to detail, and rigorous testing under race conditions.