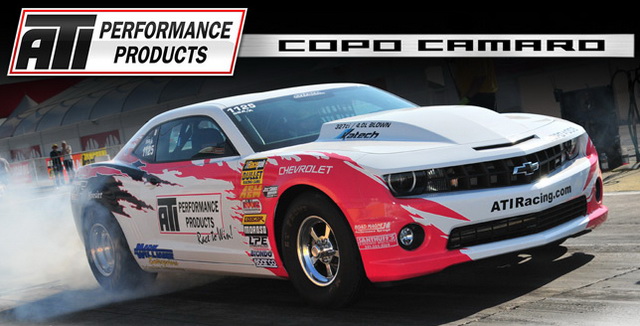 With GM's highly successful 2012 COPO Camaro program ramped up for 2013, ATI is proud to once again be a valuable part of the program. As many of you know all of the sixty-nine 2012 COPO Camaros produced were outfitted with ATI ProGlide® Transmissions, Treemaster® Converters, Super Dampers® & flexplates as well as ATI's own fully synthetic Super F® transmission fluid.
GM chose ATI Performance Products to return and be a part of the team for the 2013 program. ATI will continue to support the GM factory racecar program with all of the aforementioned products and looks forward to working with individual racers after the sale to ensure their COPO Camaro runs to the best of its ability.
The staff at ATI was honored in 2012 and is eagerly looking forward to working with the COPO program in 2013! The GM Powertrain group demands the highest quality products for their vehicles, and only chooses suppliers that can meet those expectations, which shows in the performance of their COPO Camaro race cars.