Via a variety of mediums – ranging from phone calls and emails, to Facebook, Instagram and Twitter posts to handwritten letters (not all of which are from prison) – #AskWes will serve as an "often-as-possible-or-needed" platform for Drag Illustrated Editor-in-Chief Wes Buck to answer questions from the drag racing masses, expound on a slew of different topics based on the direction of readers and fans and do one of the things he loves most – talk about drag racing. While we anticipate most the questions and answers to focus on drag racing, we encourage you to blast a curveball at him from time to time. You know…just for fun. To put your question(s) or comment(s) at the top of the list, shoot them to [email protected].
Grant Davenport: What's up with your Oldsmobile Cutlass fascination? Of all the bodies we've seen in drag racing, this seems like an odd choice of favorite.
You can't be serious. The Oldsmobile Cutlass body is everyone's favorite race car body style, right? If not, it should be.
Honestly, it started when my dad bought an ex-Larry Morgan 1996 Oldsmobile Cutlass in the early 2000s. It was the purple Castrol Super Clean car, and Don Ness built it for Larry in or around 1995-1996. It was the trickest race car I'd ever been around. All of Ness' legendary fabrication mastery was on full display with this thing. It had the ultra-rare aero package that had kinda swooped-downward quarterpanels, and just looked ridiculously bad ass. Even cooler was that it had all of the lightweight trickery, too. Not just titanium pedals, chute mounts and steering column – I'm talking titanium rear end housing, axles, gauge mounts, front end tree, lug nuts, etc. And, yes, I mean it – a titanium rear end housing.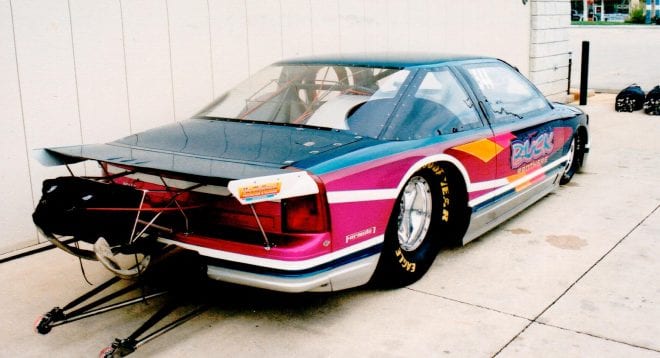 The car was an awesome race car that really served my dad well. We raced it with an older 500ci Pro Stock engine (also from Larry Morgan) and a Lenco 5-speed. Back in the early 2000s, we were doing a lot of match race stuff in the Midwest with the car running 4.60s and my dad making fans everywhere we went with epic 400-plus foot burnouts. I have to find some video footage of that madness. He'd pull gears backing up, really put on a show. Never forget those days. Some of my fondest memories, as well as some of my toughest. I was terrified 24/7 back then of scratching the car with dzus tool or screwing something up while loading or unloading it, working on it, moving it, etc.
I'd give about anything to have that car now. It's exactly the type of race car that I would like to have, even though you can't really get a monster tire on the back of it, nor can you get a big inch nitrous motor to fit under the hood. We tried both.
Anyway, I've loved the cars for two decades, and I don't imagine it stopping anytime soon. I will have one – no doubt in my mind. Since then my dad has bought-and-sold at least a half dozen different Cutlass-bodied doorslammers. I've loved each one.
Joe Pacheco: Have to admit, still reeling from seeing you post that you were at a Kanye West concert. Was a lot happier seeing you went to a Garth Brooks show. I'm just giving you a hard time. To each his own?
Never thought I'd get so much feedback on that post, but I do find it hilarious. I love music of all types, but I've been a big time hip hop/rap music fan for as long as I can remember. I grew up listening to Bellamy Brothers, George Jones, Conway Twitty, David Allan Coe, Bob Segar and a host of other country/rock greats while beating up and down the highways and byways of America going racing and "horse trading" with my dad, so I think when I was first introduced to rap music on the school bus when I was somewhere around 13-years-old, I really liked it. Honestly, I think it was just a pretty risk-free way for me to "revolt" and "act out" without having to really do anything risky or dangerous, or even let anyone know I was doing it. I just knew my parents would never approve, and I kinda just enjoyed being able to be a super, big time, bad ass without doing anything other than listen to my discman.
I don't feel like I can tell the difference between a lot of new country artists, but I do find myself listening to a lot of new country – mainly because I can listen to most all of it without fear of my kids hearing something horrific.
My son, Max, and I are really into electronic dance music. I think we both just really dig the high energy nature of it.
I just spent a few hours on a plane flying home from Norwalk, Ohio, my playlist included everything from The Beatles, Drake, DJ Khalid and Justin Beiber to Conway Twitty (love this guy), Elvis Presley and a weird Portuguese band named Citizen Mundi. Weird side note: I first heard Citizen Mundi at some random bar/club in downtown Tulsa, Oklahoma. I was in town for a big race at Tulsa Raceway Park and a massive storm rolled through and washed the deal out. At the time, I'd just gotten started with Drag Illustrated and hardly knew a soul. I ducked into the first place I came across, bored and, honestly, just kinda lost. This band Citizen Mundi was playing and I've been a huge fan ever since. Guitars, horns, drums, and songs that are largely in a language that I don't understand – good stuff. Not sure if they're still a thing or not.
Jonathan Lett: Looks like it's all but official: NHRA Pro Stock's schedule is being reduced to 18-races in 2018. Is this really good news, or is this actually the most obvious "beginning of the end"?
I think it's good, and I think it's long overdue. There's nothing you can do to make Pro Stock affordable for the average guy. Let's not kid ourselves here. You have to have a little jack to run virtually any legit drag car, especially a fast doorslammer. I know guys that do it on an impressively low budget, but that's still like $50,000 a year or something, and that's a lot more than like a "modest hobby".
I think the move to less races will first-and-foremost help the guys that are already out here, and if you don't think preservation of the class is the primary function of this decision, well, you're crazy. This is about keeping the guys that are already out here out here. That's priority number-one if you ask me.
Secondly, I do think there are guys that are racing other classes, even some top-tier Sportsman racers, that may take a look at running Pro Stock if it can be done on a competitive, chase a championship-level for at/around one-million-dollars. That is insane to even type, but I think it's probably true. I know of at least one Pro Stock team owner that says it can be done, and it can be done with an operation that is capable of winning on day-one with the right driver. That's encouraging.
There's a lot to talk about with this that goes beyond the number of races on the schedule, but I have to believe this is going to lessen the burden on the NHRA Pro Stock teams that are committed to racing the full schedule. I can't say that I haven't had more than a few guys tell me that they believe this is a step in the wrong direction, and that this just has closer "one step closer to out the door", but I'm not sure about that.
I've been preaching about different things that could be done to make events on the NHRA schedule more unique, and I think this is one of those things. By changing the class lineup at several events, I have to believe that the dedicated race fan that typically goes to one race a year might consider going to two or three if the product is considerably different – especially if the events are within reasonable driving distance. I know that, for example, if the NHRA had a slew of different classes offered at St. Louis and Topeka, there's a lot of people that I know, personally, that'd hit them both as compared to one or the other.
Again, lots to cover on this one and if the response indicates we need to talk about it further, well, we will!
Nicholas Wilson: We're seeing Pro Mod at more races. Top Fuel Harley is an official class. X275 was contested as an exhibition class in Epping. A bunch of no prep/no time cars were in Houston. What exactly is going on? Is there a method to all this?
Yeah, man, I think so. I think we're going to see this trend continue. What I believe it amounts to is NHRA exploring all these different categories and gauging their impact – what kind of value they add to the show, what kind of impact they have on ticket sales, in some cases television ratings, etc.
Do I think we're going to see No Prep added to the NHRA Mello Yello Drag Racing Series? No. But I do see the NHRA, basically, offering their national event track partners a menu of sorts with professional and exhibition categories for them to choose from. Tracks will get a standardized package of Top Fuel and Funny Car, but may have the choice to pick Pro Stock or Pro Mod, Top Fuel Harley or Pro Stock Motorcycle based on their respective fan following or location. Perhaps they could check the box for Outlaw 10.5 if they're in an area that knows and loves that brand of racing, or the aforementioned X275. For example, it made a lot of sense to do a No Prep exhibition in Houston. Probably wouldn't made as much sense in Pomona.
I think that's where it's headed. Tracks getting a menu like they're at Chipotle and getting to pick what they want on their steak bowls. Guacamole is available, but it costs extra.
David Gonzales: You put everyone else on the spot on your Facebook Live show – ya know, asking people to make predictions and stuff. Who you got at the Drag Illustrated World Series of Pro Mod?
Oh, snap. Have I even announced who all has been invited and locked in? If not, well, here goes…
2017 Drag Illustrated World Series of Pro Mod Driver Roster
Danny Rowe – Danny Rowe Racing '16 Corvette
Steve Matusek – Danny Rowe Racing '68 Camaro
Mike Janis – Al-Anabi Performance '16 Camaro
Steven Whiteley – YNot Racing '14 Cadillac CTS-V
Jim Whiteley – YNot Racing '69 Camaro
Mike Knowles – Blown Money Racing '67 Mustang
Pete Farber – CRC Brakleen '69 Daytona
Troy Coughlin – JEGS.com '16 Corvette
Clint Satterfield – Clint Satterfield Racing '68 Firebird
Eric Latino – Team Green Racing '69 Camaro
Stevie Jackson – Bahrain 1 Racing/Killin' Time Racing '16 Corvette
Larry Morgan – Brad Anderson Enterprises '17 Camaro
Michael Biehle – Biehle Motorsports '67 Mustang
Harry Hruska – Precision Turbo '14 Camaro
Winner of the Fan Vote (announced X/X)
Winner of the Aeromotive Wild Card Shootout
I have to say that I think the winner of the Aeromotive Wild Card Shootout on Friday night is going to be the early favorite. No way you win on Friday night and aren't a favorite going into Saturday. Momentum, in my opinion, plays a huge role in drag racing success, and once a guy goes out and wins a few rounds on Friday night, I can't help but feel like that guy (or gal) is going to be a favorite on Saturday night.
There are a few teams that have some experience on The Mountain, but with two days of testing the week of the race, everyone is going into the deal locked and loaded. It's hard to identify anyone that will be a clear favorite.
I gotta say…with $100,000 on the line in the biggest Pro Mod drag race of all time – it's anyone's game. These guys will all be out of their element and under more pressure than ever before in their racing careers. It's gonna be an ordeal. I'd book a flight and buy a ticket. Not going to be a race anyone that calls themselves a race fan can afford to miss.