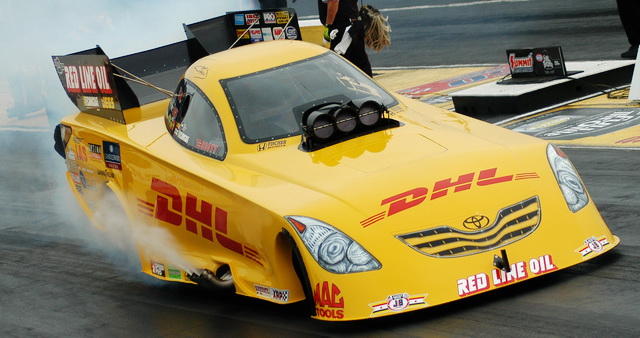 The hits just keep on coming in the upper echelons of the NHRA, as Jeff Arend learned Nov. 27 (on his birthday, no less!), that he has been relieved of his duties as driver of the Kalitta Motorsports DHL Funny Car with Del Worsham taking over that seat for the 2013 season.
The Kalitta press release also stated that former Matt Hagan crew chief Tommy DeLago will take over from Worsham as the crew chief on the Tequila Patrón Toyota Camry Funny Car driven by Alexis DeJoria.
DeLago, a 43-year old native of Benicia, Calif., will be making his second tenure at Kalitta Motorsports. He previously worked for the team from 1996 until 1999. Among DeLago's many tuning achievements, he won the 2011 NHRA Funny Car championship with Hagan, as well as becoming the first crew chief to guide a nitro-fueled Funny Car under four seconds in NHRA's 1,000-ft. era (3.995 seconds, Charlotte 2, 2011). DeLago served with other highly-successful current and former nitro crew chiefs as a crew man under the tuning tutelage of drag racing legend Ed "the Ace" McCulloch from 1997 until 1998 with Kalitta Motorsports.
"Glen [Huszar] and I are very excited about the opportunity of coming back to Kalitta Motorsports," DeLago said. "Working for Connie (Kalitta) is the best job in drag racing. He's a pioneer in the sport and a great guy to work for. He's always more than willing to try new things and that's one of the things I admire most about him.
"Our goal for the 2013 season is not to change what was already put into place on the Patrón Funny Car, but be an addition and keep improving on what Del and the team have implemented this past year, and we look forward to being a part of a prominent and competitive team for years to come."
Glen Huszar, who was an integral part of DeLago's success with Hagan, has also joined Kalitta Motorsports as co-crew chief on the Tequila Patrón Toyota Camry Funny Car. The crew of mechanical specialists on the Tequila Patrón team remains intact from the 2012 season.
Worsham, a 21-year Funny Car driving veteran and the 2011 Top Fuel driving champion, will relinquish his crew chief position to DeLago and will return to the driver's seat for Kalitta Motorsports as the pilot of the DHL Toyota Camry Funny Car.
Worsham, a 42-year old resident of Villa Park, Calif., is No. 8 on the NHRA's all-time Funny Car win list with 25 victories in the "flopper" class. Before his brief, yet championship-winning campaign two years ago and a limited stint in the Top Fuel class from 1993 until 1995, Worsham and his dad Chuck were a Funny Car class stalwart with their family-owned operation from 1991 until 2008.
"I'm ready to get back in the seat," Worsham stated. "It's only been a year so maybe it won't take long to knock the rust off.
"This really continues to be a dream come true for me and my family. Connie and everyone at Kalitta Motorsports have been our friends for years and to be able to continue racing with them is truly an honor. Scott [Kalitta] and I were good friends, and I'm humbled to be taking over the controls of his race car. The DHL Funny Car will always be Scott's car.
"We see no reason why the DHL Toyota Camry won't be very competitive from the time we unload in Pomona (Calif., first event of the 2012 NHRA Mello Yello Drag Racing Series, the famed Winternationals, Feb. 14-17). We're looking forward to a great season with the DHL hot rod."
Scott Kalitta, the late son of Connie and a two-time NHRA Top Fuel world champion (1994-1995), died as a result of injuries he suffered in a Funny Car racing accident in June 2008 at Englishtown, New Jersey.
"Obviously, we're excited to have assembled this group to take our Funny Car program to the next level," Connie Kalitta remarked. "Jim (Oberhofer, crew chief on Doug Kalitta's Mac Tools Top Fuel dragster and Kalitta Motorsports' vice president of operations) and I have been talking about what to do to put our best foot forward for some time, and when these opportunities arose I told him to make it happen. Everyone in our organization is very eager to get back out on the track again in 2013 and win races."
Arend, who drove the DHL Funny Car from latter part of the 2008 season until 2012, has been relieved of his duties as driver of the DHL Toyota Camry Funny Car. Kalitta Motorsports wishes Arend continued success in whatever endeavors he chooses to pursue.
Nick Boninfante and Jon Oberhofer will continue their roles as crew chief and co-crew chief respectively on the DHL Funny Car.
(DI file photos by Ian Tocher; click to enlarge)