Just over a week ago Craig Glassby recorded the quickest ever Top Alcohol Funny Car pass in the world, beating US Top Alcohol legend Frank Manzo's 5.411 by 1000th of a second in the semi finals of the 44th Westernationals at Perth Motorplex.
The Glassby team would be forgiven for shouting their achievement from the rooftops but instead they are quick to point out that they don't compare their achievement to Manzo's, as ANDRA rules allow for a higher blower overdrive.
"Manzo's time has stood as a benchmark and a target for alcohol racers since 2011, and passing that mark was our first step towards hopefully quicker times that we feel are possible under the Aussie rules," said Glassby.
The Westernationals were just Glassby's third national Top Alcohol ANDRA Drag Racing Series event resulting in his third runner up in as many attempts, going down to 16-time Top Alcohol champion Gary Phillips in the final.
By no means new to drag racing, Glassby's rise from Group Two AA/FC competitor to Group One world record holder in just a few short seasons with veteran Crew Chief Greg Gower by his side is no less impressive.
"My crew are all friends of mine," explains Glassby. "They are carpenters, sheet metal workers, chippies, they are all friends of mine and we've worked together for a long time."
"Greg Gower and myself have raced since 1987 when we started off with the Speed Torque car and the Speed Pro car and eventually the Castrol Funny Car. So our relationship is one of mentor, father/son, best friend, I respect the guy more than anything in my life."
"He and Gary Miocevich were a big inspiration over the years and they got me addicted to Alcohol Funny Cars, that's where my heart is and it is because of Greg Gower and Gary Miocevich. So that relationship stems back to when Gary was driving with Greg tuning, and I used to strap Gary in as a 15 year old kid."
Glassby also credits his highly dedicated crew who make frequent visits during the week; at least two-three times per week and play a large role in the success of their team not to mention the fuel system development of Gower himself.
"Greg has spent countless hours just researching and developing fuel systems," he said.
"We don't have a big budget; I own a little mechanical shop so everything that is done on my car is in house. We don't bring anything in. If there is something we want to develop Greg designs it, I build it.
"It's very much a big team effort amongst all of us guys and everyone puts in the effort. I build the engines, I build the gearboxes, the crew do the clutch work and everything is done in house."
"We maintain the car meticulously because we just can't afford to hurt parts. Our budget is small, because I fund it myself."
All that hard work and careful consideration paid off when lining up against John Cannuli in the Westernationals semi finals. Glassby launched hard and drove hard with two wheels in the air to half-track and covering the quarter mile in an exhilarating 5.410 seconds at 266.27 mph.
"I knew it was fast and my Crew Chief over the radio usually tells me how it went. But obviously they were celebrating on the startline and the TV crew was interviewing him.
"So I'm sitting in the car asking; 'what did it run?' Because it felt amazingly fast. It had the front wheels up to half-track and I knew they were up high in the air but it went straight."
Recapping the run Glassby said the car inched close to the centreline but it eventually touched down allowing him to steer away from a potential DQ and take 'the long way around' to the finish line.
When he pulled up in the braking area track staff immediately ran over to tell him he had just run the quickest pass in Top Alcohol Funny Car history and neither he, nor his Crew Chief could scarcely believe it.
"I was pretty shocked to be honest," said Crew Chief Greg Gower. "I hadn't done anything to step the car up and I wasn't expecting it. It was simply the result of Craig driving and shifting better.
"He's been in the habit of revving the car hard as we needed to do that when we were running AA/FC. With the extra blower overdrive it wants less revs, but it revs faster and it's hard to catch at the right time."
Much of Glassby Motorsports' recent success has come on the back of the Alky Pro tuning software developed by Gower, allowing the team to bed down their tune up quickly and develop components to suit such as the fuel system designed also by Gower.
"The Alky Pro software helped me design the fuel system we needed for more overdrive and a new Noonan manifold fairly easily, so I guess that played a part in why the car went quick without a lot of fine tuning," explains Gower.
"But the main benefit of the software will come when the engine is tuned close to optimal and we're not at that point."
"The Alky Pro program has allowed us to run the car with confidence," adds Glassby. "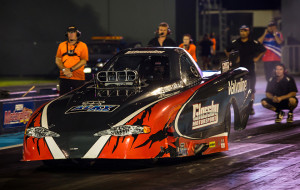 "We know what the car is going to do, we know how much fuel the engine needs, and we know precisely what main jet to put in when the air changes. The previous methods out there don't compensate as accurately for the changes in air density that you get when you spray gallons of methanol into the mix."
"Alky Pro has allowed us to get on top of our tune up quicker. We've done now 16 passes with a brand-spanking-new engine combo. In those 16 passes we've gone from blowing the tyres off at three meetings in a row, to running 5.46, 5.45 and 5.41.
"The car has stepped up very quickly and the new tuning software has given us total confidence in the safety of the tune-up, without having to check bearings, etc. We don't have the sump off it at all between rounds.
"On the 5.41 run, the 60-foot time was .918. In the final against Gary it went .903 to the 60-foot. That in itself would have been a high 5.30 if we'd been able to complete that pass."
Some might suggest that the .903-second 60ft doesn't matter because you have to make it stick. Well according to Glassby the car did stick, but he had to abort the run at about 150ft after the front wheels lifted aggressively and the car headed toward the wall where he lifted off the throttle and came back down with a thump giving the impression he shook the tyres.
But if that pass could have been a high 5.3-second run, just how much quicker can they go?
"To be honest, I don't know," says Gower. "The engine isn't tuned anywhere near it's potential yet, because all we've been concentrating on is managing the power and getting it through low gear. We're still working on that."
"We're not working on making more power, we're juggling gearbox ratios and clutch settings to manage what we have. The exhaust temps are very low, and one thing I do know, running 266 mph when it's this rich, this thing is gonna run some mph when I start to tune it up."
It's a mind-boggling thought and one that has Glassby thinking about championship rounds at Sydney Dragway and both the Santo's Super 3 Extreme Drag Race and Fuchs Winternationals at Willowbank Raceway.
"We ran that 5.41 in 2200 feet of air," said Glassby. "To go to a track of Willowbank's quality in the type of air usually seen at the Winters is an exciting thing."
"I'd like to thank my crew Beau, Criss, Ash (spud) Mitch, Peter, Bob, Shane and Ash, my Crew Chief and long-time friend Greg Gower, my sponsors AlkyPro, Valvoline, Applied Automotive, Motorsport Unlimited, Molinari Clutches, Noonan Engineering, DPE Exhausts, Automasters Maddington, Austeck Metals a big thanks to Mike Janis Junior from JAN-CEN Racing Products.
"Last but not least a man who not only was with Greg and myself from the very start but will be with us till the very end, our great friend, teacher, mentor and brother Gary Miocevich. We will never be able to thank you for everything you have given us."