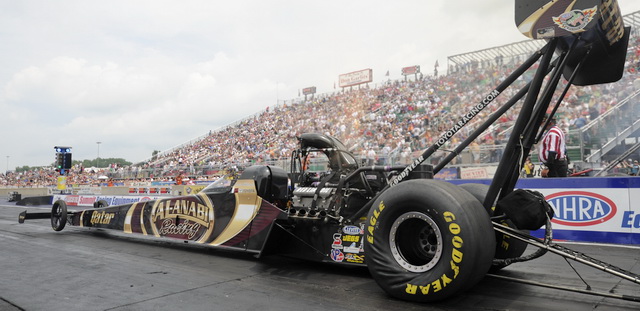 Al-Anabi Racing's Khalid al-Balooshi (above) claimed his first victory of the 2013 season and second of his career July 7, at the Summit Racing Equipment NHRA Nationals at Summit Racing Equipment Motorsports Park in Norwalk, Ohio.
Johnny Gray (Funny Car), Mike Edwards (Pro Stock) and Matt Smith (Pro Stock Motorcycle) also were winners of the NHRA Mello Yello Drag Racing Series event, the 13th of 24 in the 2013 season.
Al-Balooshi knocked off number-one qualifier Doug Kalitta in the final round, covering the 1,000-foot distance in 3.935 seconds at 271.30 mph to beat Kalitta's Mac Tools dragster, which went 4.215 at 268.54.
Since losing 12 straight times in the first round to open his career a year ago, al-Balooshi has responded with three final round and three semifinal appearances. He also secured the seventh spot in the Traxxas NHRA Shootout (the eighth spot will be determined by a fan vote).
"The last race I lost in the first round last year was at this track, and this week I won my first trophy (in 2013) at this track," al-Balooshi said. "I've been looking forward to this race for a long time, especially when I was in Englishtown in the final with our teammate (Shawn Langdon)."
Langdon jumped past Tony Schumacher for the Top Fuel points lead, while al-Balooshi maintained his sixth position. Kalitta jumped up to fourth with his first finals appearance of 2013. Al-Balooshi beat defending world champion Antron Brown, Chris Karamesines and Clay Millican to reach the final round, going as quick as 3.811 and as fast as 320.97.
"From the first week when Shawn won the first race, I've been thinking, 'Oh, I need to be in the Traxxas Shootout. I need to be in the Traxxas Shootout,' " said al-Balooshi. "I keep seeing, 'Oh, there's only one opening for the Traxxas Shootout, only one.' When I made the final I knew that whoever won, it would be done, and I'm lucky to finish this deal."
In a thrilling side-by-side final round duel,  Gray picked up his fourth win of 2013 on Sunday with a victory against Don Schumacher Racing teammate Ron Capps in the final.
Both Gray and Capps powered their Dodge Chargers to identical times of 4.103 seconds, but Gray posted the quicker .061 reaction time to win by .006. Gray's Pitch Energy Charger went 314.02 mph in the final round, while Capps, who was making his 400th career start, had a run of 314.09 in his NAPA Auto Parts Charger.
Gray is now a perfect 4-0 in finals in 2013, picking up his seventh career victory in the process. Gray outran Alexis DeJoria, Chad Head and defending Funny Car world champion Jack Beckman to reach the final round.
"Everybody said it was back-and-forth all the way down the track, and it was just a great drag race," said Gray, who won for the first time in Norwalk.
"You just can't say enough for what my crew does for me and (Sunday) was my day. We came to Norwalk and the car never missed a step. When I get a race car like this, it's really hard to screw it up."
Capps was left wondering what more he could do.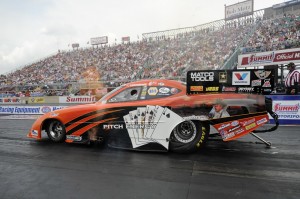 "It's amazing that I had a (.067-second) light and we run a 4.10 and we still lose," said Capps, who qualified No. 3 for eliminations and just missed winning for the first time at Norwalk since the Mello Yello Series began racing there seven years ago.
"Johnny was on his game. He just did a great job. We backed (the tune-up) down just a little bit to be safe and be sure we didn't beat ourselves. You have to give credit to where credit is due and it goes to Johnny and his guys; they stepped it up."
After a series of frustrating races, Gray's team replaced the entire front half of his 8,000-horsepower Funny Car heading into Norwalk and the move paid off in a major way. Gray, who qualified No. 4 and went as quick as 4.047 during eliminations, climbing back to second in the points standings.
Matt Hagan maintained the points lead in the super-tight Funny Car class, while Capps, the No. 3 qualifier, climbed to fourth.
"We struggled pretty good for about three races," Gray said. "We were getting a little frustrated because we threw everything but the kitchen sink at the car and it just wouldn't respond. Now it's going right down the race track and doing everything we want it to do. (Crew chief) Rob Wendland just does an awesome job."
Edwards, the current points leader in Pro Stock, claimed his fourth victory in 2013 and 38th for his career by knocking off defending world champion Allen Johnson. Edwards' Interstate Batteries/I Am Second Chevy Camaro posted a 6.616 at 209.56 while Johnson slowed to a 15.969 at 52.46 in his Team Mopar Dodge Avenger.
"I just could never get a handle on this place, but it sure feels good to finally come here and win a race," said Edwards, who posted his first win in Norwalk.
"Hats off to all my guys for another tremendous job this weekend. We made a really nice run in the final, and we were very proud of that. I just hope we can keep the wheels on this thing and keep the momentum going."
Edwards, who set the track speed record of 209.92 in qualifying, beat Mark Hogan, Rickie Jones and two-time Norwalk winner Vincent Nobile to advance to the final round and earn lane choice against Johnson. Johnson jumped back to second in points with his sixth finals appearance in 2013.
"Having lane choice was huge, very huge for me," Edwards said. "I had a car that could really go down the right lane, and when we got lane choice for the final, that really helped."
In Pro Stock Motorcycle, Smith claimed his 14th career win and first since 2011, a span of 34 races. Smith went 6.954 at 192.44 on his Viper Motorcycle Company Racing Buell en route to the victory against Scotty Pollacheck, who had a final round time of 7.008 at 191.16 on his Sovereign-Star Racing Buell.
The day got even sweeter for Smith as his father Rickie Smith won in the NHRA Pro Mod Drag Racing Series.
"It's been a hard road to get back here," Smith said. "I was off on my tune-up a little bit, but we changed motors this morning and it got a little better each round. We've been fast on this bike and it was just awesome again (Sunday)."
Smith, who beat Hector Arana, Michael Ray and teammate John Hall to reach the final round, moved to third in the points standings with the victory. Hector Arana Jr. remained in first and Ray closed the gap in second, while Smith becomes the fourth different winner in the class through Pro Stock Motorcycle's seven events.
"This is the way the class should be," Smith said. "Anybody can win at any time right now. We've been the most consistent (team) right now, but anybody can win. It's so easy to lose that final round, but I was good on the tree all weekend."
The NHRA Mello Yello Drag Racing Series continues July 19-21 with the Mopar Mile-High NHRA Nationals at Bandimere Speedway in Denver.
(Photos courtesy NHRA/National Dragster; Click to enlarge)
NORWALK, Ohio — Final round-by-round results from the seventh annual Summit Racing Equipment NHRA Nationals at Summit Racing Equipment Motorsports Park, the 13th of 24 events in the NHRA Mello Yello Drag Racing Series:
TOP FUEL
ROUND ONE — Spencer Massey, 3.769, 324.51 def. David Grubnic, 3.920, 274.39; Shawn Langdon, 3.752, 326.08 def. J.R. Todd, 3.835, 321.58; Bob Vandergriff, 3.789, 322.04 def. Larry Dixon, 3.851, 319.75; Chris Karamesines, 3.949, 305.91 def. Tony Schumacher, 5.677, 121.69; Doug Kalitta, 3.828, 323.74 def. Troy Buff, 3.959, 294.63; Clay Millican, 3.791, 323.97 def. Morgan Lucas, 5.777, 124.57; Steve Torrence, 3.794, 327.35 def. Terry McMillen, 3.873, 323.81; Khalid alBalooshi, 4.150, 257.53 def. Antron Brown, 4.610, 194.24; QUARTERFINALS — alBalooshi, 3.811, 320.89 def. Karamesines, 3.963, 276.97; Millican, 3.802, 324.90 def. Torrence, 4.146, 270.32; Kalitta, 3.807, 326.40 def. Massey, 6.357, 96.18; Langdon, 4.467, 228.00 def. Vandergriff, 5.554, 105.54; SEMIFINALS — Kalitta, 3.808, 323.12 def. Langdon, 3.805, 323.58; alBalooshi, 3.842, 320.97 def. Millican, 4.196, 232.79; FINAL — alBalooshi, 3.935, 271.30 def. Kalitta, 4.215, 268.54.
FUNNY CAR
ROUND ONE — John Force, Ford Mustang, 4.025, 318.62 def. Blake Alexander, Dodge Charger, 4.192, 294.43; Johnny Gray, Charger, 4.047, 314.97 def. Alexis DeJoria, Toyota Camry, 4.131, 313.29; Ron Capps, Charger, 4.072, 309.13 def. Jeff Arend, Charger, 4.229, 298.40; Bob Tasca III, Mustang, 4.075, 317.72 def. Robert Hight, Mustang, 4.665, 249.16; Chad Head, Camry, 4.093, 309.20 def. Del Worsham, Camry, 4.955, 190.57; Matt Hagan, Charger, 4.051, 315.42 def. Tony Pedregon, Camry, 4.117, 293.15; Courtney Force, Mustang, 4.071, 319.67 def. Tim Wilkerson, Mustang, 4.127, 297.35; Jack Beckman, Charger, 4.079, 318.09 def. Cruz Pedregon, Camry, 4.642, 188.83; QUARTERFINALS — C. Force, 4.089, 317.94 def. Tasca III, 4.111, 313.44; Beckman, 4.082, 317.27 def. J. Force, 8.768, 73.96; Gray, 4.191, 254.23 def. Head, 4.961, 139.00; Capps, 4.072, 314.90 def. Hagan, 4.122, 311.05; SEMIFINALS — Gray, 4.121, 310.34 def. Beckman, 8.309, 85.57; Capps, 4.093, 311.56 def. C. Force, 5.397, 134.62; FINAL — Gray, 4.103, 314.02 def. Capps, 4.103, 314.09.
PRO STOCK
ROUND ONE — Jason Line, Chevy Camaro, 6.661, 208.39 def. Greg Anderson, Camaro, foul; Rickie Jones, Camaro, 6.633, 208.84 def. Rodger Brogdon, Camaro, 6.663, 207.98; Vincent Nobile, Dodge Avenger, 6.654, 208.04 def. Steve Kent, Camaro, 6.837, 204.23; Shane Gray, Camaro, 6.610, 209.65 def. Larry Morgan, Ford Mustang, 6.677, 206.83; V. Gaines, Avenger, 6.630, 209.36 def. Kenny Delco, Chevy Cobalt, 7.133, 146.45; Mike Edwards, Camaro, 6.609, 209.52 def. Mark Hogan, Pontiac GTO, 8.925, 106.51; Allen Johnson, Avenger, 6.603, 209.20 was unopposed; Jeg Coughlin, Avenger, 6.611, 209.39 def. Steve Spiess, Cobalt, 6.742, 205.76; QUARTERFINALS — Nobile, 6.652, 208.26 def. Coughlin, 6.661, 209.59; Gray, 6.668, 209.26 def. Gaines, 18.884, 23.43; Edwards, 6.638, 209.04 def. Jones, 6.648, 207.75; Johnson, 6.620, 209.17 def. Line, 6.668, 208.26; SEMIFINALS — Edwards, 6.635, 208.94 def. Nobile, 6.663, 208.49; Johnson, 6.647, 209.14 def. Gray, 6.666, 208.88; FINAL — Edwards, 6.616, 209.56 def. Johnson, 15.969, 52.46.
PRO STOCK MOTORCYCLE
ROUND ONE — Eddie Krawiec, Harley-Davidson, 6.955, 191.73 def. Angie Smith, Buell, 7.023, 189.36; Matt Smith, Buell, 6.984, 191.54 def. Hector Arana, Buell, 6.960, 193.05; Scotty Pollacheck, Buell, 6.941, 192.77 def. Andrew Hines, Harley-Davidson, 6.995, 190.30; Michael Ray, Buell, 6.941, 194.18 def. Shawn Gann, Buell, 7.010, 190.78; John Hall, Buell, 6.924, 190.86 def. Mike Berry, Buell, 7.119, 187.00; Michael Phillips, Suzuki, 17.392, 37.89 def. Hector Arana Jr, Buell, foul; Steve Johnson, Suzuki, 7.004, 190.54 def. Jim Underdahl, Suzuki, foul; Adam Arana, Buell, 6.930, 193.65 def. LE Tonglet, Suzuki, 9.479, 89.25; QUARTERFINALS — Krawiec, 6.950, 191.95 def. Johnson, 6.986, 191.51; Pollacheck, 7.006, 190.89 def. Phillips, broke; M. Smith, 6.955, 192.08 def. Ray, 6.934, 193.54; Hall, 6.959, 191.32 def. A. Arana, foul; SEMIFINALS — M. Smith, 6.965, 192.44 def. Hall, 7.066, 189.84; Pollacheck, 6.947, 192.14 def. Krawiec, 6.999, 189.34; FINAL — M. Smith, 6.954, 192.44 def. Pollacheck, 7.008, 191.16.
NORWALK, Ohio — Sunday's final sportsman final-round results from the seventh annual Summit Racing Equipment NHRA Nationals at Summit Racing Equipment Motorsports Park. The race is the 13th of 24 in the NHRA Mello Yello Drag Racing Series:
Top Alcohol Dragster — Dave Hirata, 18.932, 22.40 def. Ray Martin, foul.
Top Alcohol Funny Car — Kris Hool, Chevy Monte Carlo, 5.658, 256.84 def. Fred Tigges, Dodge Avenger, 8.590, 107.53.
Competition Eliminator — Robert Bailey, Dragster, 6.676, 199.11 def. Brian Browell, Dragster, 7.285, 183.59.
Super Stock — John Di Bartolomeo, Chevy Camaro, 9.293, 138.64 def. Leonard Mattingly, Olds Achieva, 10.219, 131.34.
Stock Eliminator — Randi Lyn Shipp, Pontiac Firebird, 10.841, 119.60 def. Ryan Richardson, Chevy Camaro, 11.589, 106.52.
Super Comp — Luke Bogacki, Dragster, 8.934, 155.70 def. Tom Hunter, Dragster, 8.889, 172.30.
Super Gas — Ray Connolly, Chevy Corvette, 9.914, 155.63 def. Steven Fields, Pontiac Firebird, 9.902, 153.75.
Top Sportsman — Jeff Pittman, Chevy Chevelle, 6.717, 182.35 def. Marco Abruzzi, Chevy Camaro, 6.835, 203.34.
Top Dragster — Vince Musolino, Dragster, 6.712, 198.64 def. JB Strassweg, Dragster, 6.548, 203.00.