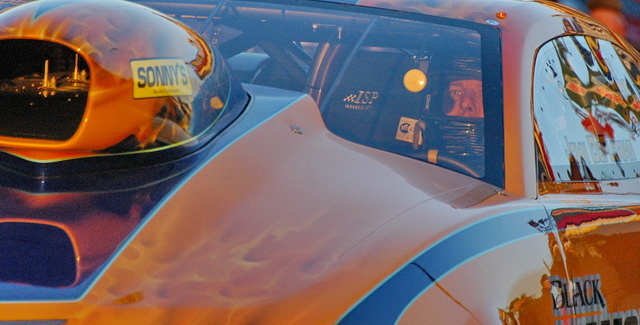 Race teams from all across the country are heading for South Georgia Motorsports Park this weekend to compete in the ADRL Hardee's Georgia Drags VII.
The second event of the 2013 ADRL Tour presented by Speedtech will be held Saturday and Sunday, April 13-14, on the all-concrete eighth mile in Cecil, Georgia.
Among the most welcome entrants will be nitrous racing legend Shannon "Iceman" Jenkins, who will be returning to action at SGMP after fortunately emerging uninjured from a high-speed crash during Pro Mod qualifying for the 2013 season-opening Dragpalooza IX at Rockingham (NC) Dragway last month.
Also returning to the track at South Georgia will be Pro Nitrous star John DeCerbo, whose '68 Camaro has been repaired after sustaining severe front-end damage in a fiery impact with the Rockingham guardwall.
Meanwhile, Extreme Pro Stock driver John DeFlorian (above) will be looking for his third ADRL win in a row after scoring the final event title of 2012 in Dallas and starting off this season with the win at Dragpalooza IX. DeFlorian also won the debut event for the upstart XDRL series just last weekend in Tulsa, Oklahoma.
Giving the ADRL some international flair, Pro Mod driver Raymond Matos from Puerto Rico will try to move up one position in the race results at SGMP after finishing runner-up to Sweden's Adam Flamholc at Rockingham. And Aruba's Trevor Eman will continue the quest for his breakthrough win in the Extreme Pro Stock class.
Additionally, past ADRL Pro Extreme world champions Jason Scruggs, Bubba Stanton, Todd Tutterow and defending class champ Mick Snyder will all be at the Hardee's Georgia Drags, as will champions Scott Gray and reigning champ Eric McKinney (Pro Extreme Motorcycle), two-time defending Extreme Pro Stock champion Cary Goforth and former Pro Nitrous champion Mike Castellana, among many others.
In all, nine classes will be contested at SGMP, including Pro Extreme, Pro Nitrous, Extreme Pro Stock, Pro Mod and Pro Extreme Motorcycle. Additionally, both Top Sportsman and Top Dragster will run for the first time at Valdosta with the ADRL and two classes of Junior Dragsters will be run for the younger racers.
Sportsman qualifying begins at 10 a.m. on Saturday, with pro class qualifying scheduled to start at 11:30 a.m. Eliminations will begin on Sunday at the same times, respectively.
(Photos by Ian Tocher; Click to enlarge)