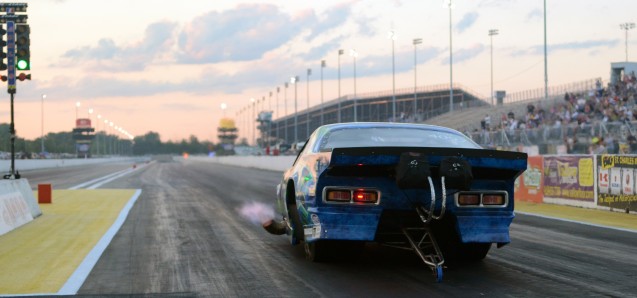 With the grand re-opening of Gateway Motorsports Park and the American Drag Racing League's (ADRL) return to its home track serving as the backdrop, Pro Extreme driver Mick Snyder continued one of the best recent runs in class history at the Gateway Drags IV presented by CarSafe.
Consistently running in the 3.60s as part of a picturesque weekend in St. Louis, Snyder and his Powersource Transportation Corvette won for the second straight race, running 3.63 at 208.23 miles per hour in the finals of the Gateway Drags IV presented by CarSafe on Saturday.
"To get two in a row is just crazy," Snyder said. "You can't script it any better. It was a great team effort and this class is so hard, just to get to two straight finals is tough. To get two straight wins is just unreal."
Other winners included Doug Riesterer (Pro Nitrous), Todd Moyer (Mickey Thompson Extreme 10.5), Eric McKinney (Pro Extreme Motorcycle), Todd Hoerner (Extreme Pro Stock), Jeff Naiser (Aeromotive Fuel Systems Pro Modified), Chris Nyerges (Summit Racing Equipment Top Sportsman) and Drew Skillman (SuperCar Showdown).Snyder's run capped off a spectacular day and weekend for the ADRL at Gateway Motorsports Park, where numerous world and track records were set in near-perfect conditions at a facility brimming with excitement. Snyder finished as the No. 1 qualifier for the second straight race as well and then ran a pair of 3.64s, a 3.65 and the finals run of 3.63. He was set to run teammate Jason Scruggs in the finals, but Scruggs was unable to start his car."To go to different tracks and run these numbers, it's just incredible. It makes you think you have a handle on it," Snyder said. "This car is just so much fun to drive."
Riesterer put together a storybook Saturday in Pro Nitrous, edging Burton Auxier in the finals with a 3.826 at 189.10 mph. Riesterer didn't arrive at Gateway Motorsports until Saturday, making only one qualifying pass before winning for the first time in nearly two years.
"We put a little more in it because it was Burton, but it was a good run and it felt good," Riesterer said. "This feels great, it really does. We thought we had a car capable of winning in Bristol, so it's nice to finish it off."
After qualifying No. 7, Riesterer took out No. 1 qualifier Rickie Jones with a 3.80 in the quarterfinals, tying the track record that Jones set the night before.
"The car has been running and working well, so we thought we could figure it out in a couple of laps and go a couple rounds," Riesterer said.
Todd Hoerner's win in Extreme Pro Stock was noteworthy for a variety of reasons. In running a 4.072 at 177.30 mph to beat Trevor Eman in a matchup of first-time finalists, Hoerner became the first driver in XPS to win running electronic fuel injection (EFI).
"This is totally awesome. I'm so happy for Sonny and Sonny's Racing Engines. We've worked so hard with this EFI deal and we're definitely taking steps with it," Hoerner said. "The EFI is just super friendly and just gives you great consistency with the clutch."
It's worked terrifically for Hoerner, who picked up his first ADRL win in just his third ADRL event. That it came against the quickest qualifying field in XPS history (No. 16 qualified with a 4.096) made it mean that much more, as did becoming the first 2012 Camaro to win in the class. To reach the final, Hoerner had a splendid .002 reaction time in a holeshot win against defending world champion Cary Goforth.
"We've always hoped and wanted to get an ADRL win, but we never could have dreamed it would have come this quick," said Hoerner, who went as quick as 4.04 this weekend in his 2012 Camaro from Jerry Bickel Race Cars. All of the hard work paid off. To compete with these guys is just amazing."
Eric McKinney won back-to-back races for the first time in his standout ADRL career, taking the Pro Extreme Motorcycle victory with a 4.072 at 176.01 mph against Travis Davis in the finals.
After struggling at times during qualifying, McKinney turned it on during eliminations, running back-to-back 4.07s in the semifinals and finals. His run under the lights in the finals set a new track record and further bolstered McKinney's points lead in PXM.
"This year has just been awesome. We couldn't have had a better weekend after a tough start and we really wanted to keep that points lead," McKinney said. "The first two passes in qualifying, we didn't even make it past 330 feet. We just picked it up each round. We've got a good package and hopefully we can keep it going. This never gets old."
Todd Moyer was gladly the recipient of a huge break in the finals of Mickey Thompson Extreme 10.5. Points leader and two-time event winner in 2012 Alan Pittman couldn't get his car started, leaving Moyer to a solo pass of 4.608 at 125.17 mph to collect his first win in more than two years.
"It was ugly, that's all I can say, but we haven't had any luck this whole year so this feels good," Moyer said. "I almost forgot what this feels like. We think we're onto something now. This car has so much power it's scary."
Jeff Naiser joined Moyer and Riesterer as the third Texan to win in St. Louis, putting together a pair of impressive passes in eliminations to win in Aeromotive Fuel Systems Pro Modified. Naiser went 3.876 in the semifinals to beat Scott Ray and then improved to a thrilling 3.867 at 193.32 mph to pick up his first win in the new class.
"This is real exciting. We've got a new manifold and new nitrous and we stepped up the nitrous every round," Naiser said. "The car showed its potential and this was an awesome win. This class just fits us perfectly."
In a matchup of underdogs, Chris Nyerges, the No. 16 qualifier in Summit Racing Equipment Top Sportsman, went 4.467 at 157.72 mph to hold off Jim Sackuvich in a great side-by-side final. Sackuvich was the No. 15 qualifier, but Nyerges won by a mere 12 inches for his first victory in the ADRL.
"We had a couple of lucky rounds, but this is nice," Nyerges said. "It's been a long time since we've had a win."
In what was the quickest side-by-side run in the history of the SuperCar Showdown class, Drew Skillman came out on top, tracking down Jimmy DeFrank with a 5.727 at 120.90 mph.
"That was awesome and a lot of fun," Skillman said. "I love this place. The ADRL treats us so well and it's always a great time."
In Pro Junior Dragster, Mitchell Seymore got the win, running 7.95 at 76.35 mph.
The next stop on the 2012 ADRL Tour takes place on June 22-23 with the U.S. Drags V at Virginia Motorsports Park in Richmond, Va.